A home renovation is a perfect time to learn about the KonMari organizational system and how it might make your life easier. KonMari closets are based on the methods of Marie Kondo, a young woman who has a unique system for organizing and thinking about clothes.
She recommends only keeping clothing and accessories that evoke an emotional response or have meaning to you. In the early years, she worked directly with clients to help them achieve their organizational goals. Since then, a whole subculture has sprung up around her organizational methods, including closet designs.
Getting Started
If your present closet is crammed top to bottom with stuff, dump it on a clean floor. Handle each item and ask yourself whether it invokes any particular feelings, especially joy, as you do. If it doesn't, it's time to sell or donate it. After you've gone through everything in your closet and drawers, it's time to put the things you're keeping back.
The KonMari method instills respect in the clothes and accessories you wear. She suggests that you honor what you're keeping by treating it with care. There are special ways of folding clothing and storing them for easy retrieval. Once everything has been put away, you'll have an idea of how much closet space you'll need and how to design it for your home renovation.
Making the Plan
The easiest way to communicate what you need to your design team is to take photographs of your current closets, dressers and storage containers. The experts will be able to help you plan the closet by using the built-ins that make organization easier. You can have additional shelves and an island with drawers built in to modify and enhance your current organization system.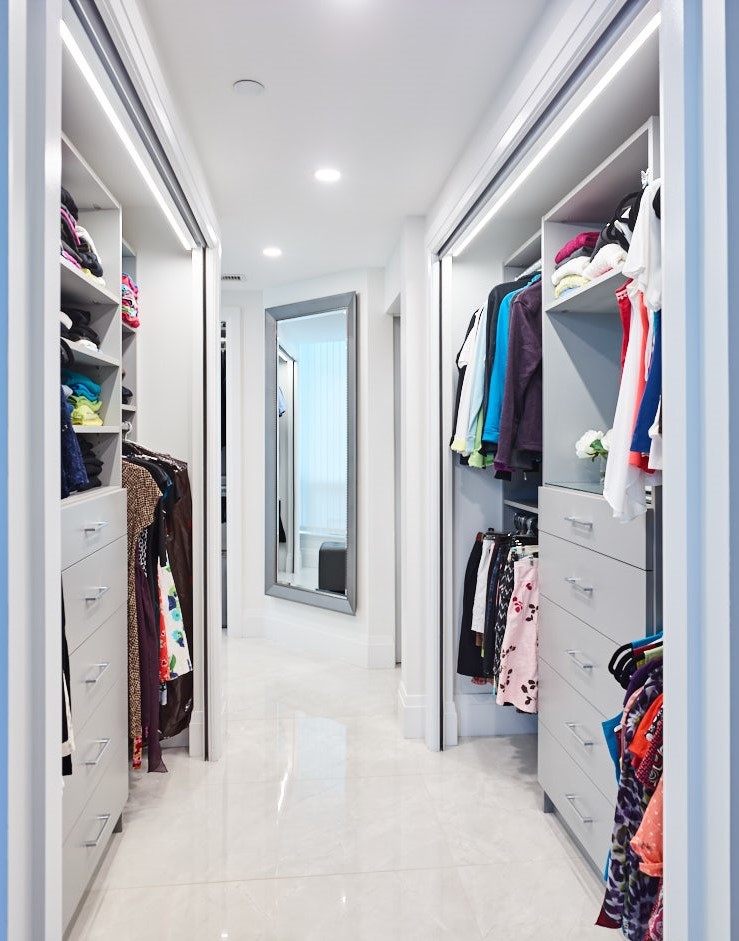 Although the team will go by your preferences, expect them to make recommendations incorporating universal design characteristics. Odds are, you'll sell the home you're renovating eventually and it's easier to build to the market's standards than retrofit the closet later.
What to Consider in the Closet
You'll definitely want to include a mix of closet features like sliding drawers, high and low closet rods and places for shoes and boots. Consider including dividers inside the drawers that keep pairs separate. It's much easier to find socks when they're in their own compartment.
Ties that are rolled up and placed in divided drawers are easy to choose and retrieve. An island in the middle of the closet helps organize your lingerie, as well as holding your shorts and T-shirts. If you want, you can include space for storing your winter outerwear instead of keeping it in the coat closet. Some women install purse hooks to keep their handbags in good shape and boot trees to help the boots stand vertically. Not only do these additions take up less room, they also store your items better.
The Benefits
When you sort through your things using the Kon Mari method, you will:
Become a more efficient organizer.
Choose what you purchase with more care.
Save time by having an organized wardrobe.
Instead of choosing informally, you may start to buy based on a different sort of priorities. Devotees of this method only acquire what is needed and meaningful to them. Once they do, they treat it with a sort of reverence. This is a new paradigm for consumers in western cultures who have been encouraged to consume aggressively without making emotional ties to their clothing purchases.
Bottom Line
Whether the closets are your focus of the home renovation or a part of the whole project, your life will be much simpler when they're completely organized. With the help of the design team from Alair Homes, you'll have perfectly designed and executed closets to show off your KonMari skills and valued wardrobe.
Share: