One of the many things I love about living in Peterborough is being surrounded by all the beautiful homes rich in history. Neighborhoods near the heart of downtown, like the Avenues for instance, have many homes dating back to the early 1800s. These homes are typically built to last, but the reality is, they are not always fit for the modern lifestyle of their occupants. As the owner and operator of Alair Homes Peterborough, this is typically when my team steps in. We offer our renovation services to help update your home without disrupting the look that is native to this area.
Operating in Central Ontario for over ten years, I have found there to be a lot of confusion in regards to the first steps in a renovation project. You may have a growing list of home improvements but who do you call first? Only with the right planning can you accomplish a worthwhile renovation that will not only respect the unique qualities of an older home but will modernize it in subtle ways that ultimately add ease as well as equity. To help with this, I've outlined 10 steps that are necessary to complete for a successful home improvement project. Read along if you'd like to know the considerations I discuss with clients who are preparing for their home renovation.
Quicklinks
Determine your Deepest Desires
To begin, take a moment to walk through your home and list out all of the issues you'd like to address. This may seem obvious, but there are a number of home improvement projects your home may undergo to remedy inconvenient building trends of the past.
What do you dream for a more modern home? More tech? Energy efficiency?
Many older homes are known to have outdated lighting fixtures or tiny closets. Whatever the case may be, list your every concern or idea and keep moving through the house.
As you do this, I find it important to recognize both the things you love and the things you hate. This will help keep you focused as you dream and plan for your renovation. Identifying the things you like most about your home will also help to better understand what your needs are.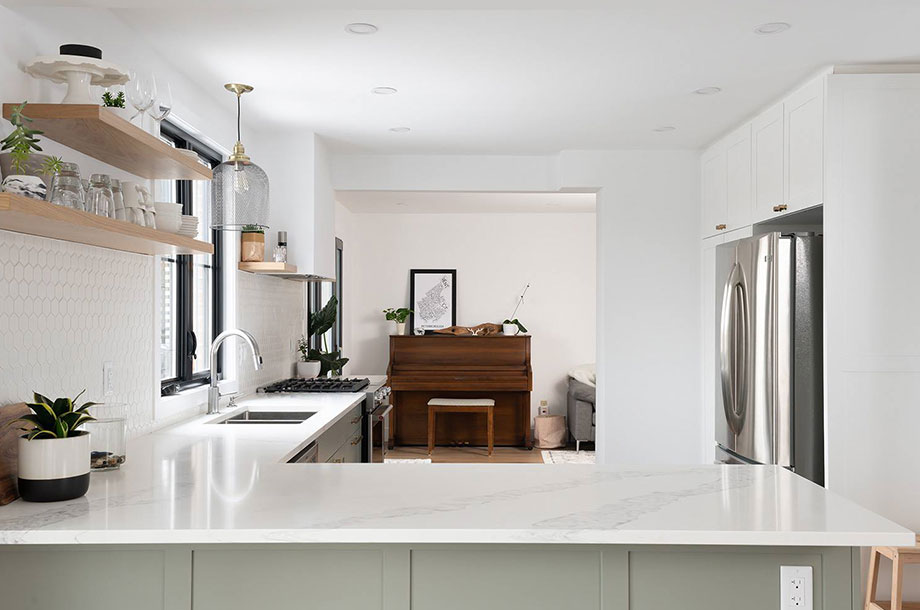 One of  our clients, for example, had limited kitchen space which left their countertops cluttered. The solution seemed simple enough, however after demo day we uncovered a few things that forced us to completely reconfigure the layout mid-construction.
By reviewing their personal home evaluation beforehand, we were able to recognize the clients penchant for storage and modern shelving. To give them more prep space, we added modern floating shelves and all white custom cabinetry that blends naturally into the wall. The result was budget friendly and gave the kitchen a modern, minimalistic setup. Ultimately, the client was thrilled with the way we maximized the available space.
Professional Home Assessment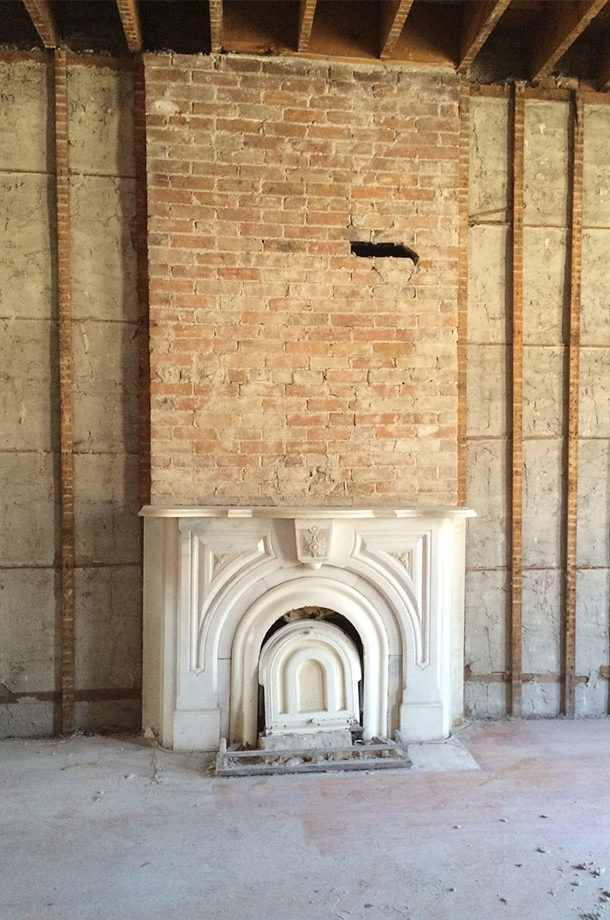 Of the most important tasks you must complete prior to your renovation project is having your home professionally assessed. By having the roof, foundation, siding, plumbing and electrical systems all inspected, you will gain better insight into the true scope of work that must be completed. For older properties you have not yet occupied, it is absolutely vital to have a Designated Substance Survey performed. This will determine if there is any asbestos or other harmful toxins present in the home. Although the use of it has declined greatly, homes built before the 1990s are at risk for having asbestos present in insulation or textured paint among other nooks and crannies.
Speaking of insulation, you might also consider getting an energy audit to determine the proper insulation you should have in your home. This will also provide more insight into what more you can do to save on money and energy. When working with older homes, it is often what is behind the walls that is most important.
For large renovation projects, a detailed home assessment will help to determine what finer details or unique structural elements can be salvaged. Upon the results of your assessment, you can begin to identify which features will stay and, more importantly, what must leave.
Consider saving the more unique elements of your home. Be cautious about the cost to either renovate or replace. Some features, like the fireplace we saved,  might be more costly to remove and replace. Oftentimes, it is these features that add equity to your home. Built-ins or detailed molding, for example, are things many homebuyers are attracted to.
Create a Detailed Project Plan
By now you probably have a better idea of the true scope of work ahead of you. It's been weeks of evaluations and I believe this is a prudent time to reflect upon your priorities for this renovation. I often advise weighing which renovation adds the most equity and long-term conveniences. For an older property this may be your only opportunity for a fresh start, so consider your future impact. Once you go through this process, it's unlikely you'll be making more changes anytime soon so this is a great opportunity to maximize on whatever changes you'd like to make to your property.  There are ways you can improve each room in ways that will save you money and energy in the long run.
Set a Renovation Budget
Before you begin speaking with builders and other professionals, it's a good idea to have a budget in mind already. Take your project plan and begin totaling up an estimate based on this. At Alair Homes, we know renovation, especially on older homes, is often unpredictable so we build in contingencies to help subside this. If you later choose to work with us, you'll notice this as we make all of our budgeting completely transparent (including material and labor costs). I bring this up to say, I recommend you also account for this as you plan your budget to prepare for any unplanned expenses. This new well-cushioned total will serve as a better projected budget.
This is something that is unique to everyone so it requires more personal reflection of your goals and finances. Later, when you work with your renovation team, this can always be modified. In this planning stage, however, it is critical that you set your own boundaries before entertaining bids from builders or seeking help from other financial resources.
Don't Forget to Update Your Policy
Don't forget to give your insurance agent a call! This is a critical step that can easily be overlooked in the midst of all of the planning. If your homeowners insurance doesn't cover the increase in your home value, you must update your policy. You should always take care in protecting your belongings in the event of an emergency. Your insurance agent will help you determine if your renovation plans will affect your existing policy.
Consult with Home Builders at Alair
Finally, you're ready to begin meeting with builders to compare bids and find the right team to help you with your home improvement. Of course, I have some personal bias here but if you'd like some advice on how to find a credible builder in Peterborough, we've written another blog about this process which you can find here.
Finding the right team to work with you is critical. Your builder will help you in completing the correct permits and identifying any zoning restrictions you need to be aware of. They can also help you discover the most worthwhile renovation, so find someone you feel comfortable working with. I think having a solid understanding between builder and client is critical.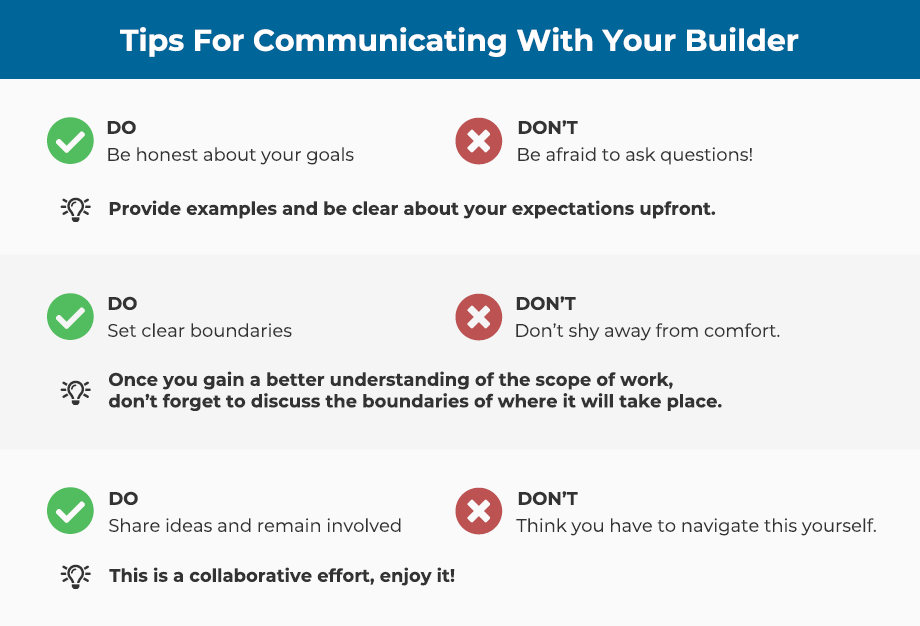 Although my team and I live and work locally, as part of the Alair Homes network we are able to connect with other Alair offices across the country. This gives us the opportunity to reach out and connect with other professional builders with varying experiences every day. We can ask questions, share solutions and what's more, we share our successes. Instead of a competitive market, we try to share what makes us great to raise the Alair standard together. In this way, our clients benefit from the open dialogue we share among offices. Thanks to our ongoing communication, we are able to come up with more solutions and build upon our projects to make them truly exceptional.
Build a Timeline
Once you've hired a builder, a timeline can now begin to take place. Of course, timelines can vary greatly depending on the project. Keep in mind, there are better times of year for different projects and large winter construction tends to be more expensive due to heating equipment. Take time to consider all the major factors involved, including any major personal events that may affect your home project. At Alair Homes, your Project Manager will help you coordinate this as well as the delivery and organization of all tools and building materials.
Select Materials
This particular step in the design phase of a renovation can truly make or break your budget. Your options are virtually limitless but each building material comes at a cost. My team works with a number of local market partners to ensure our clients receive the best quality materials for less.
When you are weighing your options, I advise paying close attention to the durability and maintenance of the materials you choose. A granite countertop, for example, is commonly well sought after. Did you know that it is also suggested that you have your granite countertops resealed once a year to aide in its longevity? Whatever you choose for your home, take care to look into how to protect your investment and make sure it is properly maintained.
Make Living Arrangements
When undergoing a large remodeling project to your primary residence, you may need an alternative place to stay for the duration of the construction. This is especially true for families with small children or pets and anyone who works from home. Take care to plan this with your builder so you can coincide your time away with the bulk of the work. That way you're not wasting any money living off-site while the exterior is being worked on.
For smaller projects, it is possible to live in the home while the renovation is taking place. This is sure to be more cost-effective; however, I always warn my clients- you cannot put a price on comfort. I recommend conducting a trial run of any plans you may have.
Prepare Your Home
The final step in making sure you have a smooth renovation is prepping your home. Once all of your plans are in place, it's time to make the last arrangements in and around your home. Pack up your belongings and confirm all pre-agreed upon construction site boundaries with your builder. Your Project Manager can help advise you on what furniture needs to be removed. The entire construction area will be canvassed and blocked off, but the dust of renovation can be unrelenting, so be sure to pack away any items of value. For a large renovation project this may mean budgeting for storage as well.
Bottom Line
My final advice is don't rush the process and try your best to enjoy it. Renovating your home can be overwhelming but the results are always overwhelmingly positive. So take a deep breath and trust the process. If you live around the Peterborough area and you're curious about your options, call my team at Alair Homes Peterborough to set up a consultation.