Blue might dominate the color of high tech displays, but it's not all that common in home improvements like kitchen remodels. In reality, it makes sense to bring this color into the kitchen area because it's a psychologically soothing color. In a room that's often as hectic and demanding as the kitchen, introducing a bit of calm could be a good idea.
Where to Put It
Whether you use blue for a few napkins or use it to paint the ceiling depends on how much you like blue and the other colors already decorating your home. If you like blue and it will be compatible, it can be used in many different areas in the kitchen.
The Ceiling and Floor
Blue is a natural for a ceiling color, as long as you use a hue that's reminiscent of the sky on a sunny day. Light blues tend to make a kitchen feel taller, while dark blues visually reduce the size of the room. Since the kitchen is a place where you need lots of light, stick with the paler tones unless your home improvements include plenty of ceiling and under-cabinet lights.
Blue works well as an accent color on the floor where it won't be overwhelming. Look for it in ceramic or porcelain tile or laminated wood planks or strips. Some stone flooring materials have blue hues. Blue accents also appear in sheet vinyl materials.
Cabinets
Unless blue is your favorite color, using all blue cabinets in the kitchen might be overwhelming. Using it for drawer and door hardware, however, might be just enough to give your kitchen a fresh and clean look. You could also introduce a set of blue doors on a butler's pantry or a kitchen desk.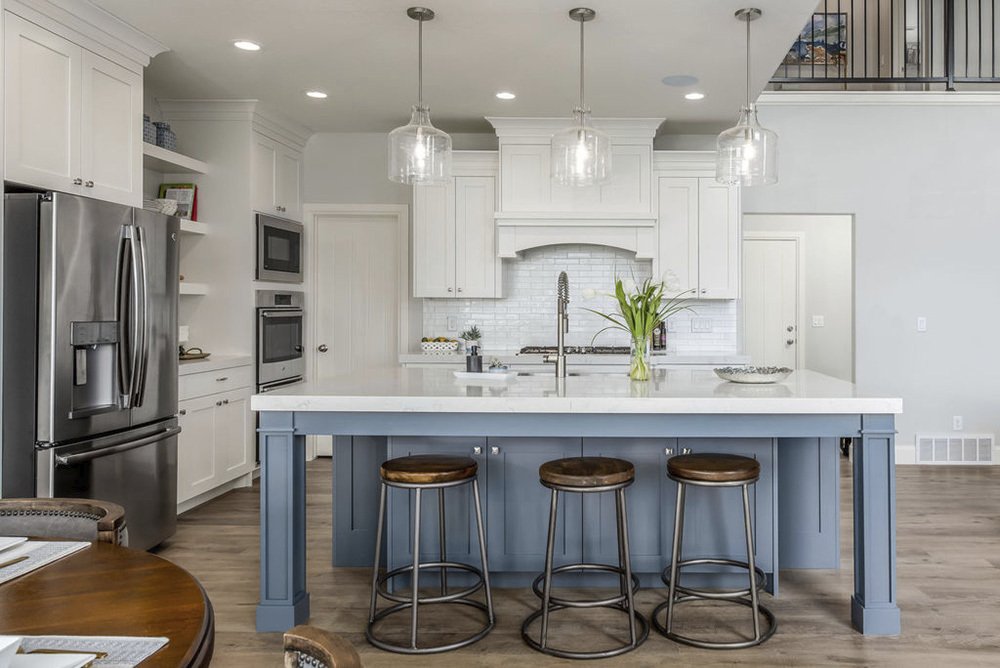 Appliances
It's possible to get large appliances in blue but if you want to take it slowly, go more cautiously by using a blue stand mixer on the counter or a toaster.
Windows and Linens
Blue window coverings might be a good way to incorporate the color blue into the room without clashing with the overall impact of the other home improvements. Blue tablecloths, placemats and napkins are also safe ways to venture into using blue in this highly functional area.
Bottom Lines
Incorporating blue into your kitchen home improvements might be the element you need for the final touch. Blue combines with so many other colors and from the smallest bits of blue to the ceiling, it might be just the color you need.