The addition of an outdoor living space extends the boundaries of your home so that you can enjoy the natural scenery. When properly designed, this leisure and recreation area has the potential to serve as a wonderful venue for dining, entertaining or relaxing year-round.
If you want an outdoor area that complements your lifestyle, the options are virtually endless. Space can incorporate comfortable built-in seating, cooking areas, and fireplaces. A well-designed outdoor space can enhance the livability of your home for years to come.
Things to Consider
To ensure that your outdoor living space meets your needs, you should carefully consider how you plan to use the area. The process will enable you to determine the best location for your new outdoor space as well as the type and quantity of amenities, including the seating, appliances, and food preparation areas.
Type of Gatherings
Determine whether space will be used for intimate gatherings, a cozy private retreat or large gatherings. If you need to use the space for multiple purposes, you may want to design a large recreation area that can be partitioned to create a quiet backyard oasis as well.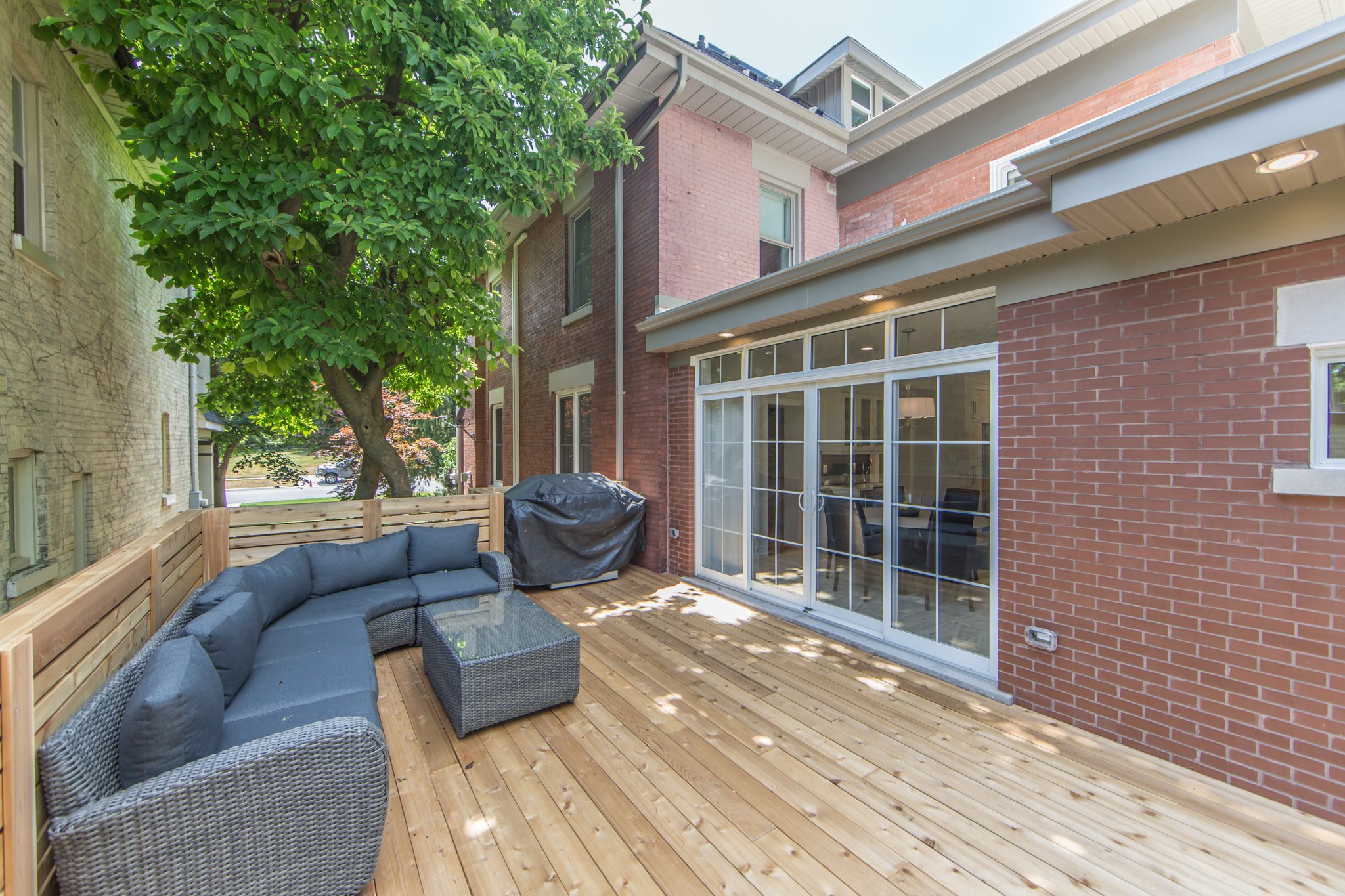 Utilities
Decide if space needs a cooking area and functional utilities like electricity and running water. Since many outdoor spaces do not have walls, you may need to incorporate some type of landscaping or other screening material to buffer noise and provide privacy.
Natural Elements in Your Outdoor Living Space Design
Factor in natural elements like sunlight and evening breezes. Space can be designed to maximize natural light and any scenic views. The configuration can help the area receive refreshing summer breezes and limit the intrusion of precipitation and extreme temperatures. If you choose to construct a detached recreation area, you may need a combination of spaces that allows you to transition from one area to another regardless of the weather. These environmental factors will help you to decide whether you should opt for a patio, screened deck, or sunroom.
Architectural Design
Include the architectural design elements of your home into any outdoor renovation plans. The additional space should appear as if it were part of the original plan. This attention to detail will create a seamless transition from the inside to the outside. An integrated design will also enhance the appeal and value of your home.
You should consider the beauty, functionality, and convenience of the proposed outdoor space. Like a three-legged stool, all three elements are required to create a cohesive design.
We Can Help You Decide and Build Your Ideal Outdoor Living Area
If you need assistance, we can evaluate the layout of your home and discuss possible remodeling designs that will match your lifestyle, budget, and architectural décor. This conversation is a good first step that will help you understand your options and achieve the outdoor living area of your dreams. We are proud to offer superior custom renovation services that will incorporate your unique taste and specifications into your recreation area.
Alair Homes London is uniquely qualified to help you with your remodeling project. Give us a call to learn more and schedule your free, no-obligation 120 points free estimation.
Share: