home renovations and custom homeOne of the biggest frustrations for home renovations and custom home building happens because of cost overruns.
One of the unfortunate perceptions that the home building and renovation industry has is that customers have to be extra wary because so many contractors go way over the original budget and price agreed to. While some contractors certainly deserve this bad rap, sometimes the customer is as much at fault because of the changes they make mid-project (i.e. upgrading their selections – types of tiles, countertops, cabinetry, trim, etc.), or making changes to the actual plans that burn up extra labour and project management time (i.e "move this doorway over there"). The more clarity you can get before you bring the contractor in, the more likely you will not experience budget overruns.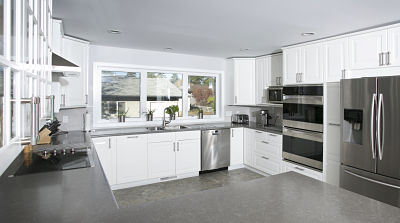 To avoid going over budget on your project, here are a few things to consider in order to ensure that you AND your contractor work within the budget you define; below these items is an example to help you in your future planning:
maximum budget: have an honest discussion with yourself, your spouse or family member regarding what the absolute maximum budget amount is that you can afford for your renovation/construction project
desired budget : now soften that number two at the desired budget is (in other words, what you are comfortable investing, thus allowing a reasonable buffer from your maximum budget)
contingency fund planning: let's face it – in construction, you never know what's behind the walls or what's under the ground until you start the work; sometimes there are unpleasant surprises that because of our building codes, absolutely have to be addressed once discovered. These surprises cost time and money, so we recommend that you have a 10% contingency fund; for planning purposes, you need to reduce your desired budget by this 10%
budget for taxes: While Canada is arguably the best country in the world to live in, it can be expensive; unfortunately, renovations and custom home building is subject to taxation. The most obvious tax is HST, 13% in Ontario so you want to multiply your desired budget amount by 13% and deduct this amount from the desired budget
budget for temporary accommodations during construction: a construction site is a hazardous, noisy and dusty work zone and not suitable for normal family living. We highly recommend that you budget temporary accommodations for the length of your project
Hire an architect or professional interior designer. While you may have some ideas regarding what you want your new space to look like, it is difficult for most people to fully conceptualize what the possibilities as well as limitations are for the space you have to work with. Architects and interior designers are educated and trained to help transition from conceptual ideas into tangible structural designs and soft finishes, but make sure that they clearly understand the budget limitations they have to work with! It is also their responsibility to define the scope of work and create builder-ready plans, thus minimizing the likelihood of costly change orders mid project. The initial investment of engaging these professionals will save many thousands of dollars over the length of the project.
Engage a professional contracting company (who has a demonstrated history of working closely to customers' budget) to provide a firm cost estimate to ensure that they will work within your budget.
If the builder's quote is in line with your budget, then engage them and communicate closely with them throughout the process to ensure that there are no big expensive surprises at the end.
Example:
$120,000 renovation project maximum budget
$100,000 renovation project desired budget
$10,000 contingency fund
$13,000 HST
$5000 temporary accommodations
Actual budget for total design and construction is $72,000 ($100,000 less $10,000 contingency fund; less $13,000 HST and less $5000 in temporary accommodations) in order to stay within your desired budget. This still leaves you with a $20,000 buffer to ensure you don't exceed your maximum budget.
Once you have this budget clarity, now you can go to your architect/interior designer with a realistic budget; once plans are drafted then you can engage the builder.
A final thought – one of the best ways to ensure you stay on budget is to stick to your plan!
Alair Homes is Canada's fastest growing residential construction company; we use a unique Client Control Pricing model that ensures our client remains in complete control of their entire project, while also enjoying 100% transparency of all construction costs.
Share: