Choosing flooring is an important decision that greatly affects the final appearance of a custom built home. Homeowners can consult with their contractors on which type of flooring to use. Over the years vinyl floors have been improving on the quality. You can get luxury vinyl floors (LVT) that will look amazing in your custom built home. LVT has a natural look that resembles wood or stone. It is hard to tell it apart from the real materials. The floors are easy to clean and maintain. They are durable and are suitable as a long term flooring option. Truth is, there is many benefits for including LVT in your custom home. Read along to discover the benefits of luxury vinyl floors.
One-of-a-Kind
Unlike standard vinyl floors, LVT has no repeat pattern. LVT manufacturers endeavor to give homeowners a genuinely unique wooden or stone design. The vinyl planks or tiles have a particular top layer that mimics the texture of wood grains or stone grooves. The final product accurately recreates the feel and appearance of the real raw materials. The beautiful designs look so natural it is hard to distinguish vinyl floors from the real raw materials.
Durability and Sustainability
Luxury vinyl is durable and can last up to 20 years. Reputable companies give a guarantee or warranty for the same. The accessible luxury vinyl floors have a 15-year guarantee at least for domestic uses. The warranty offers peace of mind to homeowners.
You can install the floor in your custom built house without worrying about sustainability. Luxury vinyl floors are also considered to be eco-friendly since manufacturers recycle raw materials.
Easy Installation
It is easy to install as the panels click together to lock in place. Installation does not require any adhesive. This makes fixing the tiles or planks easier. Easier to assemble than in the past, introducing LVT in a room could make for an ideal DIY project. However, if you plan to install vinyl floors in the whole house, it is best to hire a professional.
Easy to Clean and Maintain
Luxury vinyl floors have a moisture resistant feature that prevents water from seeping into the inner layers. It is due to this feature you can clean your vinyl floors with no worries at all. Unlike carpet, you won't need strong cleaning detergents as this material is stain resistant. You need only a broom, mop or vacuum cleaner for day to day cleaning of your luxury vinyl floors.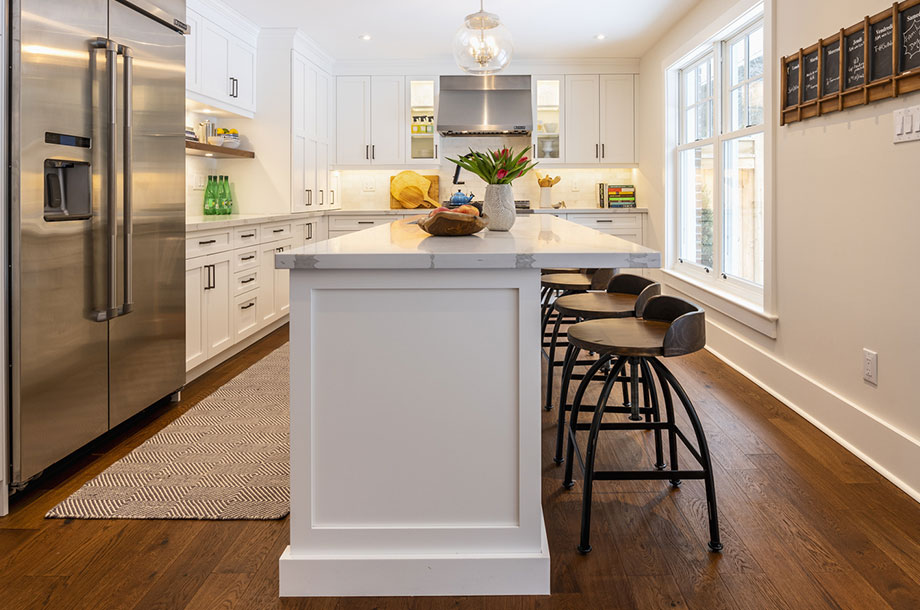 LVT is scratch and scratch resistant allowing it to maintain the original finish for a long duration. The scratch-resistant coating protects the floor from harboring dirt and particles. This also keeps the floor resistant to dust mites and other allergens.
Heat Insulation
Heat insulation ensures that your floors will never be cold even on the most frigid mornings. Coupling underfloor heating with the heat insulation features will keep the floor warm all year round.
Slip Resistant
This feature makes the floor suitable for bathrooms, kitchens and the entire house. Slip-resistant technology ensures it is safe even when there is a spill. The slip-resistant technology prevents fatal falls that end up in broken bones.
Final Thoughts
Luxury vinyl floors are amazing for homeowners living in Aurora. Homeowners looking for professional installation can consult Alair Homes Aurora. The professionals will assist you in choosing the appropriate shade of vinyl for your custom built floors. Alair Homes has vast experience with luxury vinyl floors, and you can get a recommendation for the brand that best suits you. The current luxury vinyl floors made with the latest technology are entirely safe for your home now and in the future.