It's been a long winter, and it's the time of year when we start to feel cooped up and ready for spring. One of our favourite ways to get ready for a new season – and finally being able to enjoy the outdoors again – is doing a pre-spring tidy.
Rather than saving all our tidying for when the weather starts to warm up, we're getting a jump on purging our homes and clearing space while we're still stuck inside. Plus, Netflix's Tidying Up with Marie Kondo has definitely been an inspiration for the entire Alair Homes team. We love the idea of cleaning with intention and purpose to make our homes a space for enjoyment and peace.
In addition to tidying and clearing away clutter, we're also thinking about ways to make our spaces work for us and starting to plan out summer renos. Considering our belongings and our space lets us consider how our families can best use the spaces that we have.
Here are a few ways we're planning to clean and declutter as well as some easy, home improvement projects to bring joy to your space.
The Kitchen
A kitchen is a place that collects clutter like no other space in the home. To clear space and bring peace and order, go through your cupboards and drawers and clear away any broken kitchen utensils or old food still sitting in your pantry.
After finishing up your kitchen purge, consider some inexpensive upgrades like painting cabinets and cupboards, or replacing handles and drawer pulls. For an even bigger upgrade (and now that your counters are free from piles of mail and bills) consider those big changes you've been putting off. Is there space for a kitchen island? Is it time for new countertops? A clean, well-organized space is sure to bring inspiration!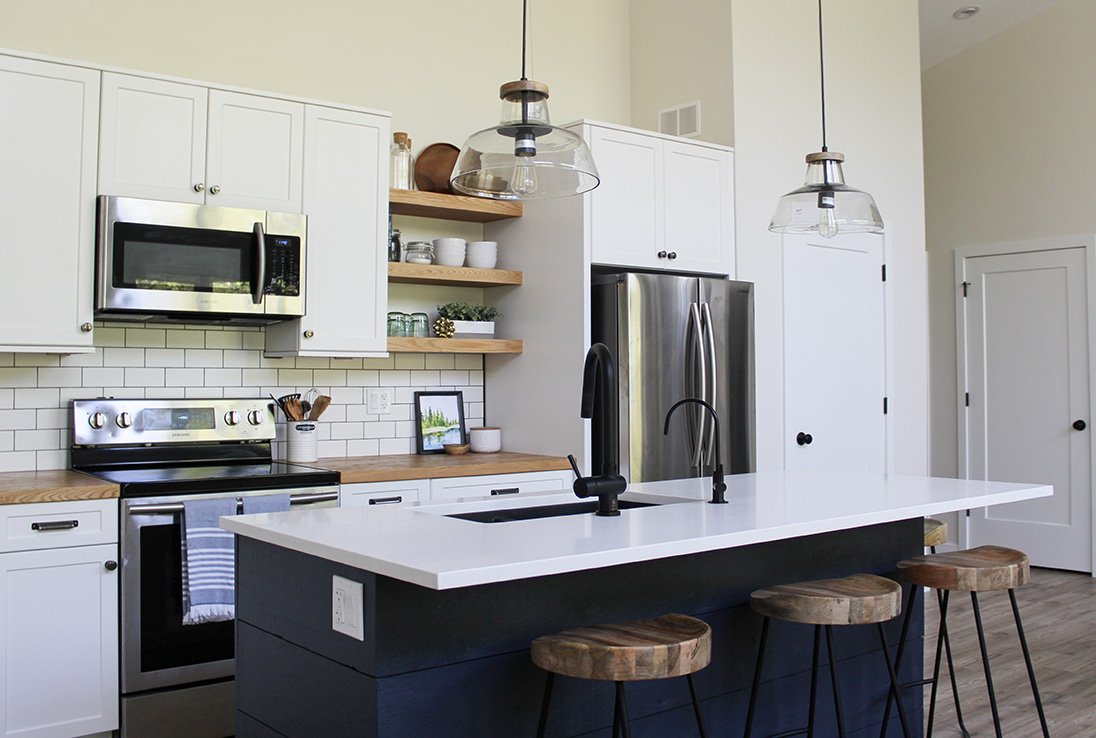 The Bathroom
The bathroom is also space where build ups of half-used bottles and jars tend to happen. Clear out cupboards and get rid of old, threadbare towels to give yourself a little more space.
Bathrooms tend to need upgrades more often than other areas of the house because they are high traffic areas and things like tile and floor grout can get dingy fast. Is it time for a new bathtub or toilet? Is the vanity looking dated? No matter your budget, these are things that can be upgraded and immediately make your bathroom feel more spa-like than ever.
The Living Room
Tidying in the living room is a good time to evaluate your furniture arrangements and organization. Move things around to optimize your space for family time, games nights, and relaxing. We think a good clean always involves tossing old magazines or candles and making sure throw pillows and blankets are looking fresh and new.
If you've been considering a built-in fireplace or knocking down a wall to open up your living area, now is the perfect time to start making plans! As you tidy and move furniture around, envision how you want your family to make use of your recreation area and start dreaming!
We can't wait to get down to tidying and preparing for summer projects, and we also can't wait for the weather to finally warm up. We hope you find some enjoyment in tidying your space too.
Share: