With so many of the promises of the new year still ahead of us, many homeowners throughout Springwater and neighbouring communities are considering 
home renovations
. While making plans, they're considering the rooms they want to change, their budgets and the design trends they'd like to incorporate into the space. This last one is sometimes tricky, as it's important to consider not only what you love and what's trending well today but also which features will give your design aesthetic more long-term appeal. There are a number of exterior and interior design trends that really took hold last year and seem primed to shape the way our homes looks and feel this year too. Considering a few of them is a great way to get started on picking the features that might work best in your space.
Quartz Countertops in Kitchens
Opting for an engineered quartz countertop isn't exactly new to this region, but what's interesting is how many area homeowners are choosing it over granite for their custom kitchens. In fact, industry statistics reveal that quartz beat out granite in countertop purchases for the first time ever last year. We expect that trend to continue as granite prices hold firm up high and quartz prices remain on the more budget-friendly side.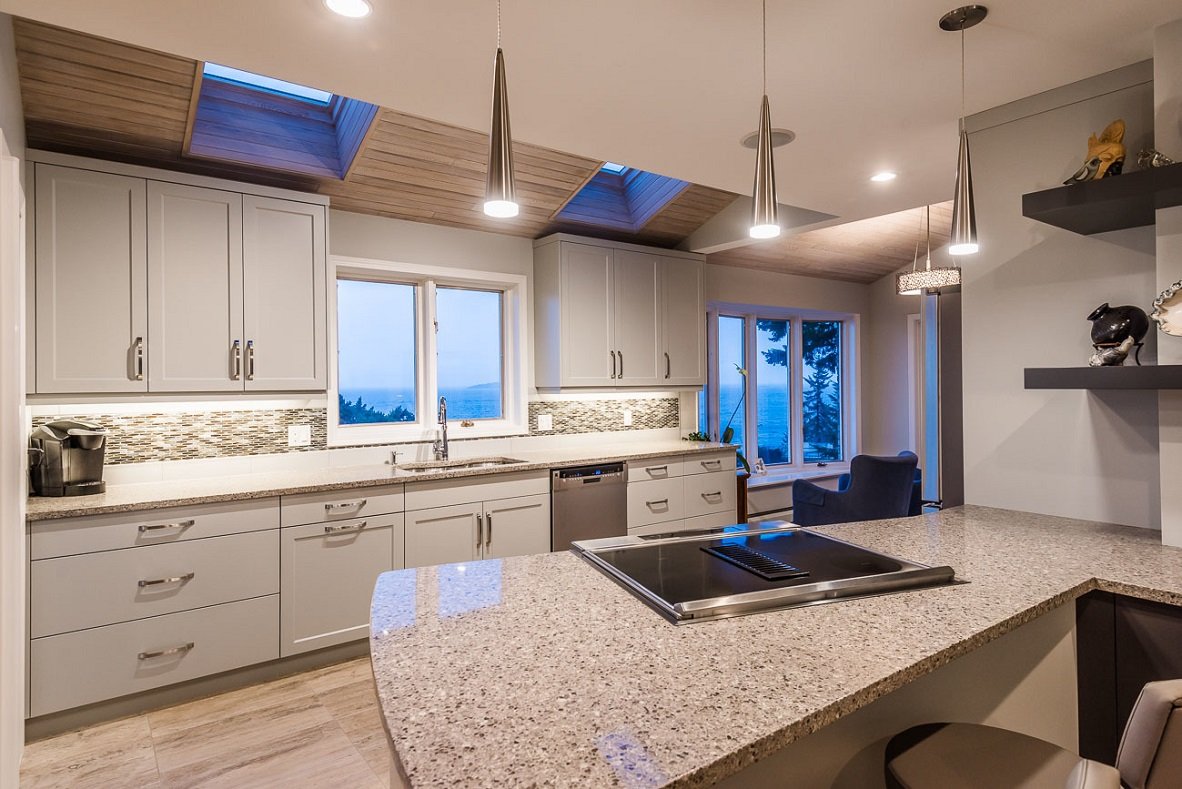 Electric Fireplaces in Bathrooms
Electric fireplaces in bathrooms is an interior design trend we're really digging. The inserts are very affordable, and they're easy to install and relatively inexpensive to have installed if you opt to have a professional to do the work. This one choice more than perhaps any other really helps to turn a normal bathroom into a more luxurious and spa-like environment.
Custom Wood Wall Treatments in Living Rooms
Remember that old-fashioned wood paneling look? This isn't that! Custom wood wall treatments are an exciting interior design trend that adds texture and warmth to your living spaces. The custom part is being able to choose the wood, stain, texture, patterns and other features in order to realize the perfect accompaniment to your space.
White Board and Batten for the Exterior
The modern farmhouse exterior isn't just influencing design indoors but exterior home renovation as well. As many as 50 percent of homes that were re-faced last year were done so with board and batten. It's a cost-effective solution but also prized for the homey and charming aesthetic. In addition, it adds texture to what otherwise may be a plain facade, and those elements make a home really pop.
Voice-Assisted Appliances for Home Automation
Home automation is in. The smart home was once reserved for the rich, but automation technologies are affordable to all and only becoming more accessible in the year ahead. As area homeowners update their appliances, expect a greater prevalence of voice controls that let them set the oven to a particular temperature, set the time on a microwave or even have the refrigerator add items to a grocery list you'll be able to access from your smartphone.
Which of these design trends speak to you? And how do you plan to implement them in your home? Alair Homes is here to help. Our renovation specialists look forward to hearing your ideas and creating a plan of execution that works with your budget and timeline. 
Contact us
 to schedule your consultation today.