Some of the home remodeling trends for 2019 lend themselves to the natural beauty of the Red Deer area. They might give you design ideas for your home that will enhance your life or make it easier to differentiate your home from the others in your neighborhood.
In the Kitchen
Using lots of wood is a no brainer for the Red Deer area. In our region, wood compliments our natural environment. Wood walls, countertops, floors and ceilings, especially medium-toned hues, warm the room and blend well with solid-color cabinets and appliances.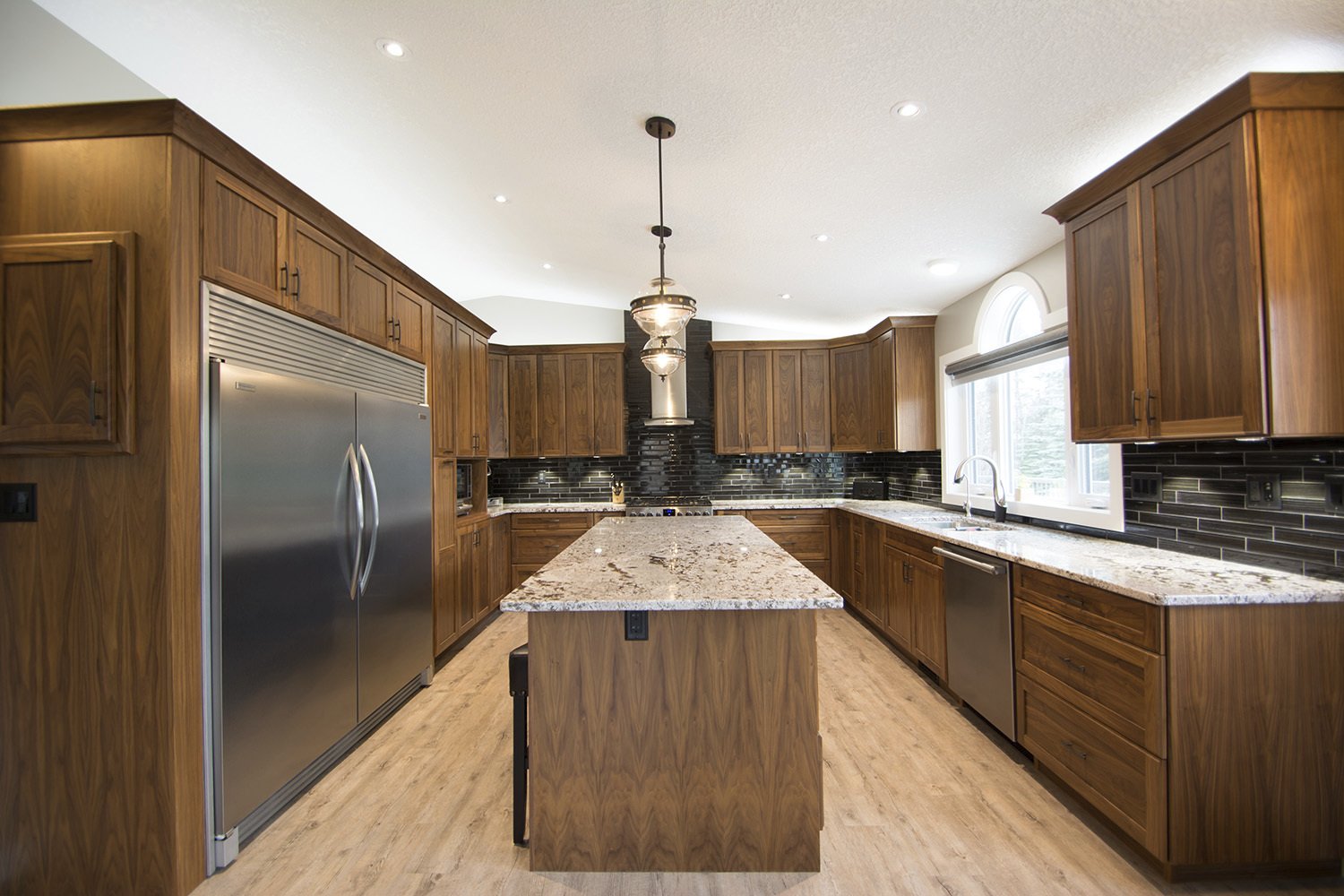 If you like solid colored cabinetry, choose off-white this year, especially if you incorporate lots of wood. It's the latest trend in home remodeling projects in kitchens where the trend is to go with more muted rather than stark tones.
Window walls are another natural fit for this region where sunlight comes at a premium in the winter months. When you choose Energy Star windows, there will be minimal heat loss or air leaks. A vast expanse of windows in the kitchen will bring the outdoors inside, a long-lasting improvement to this busy room.
It may not be for everyone, but one of the home remodeling trends taking hold is opening up the kitchen to the outdoors. Massive sliding glass doors open the kitchen to the backyard to bring the outdoors in and the indoors out. In this region, you'd have a unique way to entertain during the late spring, all summer and early fall.
Since the kitchen is normally the most social and active room in the home, why not create a kitchen island that behaves like your guests. There's no reason to constrain yourself to a square or rectangle shape in the middle of the floor. You could go with a multi-shaped unit, make an oval or even a circle to create an interesting work and social flow.
Living Areas
If you've used warm woods in the kitchen, why not pull some of that through to the living areas. Wood-beamed ceilings are back and work when the ceiling plates have a plate in proportion to the size of the room.
When a wood ceiling is out of the question, consider a wood wall. Home designers are using wood flooring materials on walls to bring color, design and warm to the room. It also helps add a sound barrier to the room.
Bathrooms
When you have some space off the master bath, consider adding an outdoor soaking tub. It's a touch of luxury to bathe outdoors in a spacious tub surrounded by lush landscaping.
If there's no outdoor space for a tub, consider adding a fireplace within eyeshot of the bathtub. Electric units are safe, especially if they're remote controlled. Besides adding a pleasant ambiance, they help warm the bathroom on a cold winter's evening. Wiring in the bathroom.
Designers have come up with a new take on bathroom vanities. Instead of using an enclosed cabinet, they're using stand-alone tables with drawers at the sides of the sink. The shelf at the base of the cabinet holds linens or any decorative items you wish.
Master Bedroom
Wood walls in the master suite are also another way to soothe the mind and body after a long day. A grain that's simple and color that's neutral won't interfere with any of the linens you've already invested in.
Bottom Line
These home remodeling trends may work for your home taken as a whole idea or you can use them for design ideas. The design specialists at Alair Homes can also bring ideas to you based on your family's needs and preferences.