After decided to renovate your Peterborough home, it's common to head to the Internet or the latest HGTV show and explore all of the incredible design ideas available to homeowners. This process is a lot of fun but also sometimes overwhelming with so many options out there. It's important to pick the design ideas that speak to you and reflect your style but also to keep trends in mind, especially if your property value is important to you.
As construction professionals, Alair Homes Peterborough works to stay on top of the latest home design trends. We've compiled a few here that made waves in 2018 and are on course to remain popular in 2019 too. Let's take a look at some of the team's top picks.
Trends in the Kitchen
The kitchen is at the heart of every home, and as such, it's a popular pick for a home renovation. This is a space that you and your family will spend ample time in daily, so it deserves a smart design. Trends for 2019 are focused on adding function and individuality to this space. For example, custom organizational features are popular in kitchen storage areas, and rectangular islands are no longer being forced into tight spaces. Instead, abnormal island shapes that are designed around the available space in the room are trendy. On the walls, backsplashes are increasingly carried up to the ceiling, or they may be removed altogether and replaced with huge windows. Outdoor living areas that once commonly connected to a family room are now connecting to the kitchen and breakfast area.
Beautiful Options for Interior Materials
Regardless of the rooms that are focal points for your home renovation, choosing beautiful yet practical materials is essential. Stone surfaces for counters remains common, and quartz is a leading choice for modern kitchens and bathrooms. Stained wood flooring will continue to be popular in 2019, and the wood-on-wood look that combines wood panel walls with similar flooring may be a beautiful option to consider for your space. In addition to stained wood, you may consider painted wood, such as for cabinetry. Shiplap is another material that can be painted and that adds character to your home.
New Color Trends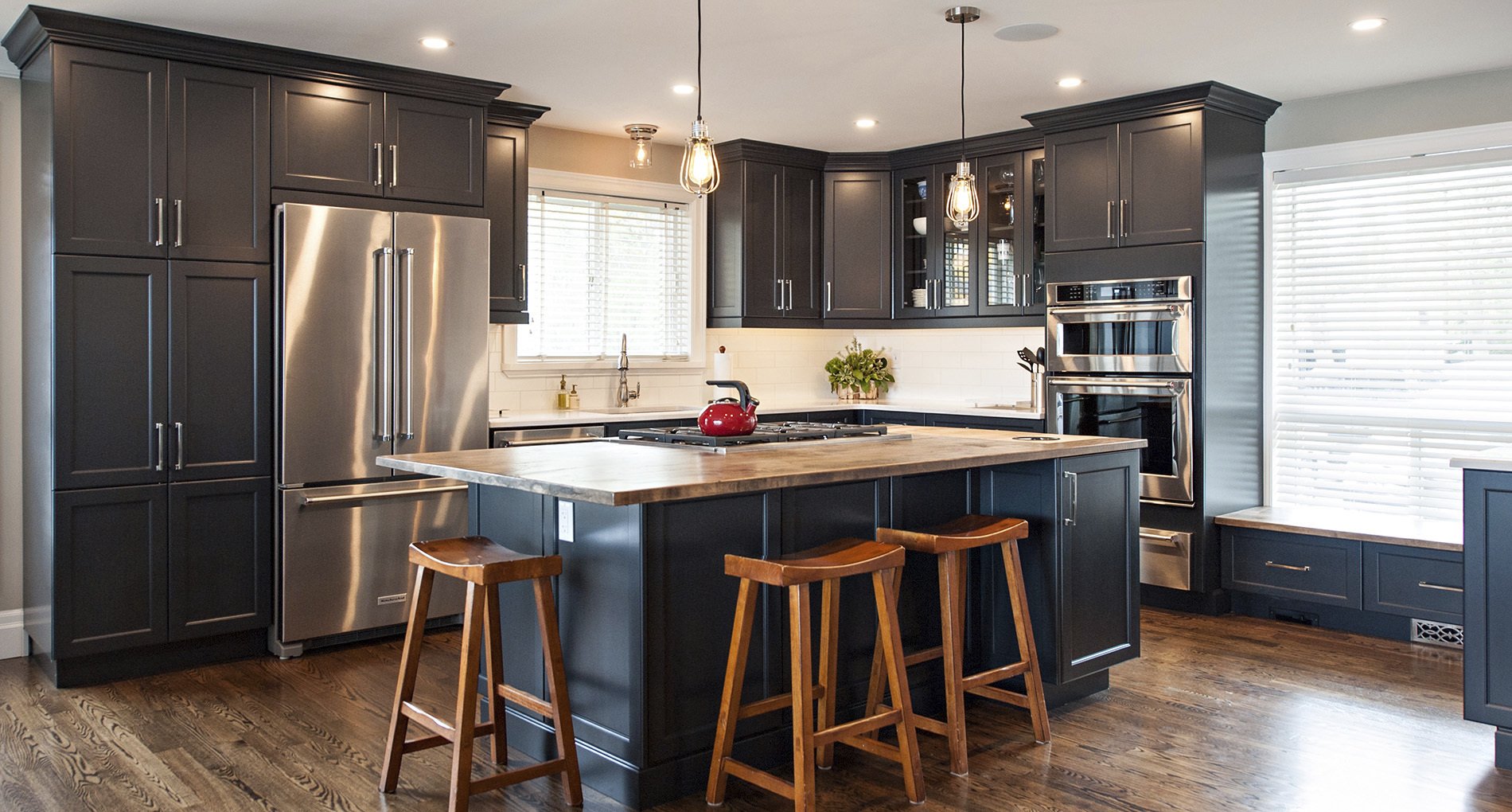 As you select colors for your updated interior design, consider that darker and lighter grays remain popular. These are now mated with creamier neutral tones rather than with stark or bright whites. If you want a bold impact in your space, black is returning as a beautiful option, or you can choose various shades of teal or blue. In the coming year, contrasting colors rather than a monochromatic color scheme will be popular.
The Return of Designs and Patterns
The trend for individuality in kitchens for 2019 carries throughout other areas of the home, and one way that this is accomplished is through designs and patterns. For example, a tile surround in the bathroom or a tile backsplash that carries up to the ceiling may be personalized with a custom pattern that corresponds with the other elements in your space. For a more natural approach, you may use striations in natural wood, marbling in stone and other elements to bring personality into your rooms.
Alair Homes Peterborough is ready to help you create a gorgeous and practical plan for your upcoming renovation. Contact us today to schedule a consultation with our team.