Whether you're a weekend warrior taking on a diy project or your family is ready for a top to bottom home renovation, designing any part of your house to keep it in vogue is challenging. There are a lot of decisions to make, and navigating all of the options available might feel overwhelming. You'll have to put in the work to get the results you're looking for, but with a bit of research and planning, a fabulous kitchen design scheme is within your reach. Let's have a look at some of the latest trends that you might choose from.
Modern Kitchen Sinks
The sink is one of the most functional pieces in your kitchen. If you choose something other than the traditional utilitarian sink, it also serves as a unique design element in the kitchen. Many designers have started creating embossed sinks. Some of them have used metallic accents while other designers have gone with colors which they use to complement all of the furnishings in the kitchen. Choosing this option makes your sink the statement piece and the basis upon which the rest of your kitchen can be designed around.
Pendant Lighting
Recessed lighting has long been all the rage in kitchen design trends. However, if you'd like to add a bit of quirkiness to your kitchen, consider suspended lighting. The wiring involved makes the pendant light that you've used become the centerpieces of the room. This is also a unique way to cast light and shadows on different features in the room, creating a new look that is visually interesting and engaging.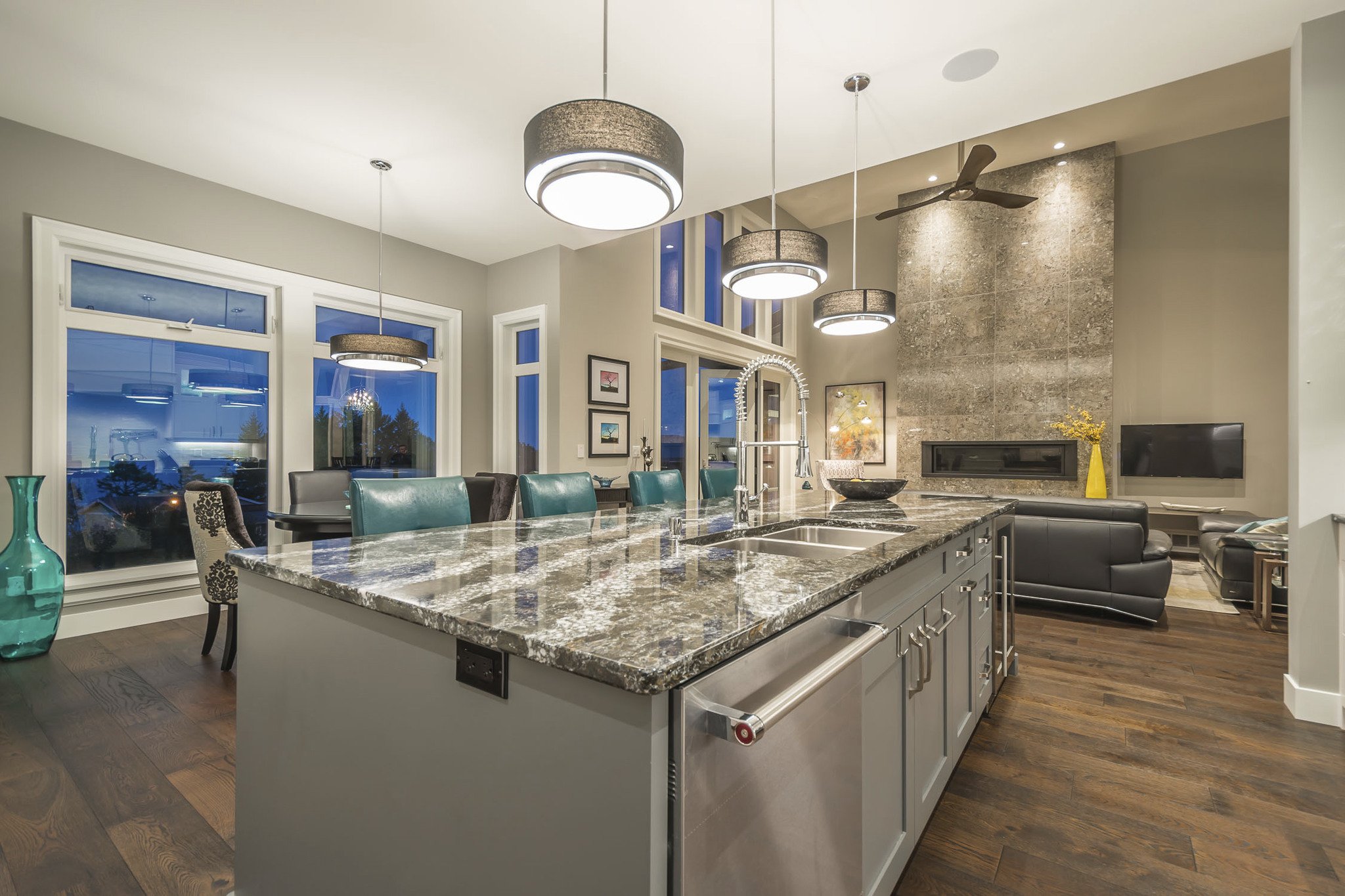 Countertops
Brilliant quartz finished countertops are popular for many reasons. Why?
Here's the deal:
They are practically indestructible and provide a near timeless look in any kitchen. Quartz countertops are available in a variety of colors and three different thicknesses. Application and fabricator preferences are key when selecting quartz, so be sure to work with a countertop professional to get the best results.
Spanish and Moroccan Tiles
If you'd like your kitchen to display hints of exotic fashion, then Spanish and Moroccan inspired tiles with intricate designs should be what you're looking at. The impact they have on the kitchen is more than a splash of paint will ever have. A popular way to use this option is by creating a unique and vibrant backsplash with the tiles. This adds visual interest to your kitchen and can make your backsplash a true feature piece in the room.
Matte Appliances
White appliances were once all the rage. Then, that gave way to the black stove or refrigerator, and finally, ultra shiny stainless steel. Today, the trend has moved toward matte appliances. Matte finishes are perceived as softer, and this can make them a great choice especially for open floor plan homes. They're also great at reducing fingerprint smudges as well as dirt making them the ideal choice for families with young children or busy executives who are short on cleaning time.
There really is no right or wrong when it comes to kitchen design. The true test of whether you've made the right choice lies in how much your family enjoys the space. Consider these design trends, and incorporate some of your own individuality into the space too. If changing up your design plan is part of a larger kitchen renovation, Alair Homes Nanaimo is here to help. Contact us to discuss your ideas today.