The team at Alair Homes had a blast on November 6th, along with some local businesses, to raise funds for the Nanaimo Child Development Center.
Alair Homes was delighted to bring back the second annual Great Pumpkin Toss event to engage the community and give back.
"In addition to home-building, of course, Alair is incredibly dedicated to community-building: we care about the communities we serve and strive to have a positive impact on our neighbourhoods." Alair Homes Chief Operating Officer – Stu Hopewell was enthusiastic about the return of this family-friendly event.
"Those who've taken part in our Great Nanaimo Toy Drive and 2020 Hub City Soap Box Derby are well aware of Alair's flair for creative initiatives to fundraise for meaningful charities, and the Great Pumpkin Toss is no exception.", states Hopewell.
Community members will recall the inaugural Great Pumpkin Toss Event of 2019, where local businesses and individuals gathered alongside all of us at Alair Homes, VMAC and Nanaimo Science (formerly NS3) to test their various pumpkin tossing devices.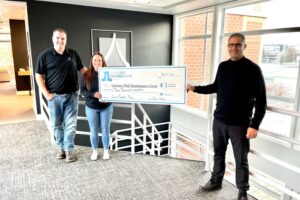 This idea was initially crafted by the Alair Homes team, as a way to bring the community together and creatively dispose of leftover jack-o'lanterns. "The results were outstanding and quite hilarious, with some pumpkins soaring over 50 meters and many others bursting into orange smithereens. This year, our pumpkins flew once again at distances over 450 meters", Hopewell further states, "We are already in the works to make this event better than ever and are challenging business to bring THEIR pumpkin tossing apparatus to the event next year!"
The event supported the Nanaimo Child Development Society. This community-based, not-for-profit organization has been providing individualized services for children with developmental needs, from birth to age 19, since 1967. NCDC's services include support, assessment, and therapeutic services that reach nearly 1900 children and families in Ladysmith, Nanaimo, Lantzville, Gabriola Island, and Protection Island areas every year. We're proud to support Nanaimo Child Development Centre with all donations from this event.
Special thanks go out to event partners, and sponsors for making this a successful day – VMAC, Layzell Dreger and Associates, Rogers Trucking & Landscaping, Meat Craft Butchery, Glassen Farms, Nanaimo Science, Tim Hortons and the East Wellington Fire Department.
Watch for notifications for next years' event – and get your family ready for fun!