RenovationFind, a leading 3rd party renovation and home improvement directory that connects homeowners with certified renovation companies in 22 cities across Canada, recently conducted a survey at the 2017 Edmonton Renovation Show. The results showed that 57 per cent of those surveyed know someone who has been ripped off by a home improvement business or contractor. In addition, 34 per cent of respondents feel they have been personally taken advantage during a renovation or home improvement project.

"We know many people are choosing to renovate their homes rather than move, and we know this is a direct correlation to the current economic climate in Alberta," said Keith Riley, founder of RenovationFind.com. "The results of our survey show that as renovations are on the rise, so are the amount of homeowners feeling they are getting ripped off by contractors. The fact that so many homeowners are choosing to renovate their homes rather than move indicates people still plan on hiring Edmonton contractors, and this is really positive for both Alberta homeowners and the renovation industry."

Keith adds that a platform such as RenovationFind is more important than ever right now to help connect homeowners to credible contractors to help reduce the percentage of people feeling like they are getting ripped off. Offing them a platform that provides key indicators and 3rd party accreditation can significantly reduce the amount of people getting taken advantage of.

"Doing your research is key when choosing your contractor," said Jamie Affleck, Regional Partner at Alair Homes Edmonton. "We hear many horror stories of people getting taken advantage of by a contractor, and getting poor work done. In fact, we often get called to come in to fix the poor or incomplete work done by another contractor. However, there are many great contractors in the Edmonton area. Doing your research, consulting a directory like RenovationFind.com and asking for contractor credentials are the first steps to avoid renovation rip-off."

In addition to using a website like RenovationFind.com to do advance research, Alair Homes Edmonton provides the following five things to do before hiring a contractor:
Understand common "up front" payments
Get a scope of work and detailed contractor from your contractor
Prepare for extras and expect the unexpected
Beware of the "no permits needed" scam
Watch out for the "we're working down the street" scam
Other key findings from RenovationFind's research shows:
When choosing a contractor, the most important factor to homeowners is trustworthiness at 43%, followed by quality work at 40%. Price and customer service are the least important to homeowners.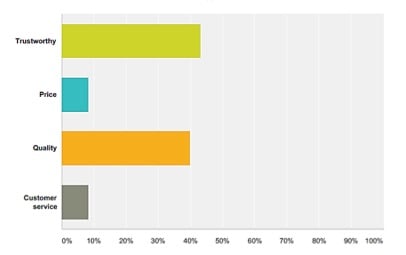 87% are planning on staying in their own home this year, instead of moving to a new home.
97% per cent of Edmonton homeowners plan on doing a home renovation in the next 12 months.
68% will choose to do some of the home improvements themselves and hire contractors for some of the tasks as well.
With trustworthiness and quality being the most important to Edmonton homeowners when choosing a contractor to work on their home renovation, having access to credible contractors through a directory like RenovationFind.com can put homeowners' minds at ease.
Share: