Alair Homes Edmonton
March 15, 2017
6 Budget Friendly Tile Tricks That Look High-End Look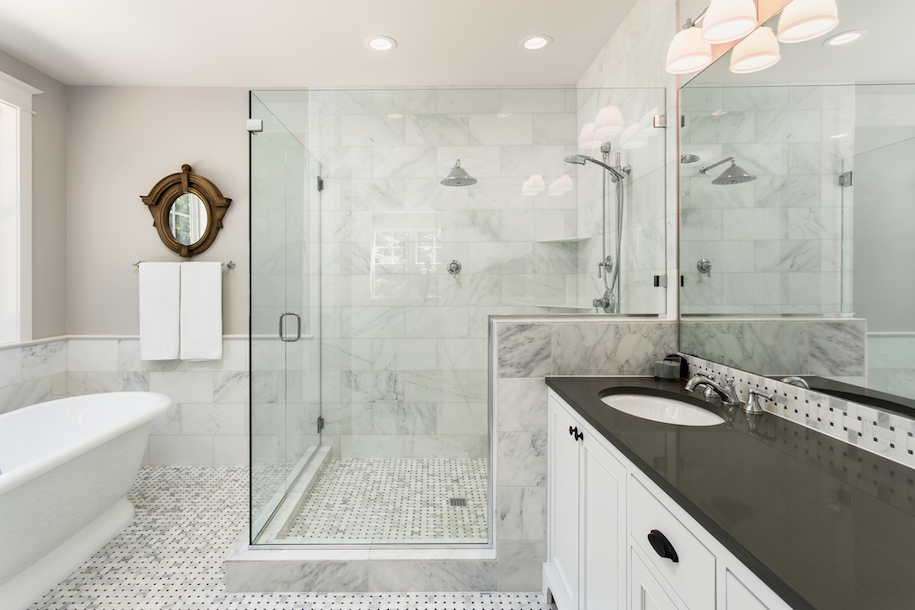 Tags:
Tile can provide a high-end look to any room of your home. The major problem is most tiles that have the high-end finesse tend to be attached to those high price tags in the store. For those on a tight remodeling budget, Alair Homes Edmonton has compiled a list of six trendy ways to make your cheaper priced tiles look like high-end.
Extend The Tile To The Ceiling
Ditch the traditional paint and wallpaper. Instead, use your tile to run the floor and the entire way up to your ceiling. This provides a more luxurious look and is surprisingly easy to clean. This is a great option for the bathroom as the tiles will provide a waterproof surface for your walls, so you don't have to worry about those dreadful watermarks.
The Tile Wall
If you want all the benefits of a waterproof wall that can be easily cleaned, it may be a great idea to use tile. To avoid that tile-look on your wall opt for tight grout lines. When you match the grout color with the tile color, the tiles tend to fade into the background. This allows for a more structured wall that provides a hint of texture to mix it up.
Don't Shy Away From Colored Tiles
White or off-white tiles may be cheaper than the colored tiles, but we're sure you will be surprised at how slight the price difference is by upgrading to colored tiles. With variations of different hues, you can allow your walls or flooring to stand out against contrasting cabinets and appliances.
Colored tiles provide a wide range of flexible options that can make any room of your home look high class. Using a typical white grout in contrast with a black or orange title can give a more textured appeal to a boring floor or wall. In addition, combining different color tiles into a top and bottom wall layer can spark the contrast you need to make a room appear bigger.
Mix Up The Laying Patterns
Traditional tiling is evenly laid across the floor or wall. However, going for the less common laying patterns with different size tiles can provide a hint of high-class style to any room. This is a great way to change up a boring tile pattern, while not having to spend money on multiple tile colors.
Plan Your Tile Around Finishing Features
Allow your finishing features, such as your window seals or trimming, to provide the accent to make your room complete. This means crafting your tiles to be cut off where the trimming is placed. This is imperative to do as no matter how much your tiles costs, if they aren't brought together with the finishing features of the room they will look cheap.
Pair Up Your Tile With More Expensive Stuff
If you already have purchased more expensive cabinetry and other room features, you don't need to overspend on your tiling. In most cases, the tiles will be existent as a neutral backdrop for the more expensive items in the room. Saving money on tiling and investing it in more expensive features for the room can be an ideal plan.
So there you have it, six ways to create a high-class look with budget friendly tiles. No matter how small your budget, there are always ways to make the design look more high class. You just need to take the time to plan out your rooms ahead of time.