It is probably a universal truth that beginning a home renovation can be a very exciting, yet daunting process. Once your plans are set in place, there are steps you can take to help ensure your renovation goes smoothly.  Every renovation is different, of course, but there are often things you can come to expect and you certainly pick up plenty of lessons along the way.
Working on major renovations in Collingwood, we have found 5 steps that, when fulfilled by clients, often help lead to the major successes of renovation. Some of these steps may seem obvious in hindsight, but in the midst of planning for a home renovation they can be very easy to overlook. Read through each step to see that you are fully prepared for your Collingwood home renovation.
Quicklinks
Step 1: Communication With the Build Team
Step 2: Pack and Protect Your Belongings
Step 3: Make Proper Living Arrangements
Communication With the Build Team
I stand by the belief that clear communication is the first step in any project. At the very start of your cravings for renovation, surely you must have shared your dreams of home improvement with someone, right? It is once you start to voice your needs, you start putting action to your words.
I'm sure I'm not alone in saying that when I'm thinking about taking on something as significant as a home renovation, I would first discuss the idea with my spouse. My wife, Laurie, is actually my partner here at Alair Homes Collingwood- What's the saying? "A couple that builds together…", right?
Anyway, once you talk with whoever may be involved in this with you, meet with a contractor. A homebuilding expert can help to make solid plans for your project. Of course, in my example, I know a few people. We'll try to remain impartial though, so if you'd like a few tips on how to hire a dependable contractor here in Collingwood, we've written a blog about just that. You can find it here.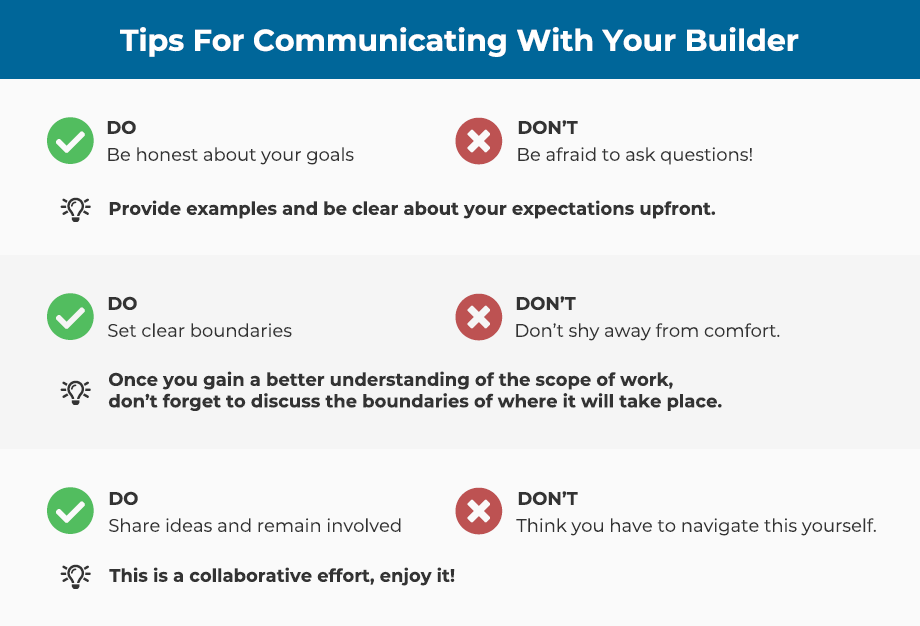 Once you hire the right contractor, your plans will really be set in motion. At Alair Homes, we partner you with a Project Manager to help you throughout the renovation process. It is vital for whoever you work with to listen and learn about you and your needs to understand the true scope of work ahead.
In communicating with your renovation team, I recommend having plenty of examples prepared to help describe your vision. More importantly, have patience when quick decisions arise and don't be afraid to ask questions. Your Project Manager is there to offer industry expertise to help you in your decision making. Ultimately, it is your vision and your decisions, so remember to take a deep breath. Your PM will help plan and coordinate all necessary efforts to deliver a home renovation with lasting effects.
As you welcome a construction site into your home, don't be afraid to set boundaries upfront. Do you work from home? Will you allow use of a guest restroom? Respecting privacy and maintaining facilities through renovation is crucial and this can only be achieved through proper planning. This will all be detailed in your renovation plan prior to construction but this will be important to remember as you continue your renovation. Renovation can be hectic but in remaining open and honest will help maintain order in your home.
It's important not to shy away from this relationship with your build team as a successful home renovation is a collaborative effort. This is something that truly cannot be understated, which is why building a strong relationship with our clients is a priority. It is through collaboration that you often discover ways to optimize your renovation.
Pack and Protect Your Belongings
Be sure to leave the area that is going to be under construction clear of any furniture and home decor. Take time to be thorough when you're storing away personal items for safe keeping. It's well worth the effort to have any personal belongings out of site and out of mind. As you pack your things, be mindful in the way you put everything away to make things easier to unpack later. You'll thank yourself later when you won't have to move boxes to get to your television stand as your flatscreen sits idly on the floor. For large renovation projects, this may mean hiring movers. Be sure to plan for the additional cost and time restraints this may cause.
Make Proper Living Arrangements
Your belongings aren't the only things you might consider packing away! It is common to make some adjustments to your living arrangements during the duration of the renovation. Depending on your budget or size of project you may consider living off-site completely.  Two questions that normally help determine whether to stay or go are:
Do you have young children or small pets?
Is it within your budget?
For smaller renovation projects, you may decide to live in the renovation. This is a perfectly suitable option as it exposes you to on-site insight and direct communication. It's important to note, however, this option requires immense flexibility on the part of you, the homeowner. Ask yourself: Will your day-to-day activities be disrupted by the stress of living in a renovation? Many renovation projects take time and work before you can see visible changes. You know yourself well enough to know if you can celebrate little victories or if the constant construction will cause more of a distraction.
That's not to say living in the renovation is improbable. In fact, for one of our clients with a professional recording studio in their home it was crucial that their work could continue. Our team worked around their recording schedule and managed to renovate ¾ of the total home without disruption.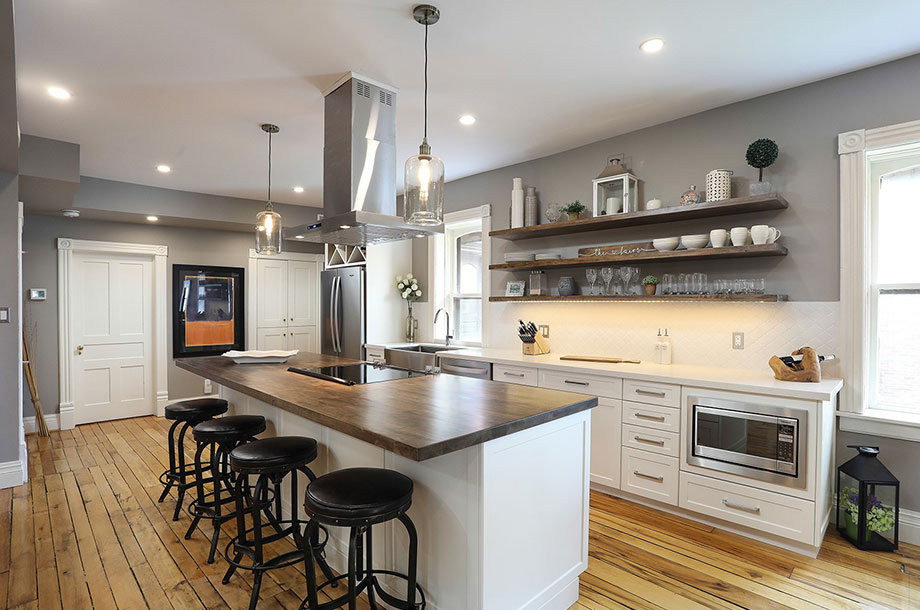 I would advise a short test run of any plans of closer living quarters before committing to a plan. This is especially true for larger projects or renovations made to main facilities like the bathroom or kitchen. Whatever you decide, be sure to make arrangements well in advance.
Be a Dutiful Neighbor
Chances are, if your renovation is enough to cause disturbance in your own life, it may cause the same to those who live within close proximity to you. Long after the construction is over, you must live with the repercussions a large renovation can have on your relationship with your neighbors. It really goes a long way in helping to keep things cordial if you take time to warn the people around you of your plans.
If you choose to work with our team at Alair Homes, we begin each project by taking a postcard to each of the neighbors letting them know we'll be working on their street. Each door card has the project managers name and phone number. We encourage people to call with any concerns they may have regarding the construction. You see, as part of our professional project management, your PM will take on the responsibilities of managing the construction site so any questions or comments are directed to them.
If you wish to go the extra mile, introduce yourself to further alleviate any fears. Brick Underground has also created a few letter templates you can use to warn to neighbors of your renovation. You can find the inspiration for renovation letters here.
Enjoy the Process
It is only in fulfilling the previous steps that you are able to achieve this final one. This final step, at times, may be easier said than done. The reality is: Home renovation can be unpredictable. Whatever problem may occur, it's critical to stay calm and remember this last step. Hopefully you have already taken all the previously suggested necessary measures.
My final advice would be to remember to have patience. Throughout the renovation process there may be bumps along the timeline, but when you plan well enough in advance you have nothing to fear. All that's left to do is trust the process and reap the benefits of an exceptional home renovation.
If you'd like to discuss your plans of renovating further, contact my team today to set up a complimentary consultation. We will gladly assist you with your Collingwood home improvements!
Share: