Most people from around the world spend their first and last minutes of the day in the bathroom. If you want to start your day off on the right note, you need to have the right ambiance in your bathroom. If you want to make décor changes in your bathroom, here are five design trends that are hot this summer.
French doors
French doors are the latest design trend for covering up the shower area. Unlike shower curtains, French doors look chic in the bathroom. Also, they still serve the same purpose as shower curtains and stops the water from falling outside the shower area. As the shower area is a simple space in the bathroom, French doors make an outstanding décor statement.
Rustic vanity mirror
If you think your bathroom needs a makeover but you don't want to change up too many it things, you can use a rustic vanity mirror. Regardless of the style of the sink, the round shape of the vanity mirror will complement it. On top of that, a rustic vanity mirror in your bathroom makes an instant statement.
Dark walls
One of the boldest and newest bathroom design trends for this year is to paint your walls in rich and dark colors. Most designers opt for black as it goes well with a white toilet and sink. If you want your bathroom to look balanced, you can add a rug and some wood.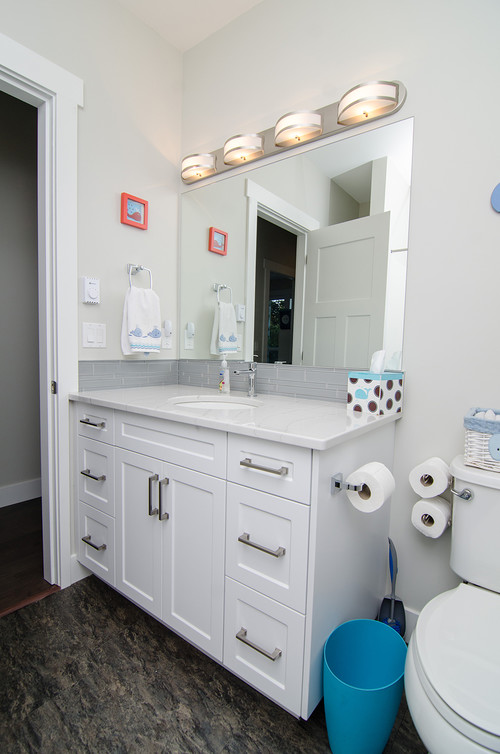 Retro tiles
Even though retro tiles were trendy back in the day, they came back in 2017 with style. For this year, black and white tiles are the hottest flooring option at the moment. It is for bathrooms that have a neutral design as it adds a little color without being overwhelming.
Borderless showers
If you ever had to use an outdoor shower, you will know how relaxing it is to wash up in a ceiling-less room. Similarly, designers are using this idea for the shower area. However, if you do opt for one, ensure the flooring only consists of tile.
Add a dash of life to your bathroom with these five design trends that are hot this summer!
Share: