There are several ways to build your custom home. You can build it on your own, hire a custom builder or hire an architect and contractors.
You do not want to build it yourself unless you have experience and like to work with your hands. The best option is to hire a home builder instead of an architect and contractors. Here are several reasons to work with a custom home builder for your project.
1. You Get More For Your Money
Your builder manages a team of designers and contractors who specialize in home building. The team works with you to ensure you are getting the best results for your money. Your builder helps you reach your goals without going over your budget, and one example is helping you select quality materials without breaking the bank.
2. Easier To Manage Your Project
If you hire an architect and bid out to contractors, then you need to check with them and several designers throughout the process. It is easier to manage your project when you are working with a home builder. Your home builder is the only one you need to check with because they are the project manager. This reduces the stress of trying to contact a specific team member during the process.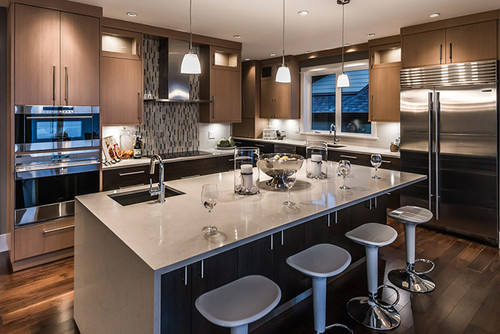 3. Lowers The Risk of Miscommunication
When you hire a home builder, you are only communicating with them during the project. Your home builder communicates with your building team. Whether you are choosing the materials or finishes, you can relay messages to your team through your project manager. This lowers the risk of miscommunication and ensures the project runs smoothly.
4. Saves Several Weeks On Your Timeline
Hiring an architect and bidding out to contractors is a long process that adds several weeks to your timeline. This is frustrating when you are looking to finish your project by a specific date. When you hire a builder, you are going right from the design phase to the building phase. This means you do not have to wait several weeks just to start building.
5. You Are Satisfied With Your New Home
Your builder has years of experience in building homes from scratch. They know how to refine your vision to fit your lifestyle and budget. Your home builder is also looking to maintain their reputation within the construction world, so you can rest assured that they are going to work hard to bring your vision to life. Whether you are looking for an open floor plan or modern conveniences, your new home is going to feature everything from a stylish design to quality construction.
The first step to creating your dream home is to contact Alair Homes Victoria. Alair Homes makes it easy to find a custom home builder in the Victoria area. Your builder has the experience necessary for working with your team, managing the project and building your home. The company specializes in tasks ranging from a home remodel to a custom home building.
There are several reasons to hire a custom home builder. You are staying within your budget, saving time on your project and working with an experienced professional.
You are sure to be satisfied with your new home when you hire a builder like Alair Homes Victoria for your custom home project.
Share: