Whether you are decorating your new house or remodeling, selecting the right tile for the floors, kitchen countertops, or walls is often a stressful task. If you have ever visited a tile showroom is Victoria, you probably know how overwhelming it feels to be surrounded by the various material in different patterns and finishes. However, this task doesn't have to be hard. With a few ideas, you can choose a durable and aesthetically appealing material that will compliment the rest of the home. Here is how to go about it.
What's the style of your home?
Before you start, think about the style of your home. Tiles come in various materials such as porcelain, ceramic, glass, and natural stone which comes in different types like marble, terrazzo, bluestone, and concrete. What is the style of your home? For a contemporary style, you need to go for materials, colors, and finishes that compliment the space and add a polished look. If your home takes on a rustic style, you may go for a natural material that gives the home a country or traditional look. Have the overall style of the home in mind as you go shopping to ensure that the tile you choose blends seamlessly with the rest of the décor and fixtures.
Where will the tiles be installed?
Deciding where you will install the tiles will help narrow down your options on the best material. For instance, for bathroom flooring, you can go for natural stone due to its durability even in wet conditions. A ceramic mosaic floor would also be ideal in providing a solid grip in a slippery shower. For the walls glass, glass makes an excellent option while ceramic, porcelain, and stone can be used for the kitchen countertops and splashbacks.
When choosing the best material for each room, think about the conditions in the roof and traffic. Select a material that's easy to clean for the living room, kitchen, and bathroom as these areas experience high foot traffic. For the bathroom, go for one that's water resistant, durable, and easy to clean. The experts can help you choose the best tiles for different rooms in the home to maximize their durability.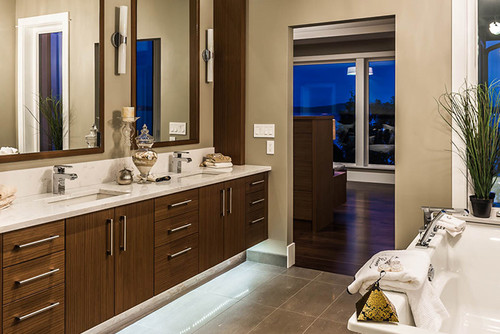 Select style and finishing options
Today, tiles are available in various styles and patterns ranging from plain ones to 3D styles, textured, and much more. When it comes to selecting the right patterns, you need to think about your home's style and preferences. Some people will go for plain options while others prefer patterned ones. If you are not sure of the best solution, you can get samples and experiment with each style, paying attention to those that matches the room's décor and fixtures.
Various finishing options are available which include high, medium, and low gloss and matte finishes. High gloss ones are ideal for walls, countertops, and splash backs. They make rooms look bigger and brighter than they are, and are suitable for small, dark spaces. Use matte or low gloss finishes for the floors to prevent it from being too slippery. Matte finishes are also suitable for outdoor areas due to their slip resistance and durability.
Choosing the right tiles may seem like a daunting task, but with these tips, the process should be easier. Work with an expert at Alair Homes Victoria so that you can determine which material is suitable for the different surfaces in the home based on your style, preferences, and needs.
Share: