Placing the home's staircase at the front of the house widens your opportunities to make a bold design statement and create a more welcoming space. This position in a custom built home showcases the home to everyone who enters through the front door. It also reinforces a positive impression of your home.
Advantages of a Front Staircase
The primary advantage of a front staircase is its immediate relationship to the foyer. Both the stairs and the entry require a certain amount of space that's more like a hallway than living space. By combining the two, the space becomes larger, which has a more comfortable and natural feel.
From an aesthetic point of view, the combination of the front staircase and foyer creates more impact at entry, especially if the staircase and the adjacent upstairs space are open to the foyer below. Either a loft or hallway is a common use for the adjoining second-floor space. Although it's possible to wall in the staircase, the foyer loses much of its visual appeal.
Another significant advantage to a front staircase is the impression it creates when you want to sell your home. People form their ideas about a home from the street. The landscaping and the front door can attract people to your home if they're done right. If the first interior space they see feels good, they will continue to like your home once inside.
Design Concepts
This design concept is often showcased as formal, although it lends itself to any kind of architectural style. More important than the actual design of the staircase and foyer is the concept of the sight line. There should be at least one place where you can see into or through the house, preferably through a window. Without a line of sight, the space will feel claustrophobic.
Once you've decided to place the staircase in the front of the house, you'll need to identify where you want the powder room and the coat closet. The space has to be functional for daily family life and your guests. You may need to include space for the kids to place their school materials, along with the mail.
The Details
The hardware you use to finish the foyer and staircase for your custom built home will set the style for the rest of the house. It's acceptable to use different flooring materials for the foyer, and some people use decorative windows and chandeliers to embellish the foyer's appearance.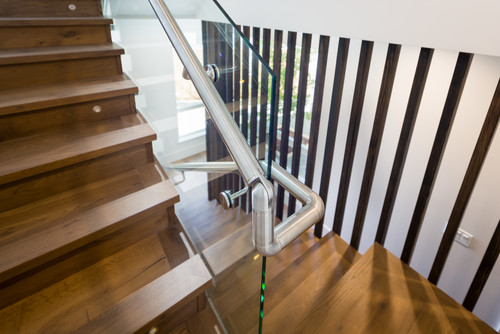 Bottom Line
Taking advantage of a front staircase in your Alair Homes custom built home gives you the ability to make and reinforce a strong design statement. It can also be a space that provides the conveniences you need for daily living.