As the year starts, you are most likely scheduling for future activities. If taking a vacation happens to be in your plans, then you should consider paying a visit to South Etobicoke. Below is a list of some of the best places to visit and the interesting things to do in this beautiful region in Western Toronto.
Take a Zombie Dog Walk
This event takes place at the Colonel Sam Smith Park – southern corner of the shoes of Lake Boulevard annually on the 26th of October. If you are a lover of pets, this is an event that you can't afford to miss. During the event, dogs, dressed in fancy clothing, and their owners take a hike around the park in what can be described as a dogs' fashion show. The peak of this event is the awarding of prizes to the best-dressed dogs.
Visit James Gardens Park
This park is located on the banks of river Humbler and is easily accessible via road. St. James Park is ideal for taking evening strolls in the summer. The park is popular around Etobicoke for its numerous pathways and flower gardens. Numerous wedding groups and photographers flock this park to take pictures because of its beautiful vistas.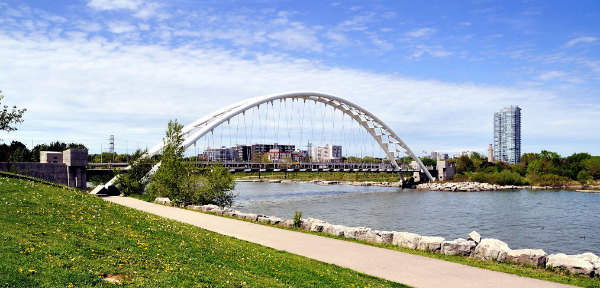 Take a trip to Palace Pier Park
The huge bridge that links Toronto City to the Palace Pier Park is famous for its unusually unique and elegant design. Taking a walk across the bridge offers visitors a clear view of Lake Ontario as well as the Toronto shoreline. This, for nature lovers, is scenery to behold. On weekends, the bridge is synonymous with newlyweds taking photographs. The Palace Pier Park, which lies across the bridge, also offers magnificent locations where you can take great shots (if you love taking pictures). Inside the park is a network of trails that are popular for rollerblading and bike riding.
Take an outing to the Humbler Arboretum
The Humbler Arboretum is a 100 hectares of land located South of the Finch Avenue. The Arboretum hosts over 1700 animal and plant species. Its stunning gardens can be accessed for free by any visitor who is willing to explore their beauty. The arboretum consists of numerous trails and is a good place for persons interested in hiking, nature photography, running, camping, etc.
The novel Spot Bookshop
This bookshop is located at the Humbertown shopping center. It is a great place to visit if you love reading. One incredible thing about this bookshop is that you can choose where to sit and enjoy reading your favorite novel: you can either sit at the indoor study tables, in the backyard or even in front of the fireplace. Besides reading, you are likely to get the chance of meeting popular authors from around the world as they are usually invited to do book signings. The management also offers book rendering services.
Other places that you can visit while in Etobicoke include:
 The Royal house of music located at the Mimico Village in Etobicoke
 The spring bird festival at Tommy Thompson Park
 The cultural Hotspot held between May and October