As one of the most-visited rooms in a home, a bathroom needs to have a design that's visually appealing, inviting, comfortable, efficient, and functional. If your current bathroom is no longer serving any of these goals, it may be time for a spruce. The first step in the process of planning your renovation is to determine what might work in your available space. Here are some ideas from Alair Homes South Etobicoke for your consideration as you make your choices.
1. Incorporating Patterns into Your Design
With the right patterns and colors, bathrooms can come to life in ways you may not have realized. Wallpaper is a permanent and more dramatic way to achieve this goal. If you want something a little more low-commitment, however, go with patterned towels and shower curtains.
2. Adding Pizzazz to Your Baseboards
There's no rule that baseboards have to be white. Add some unexpected character to your bathroom's decor by extended patterns, designs, or colors to your baseboards.
3. Balance Lighter Colors with Darker Hues
While there tends to be a preference for lighter colors on walls in bathrooms, adding some darker hues can create an appealing contrast. Darker tones placed towards the lower half of walls also make bathrooms feel less sparse.
4. Use Screens to Divert Attention
Use a divider screen to keep the toilet out of sight and create more versatility with your layout. Not only will a divider give the room a different look, it will also provide a new focal point, which can work out well if you have some wall art.
5. Add Subtle Colors to Offset the White
Enjoy a less clinical space by offsetting white with subtle splashes of color. Try adding wallpaper with different colors and designs to make the white elements of your decor less prominent. You can achieve a similar goal with towels, artwork, knickknacks, and small accessories.
6. Dim the Lights
Give yourself the option to adjust the light to suit your needs and preferences with a dimmer system. You'll likely appreciate the ability to instantly shift from full brightness when first waking up to something cozier when unwinding down at the end of your day.
7. Make Your Hardware Personal
While often an afterthought, hardware can be an unexpected source of style. If it makes sense for your decor, consider faucets, knobs, and other accessories that are a bit more quirky or colorful.
8. Go Mosaic with Your Tile Selections
One of the easiest ways to break the rules with your decor is your choice of tiles. Go beyond traditional colors and consider a mosaic pattern. A mix and match style could be used for an accent wall while bolder colors are used for the tiles around your vanity.
9. Think Outside of the Cabinet with Your Sink
Vessel sinks that look like a bowl sitting on top of a counter are an eye-catching change from traditional porcelain sinks. Further customize your sink with imperfect shapes or materials like carved wood, glass, or stone.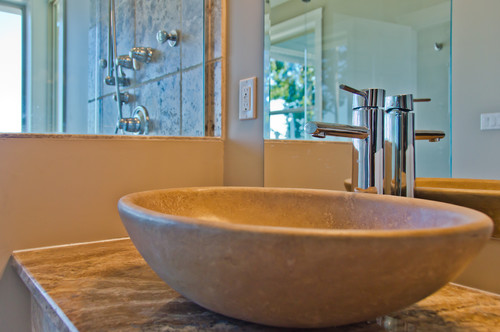 10. Use Natural Materials
A renovation is a perfect excuse to explore materials other than what's normally used in bathrooms. Natural is a popular material choice today because soft or exotic woods can add warmth and intimacy to frequently used spaces.
11. Try Free-Standing, Opening Shelving for Storage
Open shelving doesn't have to be anchored to a wall. A free-standing setup creates a lived-in feel and it can be easily positioned next to the bathtub or shower.
12. Hang Your Mirror
Be dramatic with your mirror and consider something other than the traditional medicine cabinet. Hanging mirrors can be easily placed on a strongly secured hook above your sink.
13. Make a Statement with a Detailed Mirror
Prefer a permanently fixed mirror? You can still get some added style with a detailed mirror. You can even use your existing plain mirror as the basis for your upgrade by adding a frame around it or a little bit of gold leaf.
14. Customize Your Ceiling
If you're looking for one more place to update your bathroom's look, glance up. Your ceiling can become an enhancement to your decor with some wallpaper or using paint with granules in it to create a textured appearance.
Once you have an idea of what will likely work in your available space, narrow your focus to design ideas and updates that work within your available budget. When you're ready to get started, the team at Alair Homes South Etobicoke will turn your ideas into a beautiful reality.
Share: