Hiring a professional contractor for your home renovation or custom built home should never be a decision based on price alone. Experience, what's included in the bid and reputation must all play a part. Failing to do this may cause you to realize the professional with the lowest bid is not the right one for the job. Use the following tips to hire the right contractor for your home project.
Created a Detailed Plan
Before you hire a professional, have a plan in place that outlines what your project will entail. Make this as detailed as possible. The plan should include everything from electrical features to interior architectures. A professional gives you an estimated price based on the information you provide in your plan. If you leave any details out, you may not get an accurate price for your project.
List Your Specifications
Your professional also needs a list of the specifications for your project. This includes your appliances, accessories, fixtures and finishes. The specifications you choose may raise the price of even a small renovation. Do your best to choose as many of the features as possible before you start the project. This way, you are not changing your budget or orders at the last minute.
Price The Project
At this point, you're likely ready to price out the project. Send your plans to several general contractors, and request estimates. Make your initial choice based on recommendations from friends, family members or professionals you are working with. The Internet is also often a helpful tool in this stage of your decision.
Schedule an Interview
Scheduling interviews is an important part of hiring a professional. This gives you the opportunity to meet your potential builder, learn about their experience and find out how they communicate and deal with unexpected issues. Hire someone you get along with. After all, this is a person you might work closely with for several months. Use all this information to determine if the builder is right for your project.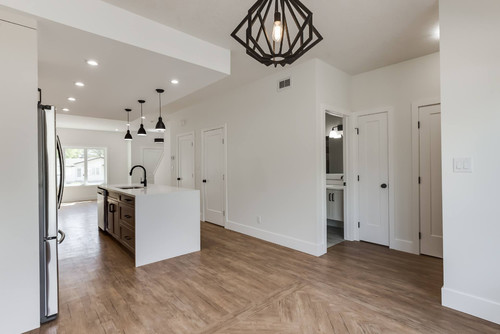 Check Out Their Previous Work
After you have narrowed you choice down to one or two general contractors, ask them if you can look at their previous work. Some might provide online galleries. Others might invite you to visit current job sites. This gives you a first-hand view of their skills and work ethic. If you have the opportunity, speak with recent clients too. Ask a lot of questions, and gauge if this is really someone you want to work with.
Hire an Insured Professional
Finally, remember that it is important to make sure a professional is insured before hiring them for the job. You never know if an accident might occur on the job site. Insurance protects you, your property, subcontractors and your contractor too. It can also help you avoid unnecessary project delays or even prevent a complete halt of the project.
When you are ready to hire a contractor for your custom home project, contact Alair Homes Saskatoon. We specialize in everything from renovating your bathroom to building your home and provide a free project consultation to all new clients.
When you take your time and go through all the steps, you are sure to find the best contractor for your next project.