Regardless of whether you are building a custom home or you are preparing to renovate your existing home, you may be focused on creating a beautiful kitchen. The kitchen is understandably the heart of most homes, and it gets this reputation because it often is a gathering place for family. This is an area where everyday living takes place. You may also use your kitchen for making memories on the holidays, entertaining and more. As you prepare to create a kitchen design for your Regina home, focus your attention on these questions so that you create a space that you and your family will love.
What Are Some Must-Have Features in a Chef's Kitchen?
If you or another family member enjoy cooking, it may make sense to add at least a few upgraded features. Many people cook meals for the family, but some people find true enjoyment in spending hours baking, preparing huge meals and more. A chef's kitchen often will have at least two ovens and a warming drawer. It will usually have a gas range rather than an electric range. The sink may be deep and oversized, and there may be a pot-filler over the stove. Consider the available space in the kitchen as well as how you use it so that you include thoughtful features that will get plenty of use.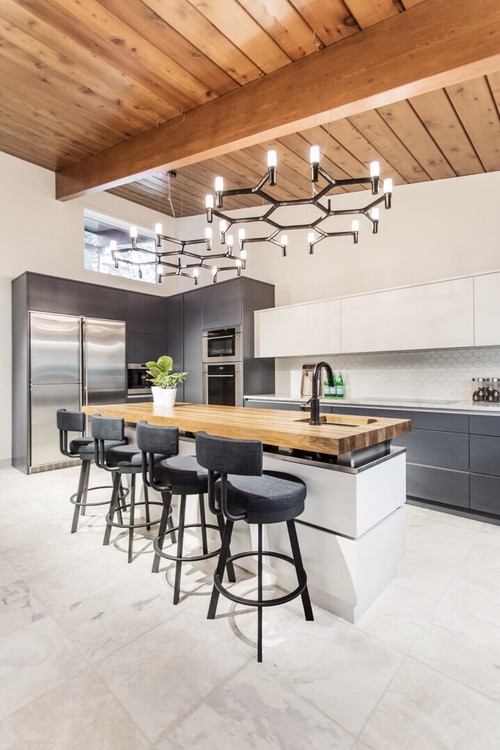 How Can I Make a Dark Kitchen Seem Lighter and More Inviting?
Designing a custom kitchen gives you the ability to improve everything that you dislike about your current kitchen. A common complaint that some homeowners want to address through a renovation is prevalent darkness. Kitchens often have at least two to three floor-to-ceiling walls, and most of these spaces may be covered over by cabinets, appliances and other features. A thoughtful kitchen design may incorporate more or larger windows and skylights. Artificial lighting can also be revamped. In some cases, tearing down a wall to create an open-concept floor plan may be necessary.
What Are Design Elements for an Entertainer's Kitchen?
If you regularly use your home to entertain neighbors, friends or your large extended family, designing a custom kitchen that is well-suited for entertaining may be a top priority. A kitchen design that is ideal for entertaining has excellent flow for many people to move around freely. Some people prefer to have a large island that encourages guests to stay close by as well as out of your primary work area. An entertainer's kitchen also may have ample counter space so that food and drinks can be displayed.
How Do I Choose the Right Colors for a New Kitchen?
Choosing the colors for a custom kitchen may be rather easy for some homeowners, but it can be stressful for others. When you are trying to decide which colors to incorporate in your space, think about how long you intend to be in the home. If you intend to move soon, it makes sense to choose a color palette that is neutral so that it is appealing to many people. If you want to add trendy colors to your space, think about installing neutral cabinetry and counters as a first step. You can then add trendy hues to items that can easily be replaced or updated, such as decorative accent pieces. Because of how much time you may spend in the space, the color scheme should be pleasing to you.
Make your kitchen a space that you love with the help of Alair Homes Regina. Our design and construction professionals will spend time listening to your ideas, learning about your lifestyle and helping you bring your vision to life. Contact us to schedule a complimentary consultation.
Share: