No matter what size kitchen you have, there are tricks you can do to make it feel larger and roomier. Below are 12 tips from Alair Homes Regina to make your room feel bigger, even in a small space.
1. Choose Shallower Cabinets
Cabinets don't come in one standard size. If you're looking to broaden your space, you can alter your cabinets to a shallower fit. This way, you'll still have room your dishware, but you'll also have more counter space as well.
2. Get Rid of Unnecessary Hardware
Who else hates it when your clothing gets caught on drawer handles or when you bump into other annoying hardware? Fortunately, there are ways you can reduce the amount of hardware in the room without forfeiting functionality. For example, you can install touch-activated drawers and latches to offer you more space.
3. Stick to a Single Sink
Although double sinks seem tempting, they take up a lot of room and require double the maintenance. Instead, you should stick to a single sink that will offer you more room and make your kitchen look larger. Plus, if you center your sink under your window, you have plenty of room on either side for decor or meal prep to take advantage of.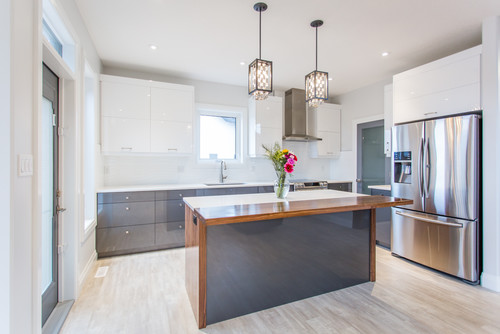 4. Pick a Compact Dishwasher
Most dishwashers come with a 24-inch width, but you can choose a more compact size dishwasher that has an 18-inch width. Saving the six inches can offer you more room for additional shelving or if you're looking for a smaller form-factor.
5. Go For a Smaller Fridge
You don't need the largest fridge in the store. In fact, purchasing a slimmer refrigerator can help open up your room. Plus, you'll most likely never fill up the 36-inch fridge. Instead, you should go for a 30 or 28-inch model that will make the room look and feel bigger.
6. Take Advantage of Panel Appliances
If you're not yet ready to opt-in for compact appliances, choosing panel appliances can make your room look lighter, without giving up on space. Panel-ready appliances allow you to choose the front door of your choosing to help it blend in with the style of the room. Although the upgrade can be pricey, it may be well worth it, depending on how big you are on aesthetics.
7. Mirrored Backsplash
Mirrors can make any room look more open. You can incorporate this design feature by installing a mirrored backsplash.
8. Shelves Instead of Cabinets
Remove your upper cabinets and replace them with open shelving. This is a great way to make the room feel bigger. This sort of storage is best for storage bins, cookbooks frequently used tableware, and more.
9. Glass Cabinet Doors
If you do not want to completely remove the doors on your upper cabinets, think about replacing them with glass doors. This will provide an airier look while still protecting your dishes from dust and dirt.
10. Cabinet Lighting
Consider installing lighting under, above, and inside your cabinets. Without enough lighting, the entire room will appear dark and shadowy. This will trick your eyes into thinking the room is smaller. However, with additional LED strip lights or tap lights, you can make your room look brighter and bigger.
11. Install a Low Backsplash
You can make your walls look taller by installing a low backsplash. Make sure you choose a color that blends with your wall color. Since there is no division between your walls the tile, your kitchen will feel more open.
12. Unwrap The Hood
Partial cabinets that surround your range hood are not typically used for storage. They are usually included simply to hide the unsightly ductwork. Instead, select a hood that is aesthetically pleasing so you don't need to cover anything up.
Share: