Is it time for a Home Gym?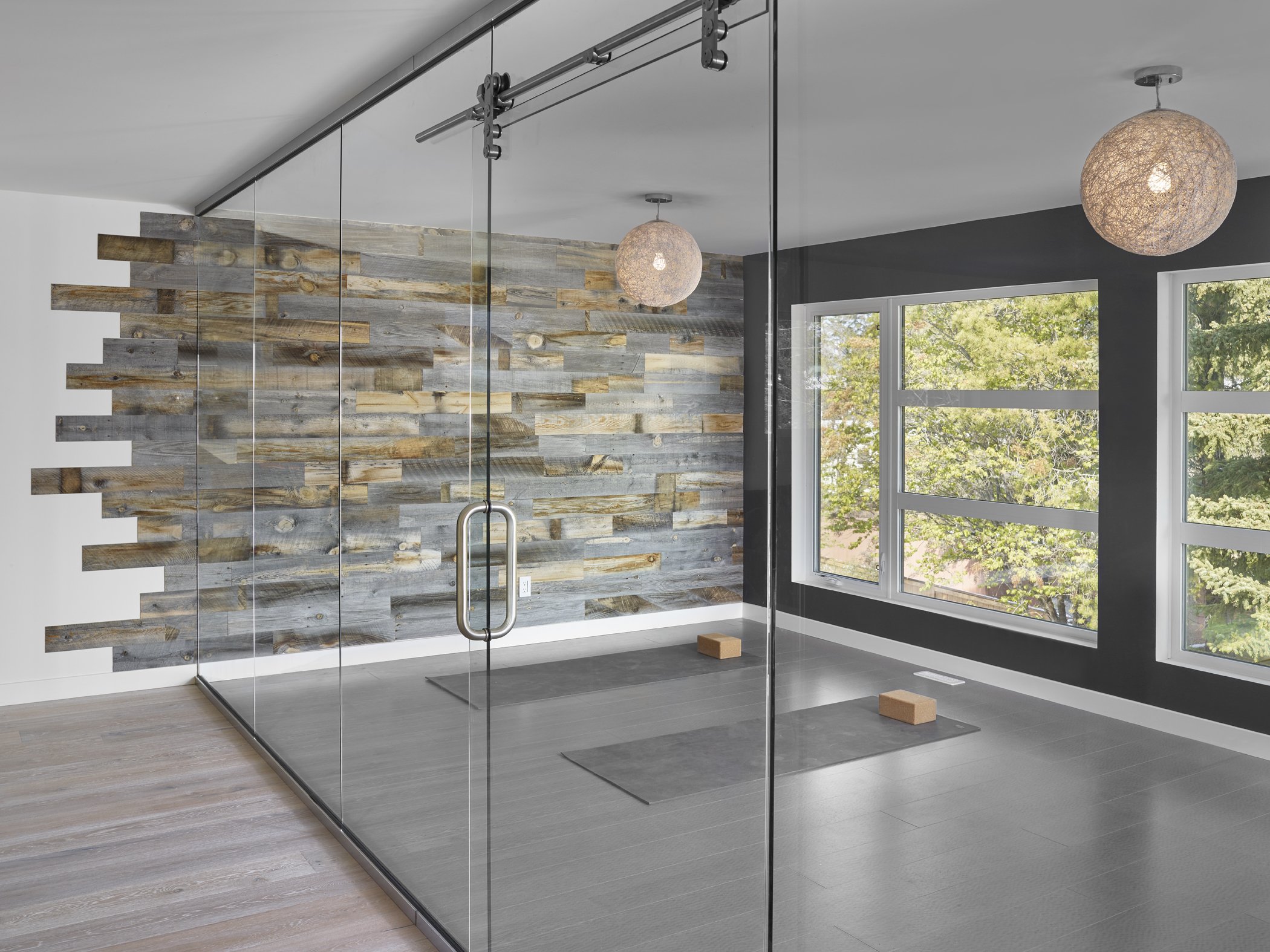 If you've ever thought about adding a home gym, now may be the perfect time to start planning! What may have appeared as a luxury in the past is now seen as a long-term investment ensuring the mental and physical health of yourself and your family members.
Whether you are training for a fitness competition, trying to lose a couple pounds, or just trying to de-stress in today's crazy world, proper planning is key.
Alair Red Deer shares some things to consider when constructing a home gym:
Location, location, location! The sound of dropping weights and blasting workout jams may not work for everyone in the house so some thought needs to be put into WHERE the gym is going.
The basement floor seems like an obvious choice with concrete as opposed to wood taking the vibration and the echo out of the equation.
For those who don't need to hide their cars from our frigid Central Alberta winters, the garage with its concrete base is a great option. Also, garage ceilings are typically taller than the basement and people usually aren't as worried about dinging up their garage walls a bit.
Performing double duty. With proper planning and furniture selections, you can effectively have a multi-purpose room by adding a wall bed or wall desk. Violà! Your home gym is now a guest room or home office.
Impacts to the fam. Will the traffic to the gym be bothersome to working/studious family members? Having a dedicated secondary entrance may be an option. Again, planning ahead for your project will help to reduce any disappointment upon completion.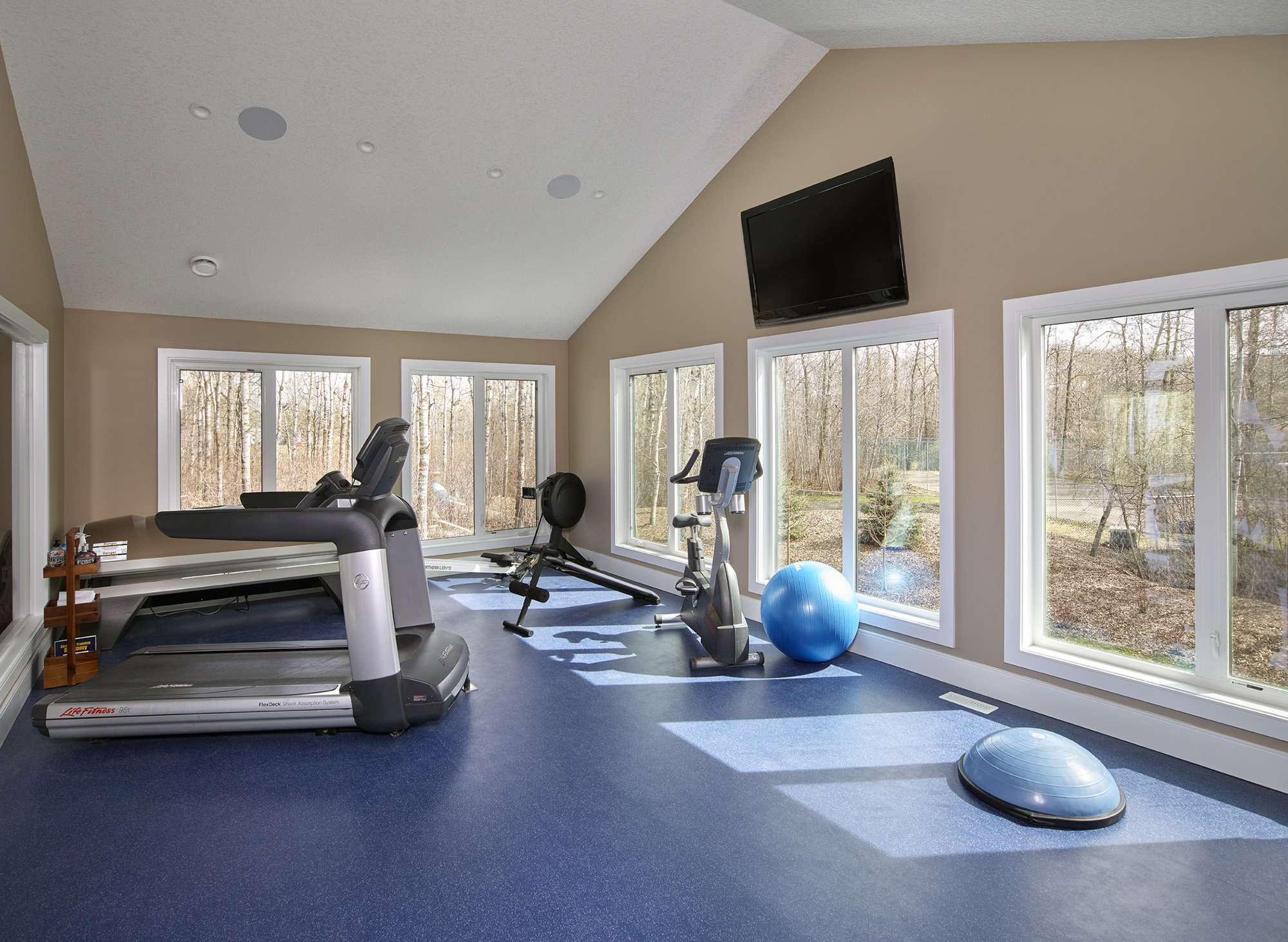 SOUND! No one likes to work out without their beats pumping.
There are some fantastic options for integrating your tunes right into the walls. With hardwired speakers and a Bluetooth system such as SONOS, you get top of the line sound and can run it all right off your phone! Worried about bothering the rest of the household? Sound deadening insulation in the walls will fix that. ROXUL is a high-end product that significantly dampens sound, vibration, and as an added bonus is a fire retardant!
The right flooring is key.
There is a myriad of products based on your needs to choose from. If you're lifting and dropping heavy weights, durability is of highest importance. Vinyl plank has gained a ton of traction in the past years; however, we have found there is a large swing of quality so discuss with an expert to get the best bang for your buck!
Accessorize.
Maybe a yoga studio makes more sense. Some built in storage or racks for your mats, and blocks would be nice! Mirrors are surprisingly cost effective, and who doesn't like to watch themselves struggle to get in shape? And for the ballerinas out there, a mounted wall rail is an easy addition if the proper backing is installed. Maybe a climbing gym? Cladding an entire wall (or ceiling) in solid plywood is a great option that allows for durability as well as endless climbing route options!
Amenities. Shower, smoothie bar, massage chair?
One of the great features of working out at home is getting to use your own shower and amenities. From the most basic version where you walk "allll" the way up to your main bathroom to shower-off after a workout to having your own customized luxury locker room, the choice is yours to make. Or who doesn't want their own smoothie bar a couple steps away from their tread climber. Or maybe a massage chair sat conveniently with a perfect view of Sports Centre or HGTV after a morning stretch is what you desire!
Health-conscious products.
When you're getting your daily sweat on, it would be a shame to counteract those health benefits by installing toxic products in your home gym! Things to keep in mind when you're talking to your contactor or your material supplier are: What is the VOC rating? Does this product off-gas? Was it sourced ethically? Are the materials natural or recycled? There are plenty of products that cater to this line of thinking and with a bit of planning (there is that word again) you will be able to choose exactly what you want.
Yes, planning is important prior to any construction project and the more you plan your new home gym space prior to construction, the closer to your dream it will be.
Check out Houzz.com and Pinterest.com to amass some awesome inspiration. Just remember the sky's the limit and by choosing Alair, you'll be sure to get exactly what you want, within your budget, with our completely transparent process.
Here's to your health!