The Holiday season is upon us and so is the snow. While it might be easier to stay inside and sit by the fire, we think it's important to get out and explore the myriad of things available to do in Red Deer. Below are seven fun activities for you, your friends, and your family to enjoy this Holiday Season:
Get a Little Spooky at the Cronquist House
Take a tour of one of Red Tree's oldest houses, complete a tour guide that's been in and around the house for many years. Local legends date the house back many centuries and stories of its haunted nature resonate across the community. Tour guide Elizabeth Plumbtree is a delight and also a first-hand witness to some of the ghostly encounters in this Victorian delight. Be sure to stay for some lovely homemade food afterward!
Strengthen Your Sports History at the Alberta Sports Hall of Fame and Museum
This newer attraction is well laid out and has a ton of interesting interactive exhibits that mix fun and learning about great Canadian athletes. The variety here is pretty surprising so get ready to stay much longer than you initially planned (there's just so much great stuff here!).
Take a Horseback Ride Across the Snowy Landscape at Double Tree Village Museum
While the bounty tinge is a little mixed with a cowboy charm, taking a horseback ride across the snowy plains is a treat that can't be missed. The beauty around Red Deer is perhaps best experienced at this quaint and charming place.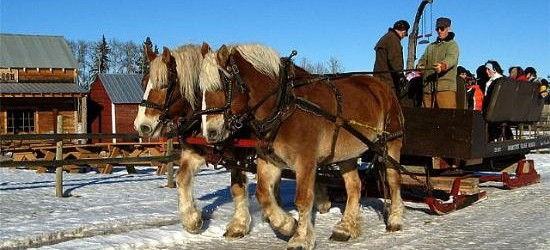 See Some Canada's Most Stunning Architecture at St. Mary's Parish
With its angular slides and discordant makeup, the architecture stands out on a national and perhaps international level. One look at this stunning building will make you want to visit it immediately. We suggest trying to get there as the sun is going down – perfect in the winter.
Take in Nature at Kerry Wood Nature Centre
Take a picturesque stroll or a gliding cross-country skiing trek across the wetlands at this wonderful destination. The indoors have a mix of exhibits and other educational items but the real gem here is the outdoor views and 'essence of Red Deer' feeling of the surroundings.
Get a brew at Chillabong's Bar and Grill
Oddly named but oddly satisfying with its mix of great suds and free hot buttered popcorn. This establishment may not scream 'I have to go', but once you get inside with your friends or beau, you're sure to feel welcome at the best spot to unwind in Red Deer.
Take it Easy at Veterans Park
A more open-ended suggestion; we suggest you take in the Memorial Cenotaph and let it guide you around downtown. It's a fitting way to spend an afternoon, taking in both the history and give yourself a freedom the embodies Red Deer.
These seven suggestions are just some of the fun things you can do in Red Deer. We hope this list provides you and yours a great mix of fun and interesting activities throughout the Holiday season.