Looking to build a home on a steep slope? You've come to the right place. 
Having a home on a steep slope often means all levels of the home can be washed in natural light. And the potential for walkout views from decks on all levels means little worry about your basement being subterranean and dark.
Building a Steep Slope in West Vancouver and North Vancouver
West Vancouver and North Vancouver residential property can offer some incredible views. But along with the extraordinary sights come some equally challenging slopes that need experienced construction management.
Moderately sloped properties range from 10 and 20 degrees. Slopes that are greater than 20 degrees are considered steep slopes. They require additional site preparation, earth-moving, retaining walls, drainage, and slope stabilization.  It's not uncommon to build on a grade of more than 30 degrees in areas which have mountainous terrain. 
The good news is that there are very few sites that are truly unbuildable.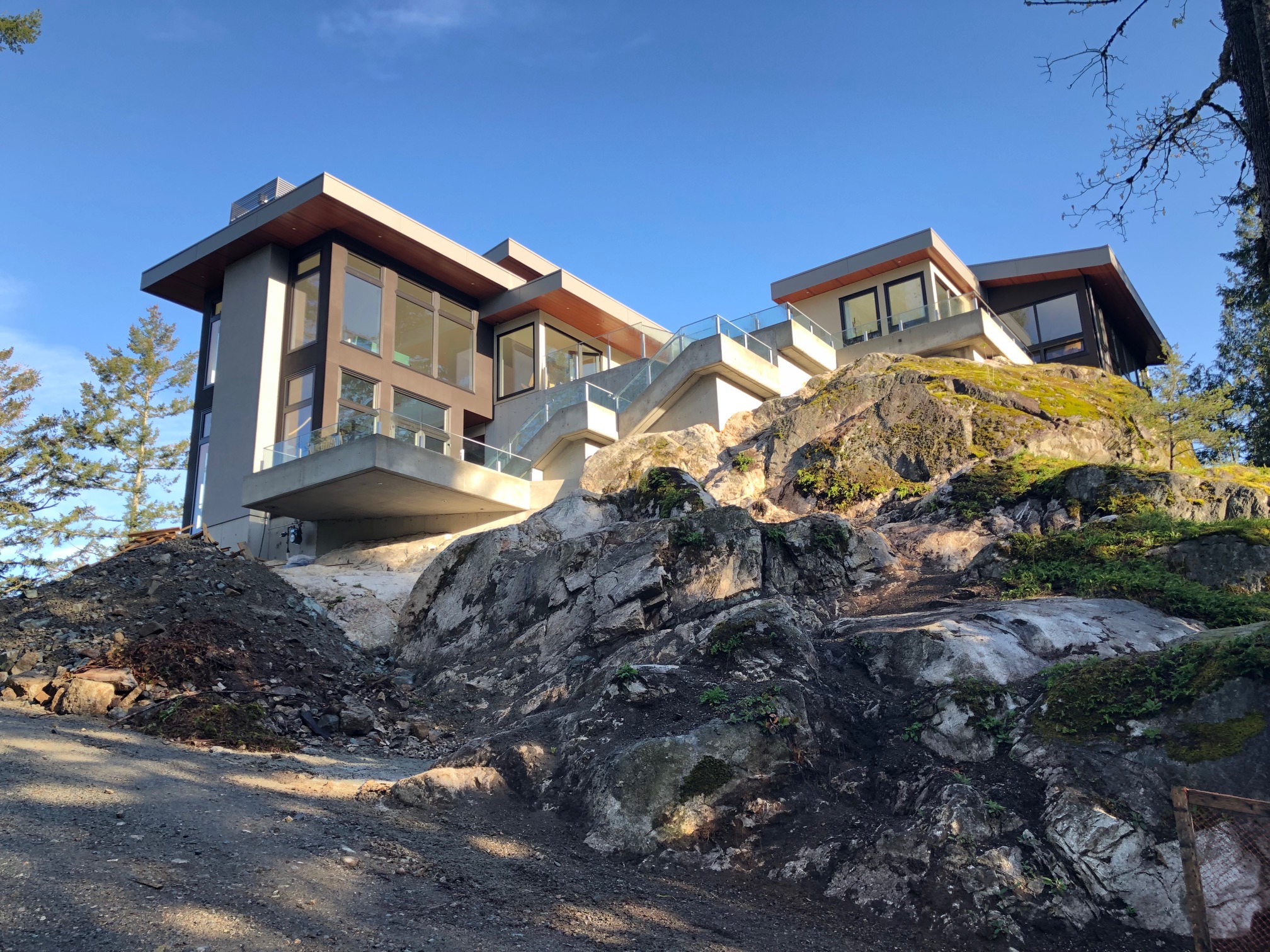 Our Recent Steep Slope Build
This West Vancouver home we recently completed: It was considered by many to be one of the most challenging sites on which they've ever worked. 
The house stands on a previously undeveloped lot. It sat empty for over 40 years because of the technical challenges associated with building on it. That is, until we came along! 
The house is perched on a 45-foot high rock overlooking the road below.  We had to remove 600 m³ of rock (the maximum allowable) and use blasting techniques to remove rock next to a neighbouring suspended pool. There was also a 25-foot cliff at the rear of the property, with another house located below.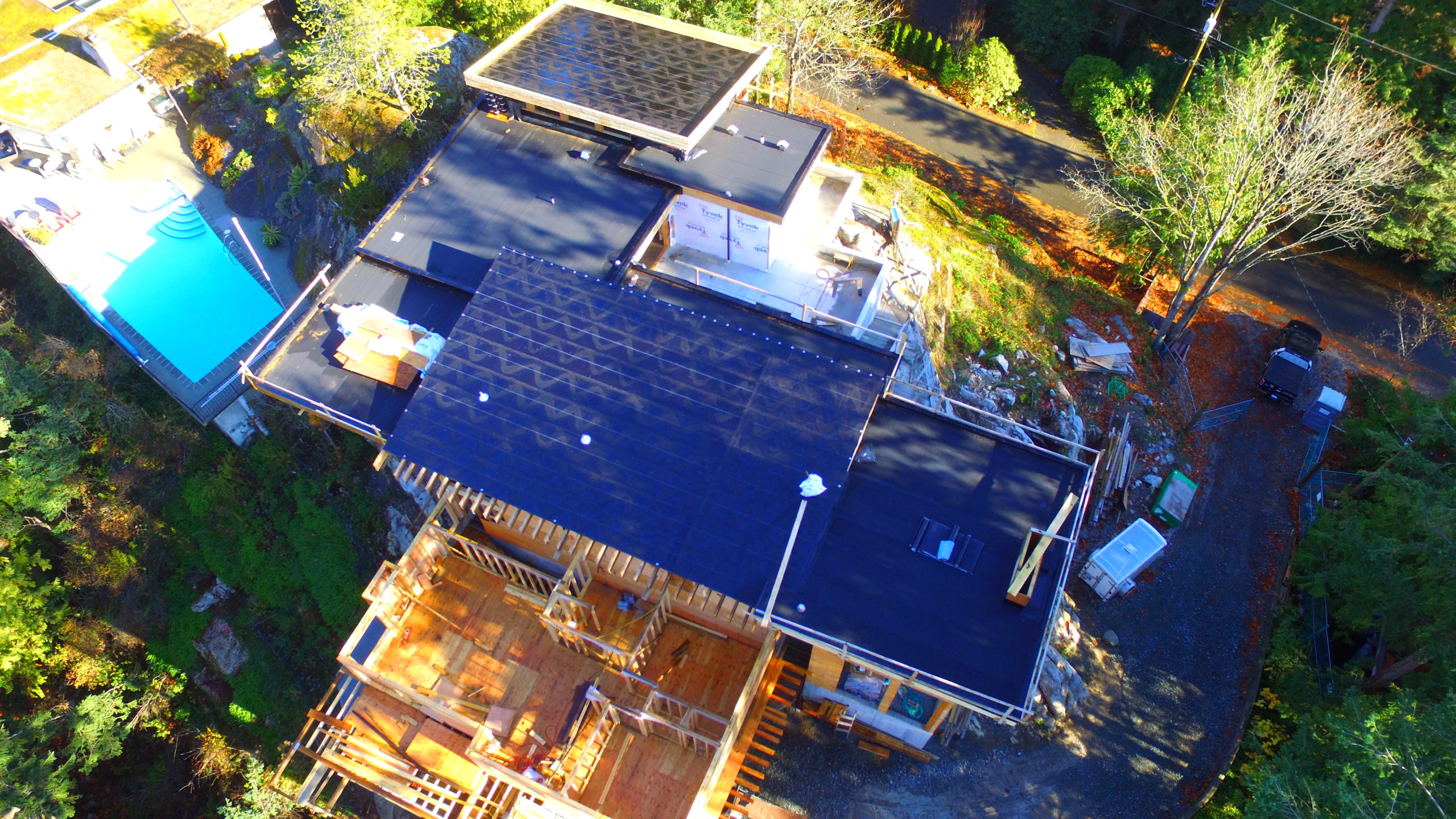 We installed temporary scaffolding that was bolted to the rock face in order to complete the work. We also employed an experienced mountain climbing guide to assist in the bolting process.
The result? Spectacular. 
If you're looking to build on a steep slope, here are some things to keep in mind.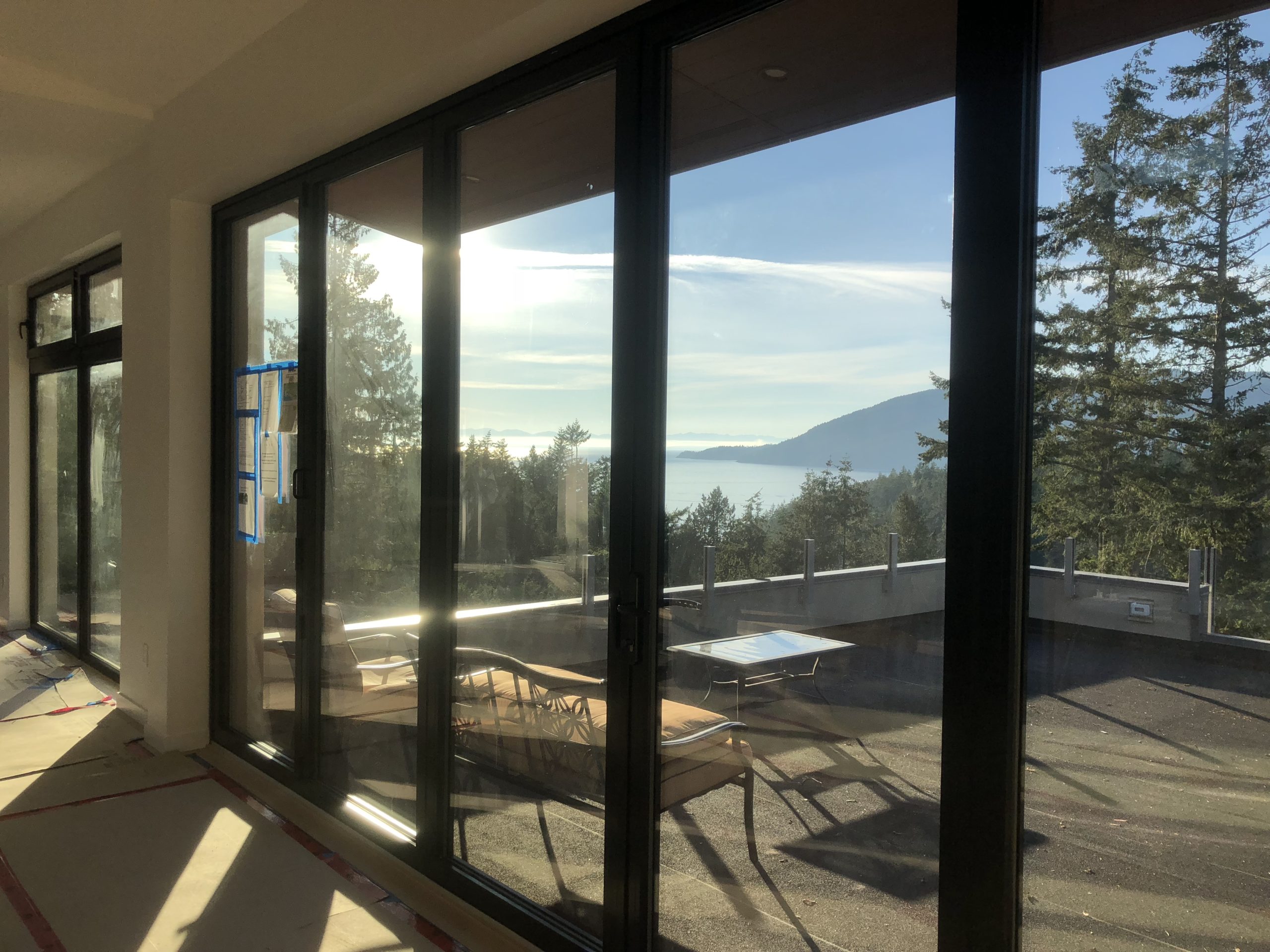 1. Design Considerations
The goal when designing a home on any steep site is to minimize excavation while maximizing the natural elements of the property and providing breathtaking views.  The topography often drives the architecture.  An experienced building team will be able to creatively turn site "problems" into amazing architectural features.
The design should attempt to incorporate walkout decks on all floors. In some cases, your architect may invert the layout, with bedrooms on the main/lower floor and living space on the upper floor. This often helps maximize walkouts and light.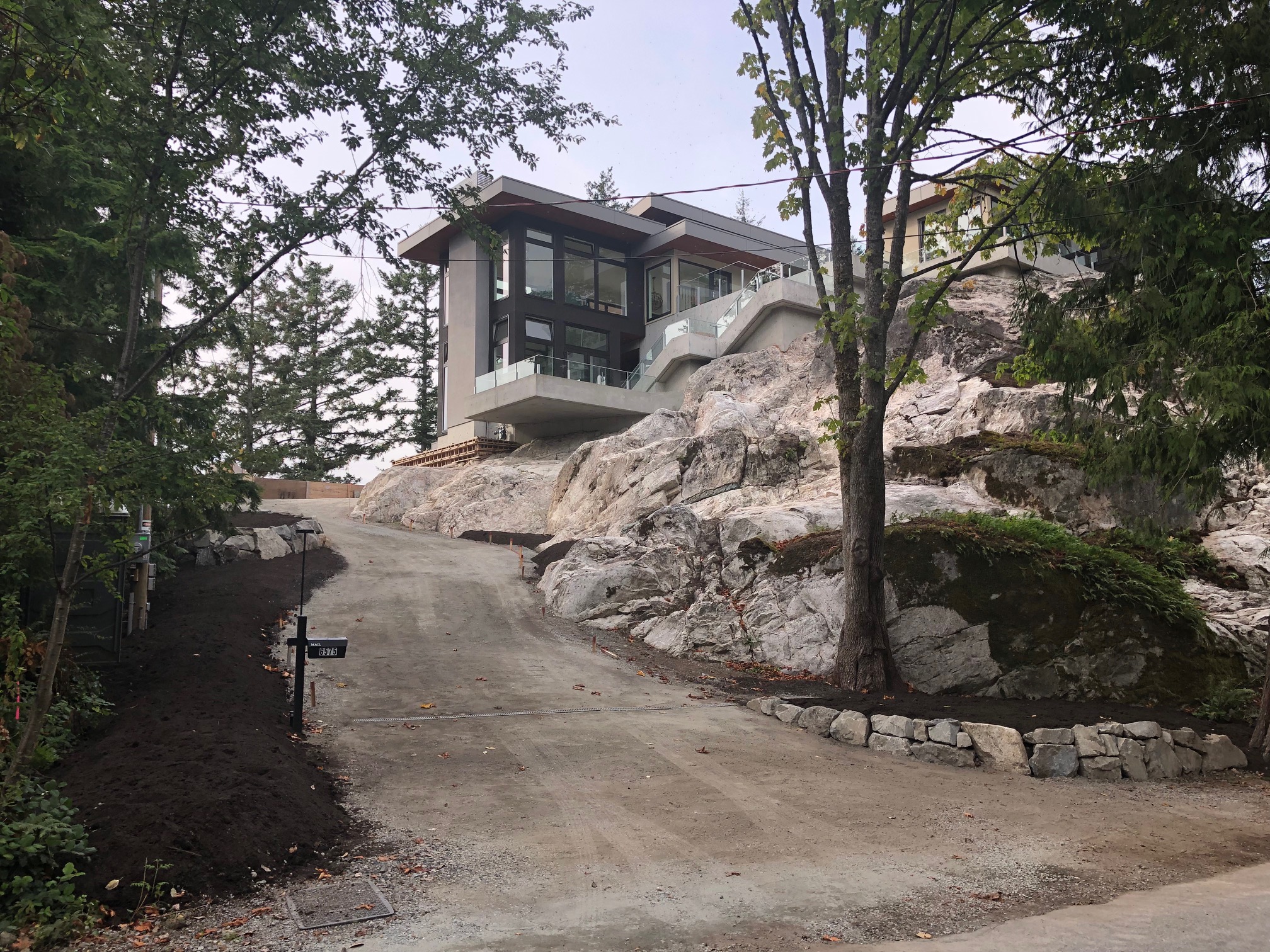 One important consideration is driveway access, and it needs to be addressed early on in the planning process. There are limits to how steep the driveway can be, and this may affect the location of the driveway's entrance and garage.
And believe it or not, wind exposure is also a consideration on more extreme sites. As wind hits a mountain and funnels upwards on the slope, the wind applies a lifting action on the roof overhang.  An experienced structural engineer can assist with ensuring these 'wind loads' are incorporated into the design and don't cause any future problems.
Depending on the municipality, there may be limits on the amount of rock or blasting that can take place. These limitations mean that the design team either has to consider rock removal or incorporate rock features into the home's design. 
Remember to take advantage of your unique site features and use them as opportunities to embrace and enhance the architecture rather than allow it to limit your vision.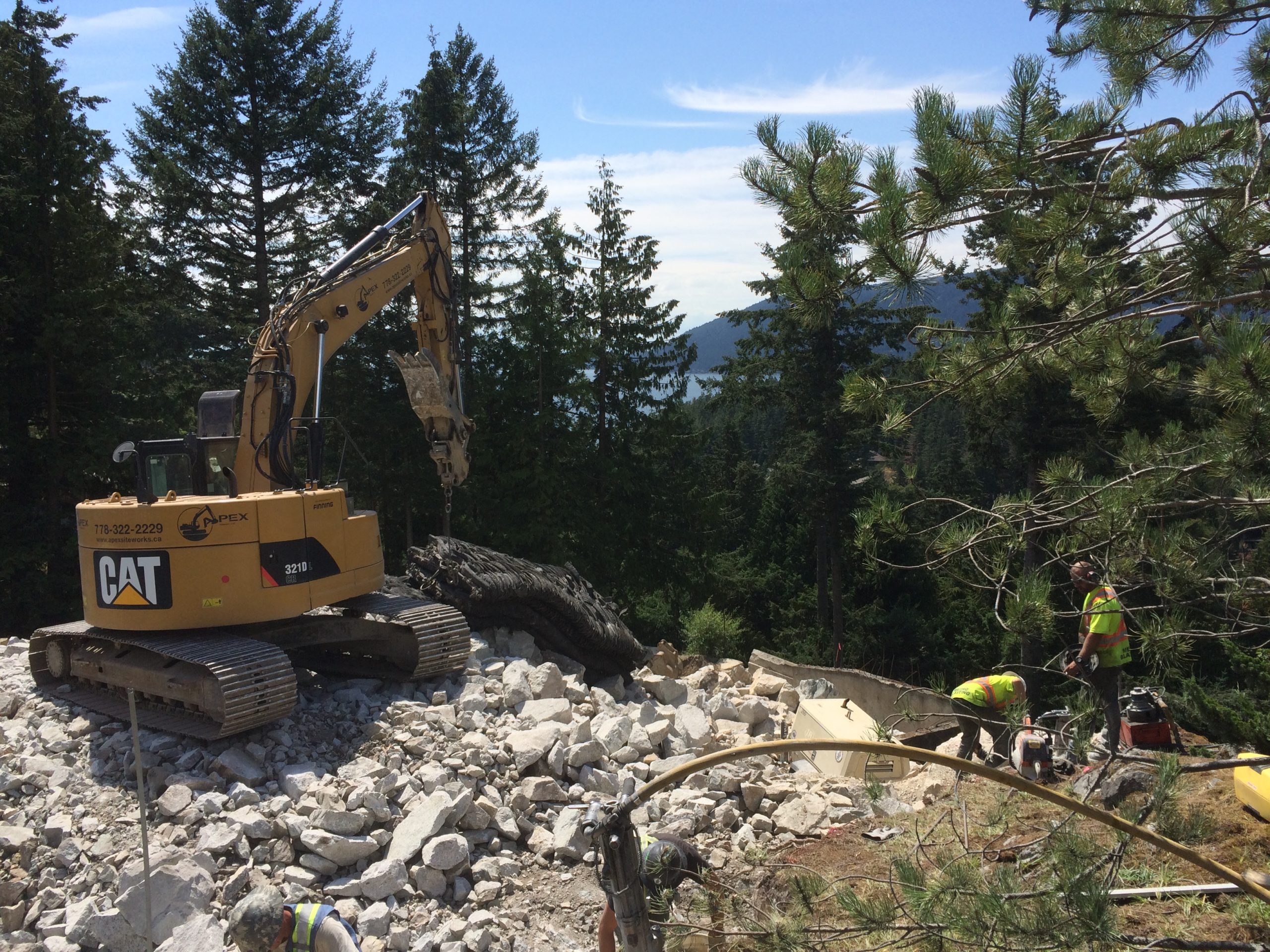 2. Construction Implications
 When assessing a sloped site for building a home, we consider two principal factors:
        1) The gradient (steepness) of the slope, and
        2) Whether the property slopes upward or downward from the road.  
Understandably, an 'upslope' property is more challenging build: It requires moving workers, supplies, and resources to a higher elevation throughout the building process.
 Typically, on a moderately sloped lot, the cost of construction (from the foundation, framing, and up to completion) is similar to low/flat slope lots. The additional challenge and costs come with preparing the site and installing the foundation.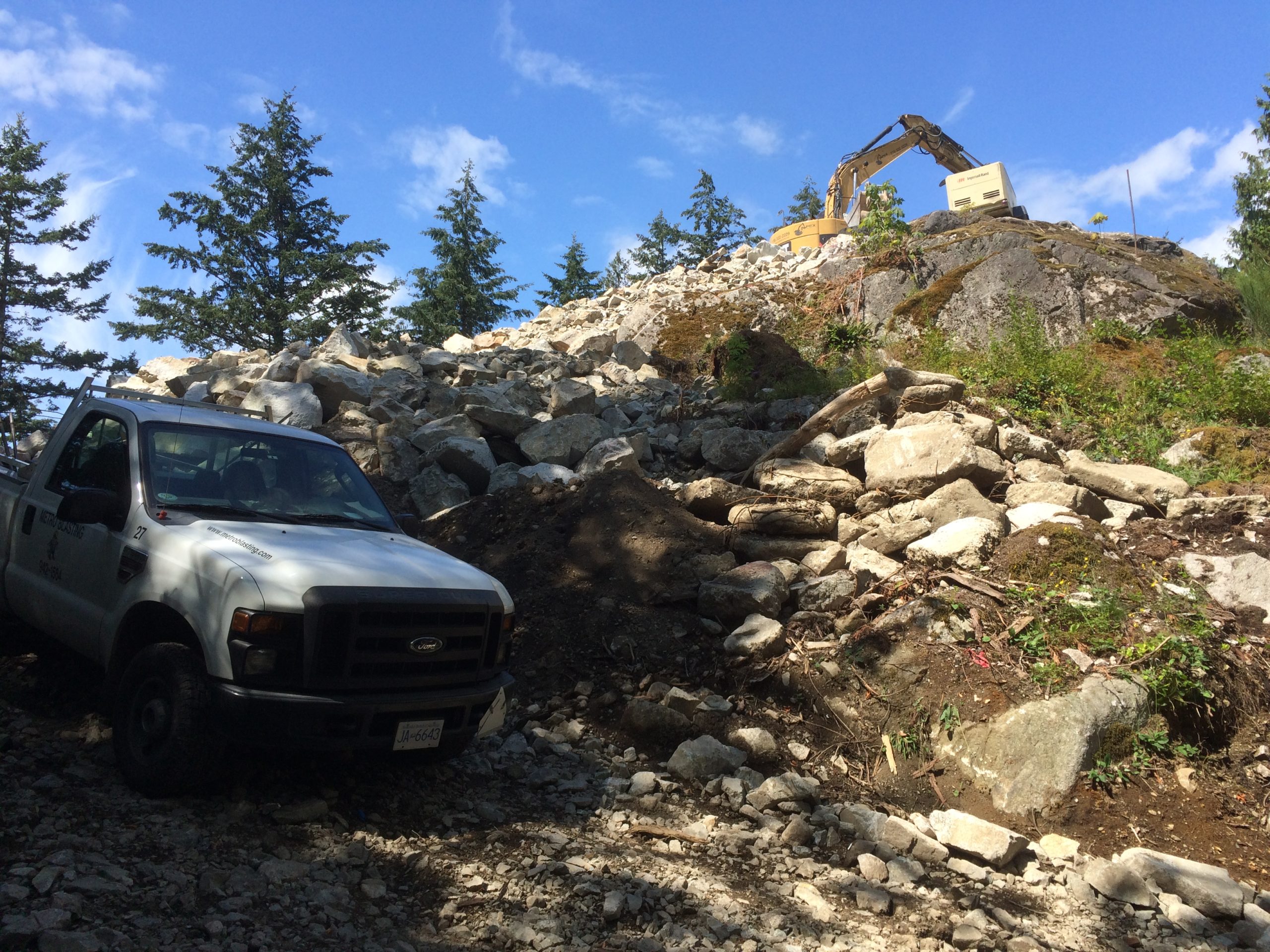 Additional costs can include blasting and rock removal. And keep in mind that when building on a steep-sloped property, there will likely be a longer construction cycle. 
Usually, there is very limited space to stockpile materials on a steep slope. That means there will be higher trucking costs associated with transporting out the removed material, or storing the material somewhere nearby if it's needed for backfilling later.
These sites are often hard to access and require very experienced heavy equipment operators.  We found that using an excavator and blaster who have a history of working well together will ensure things run smoothly and safely.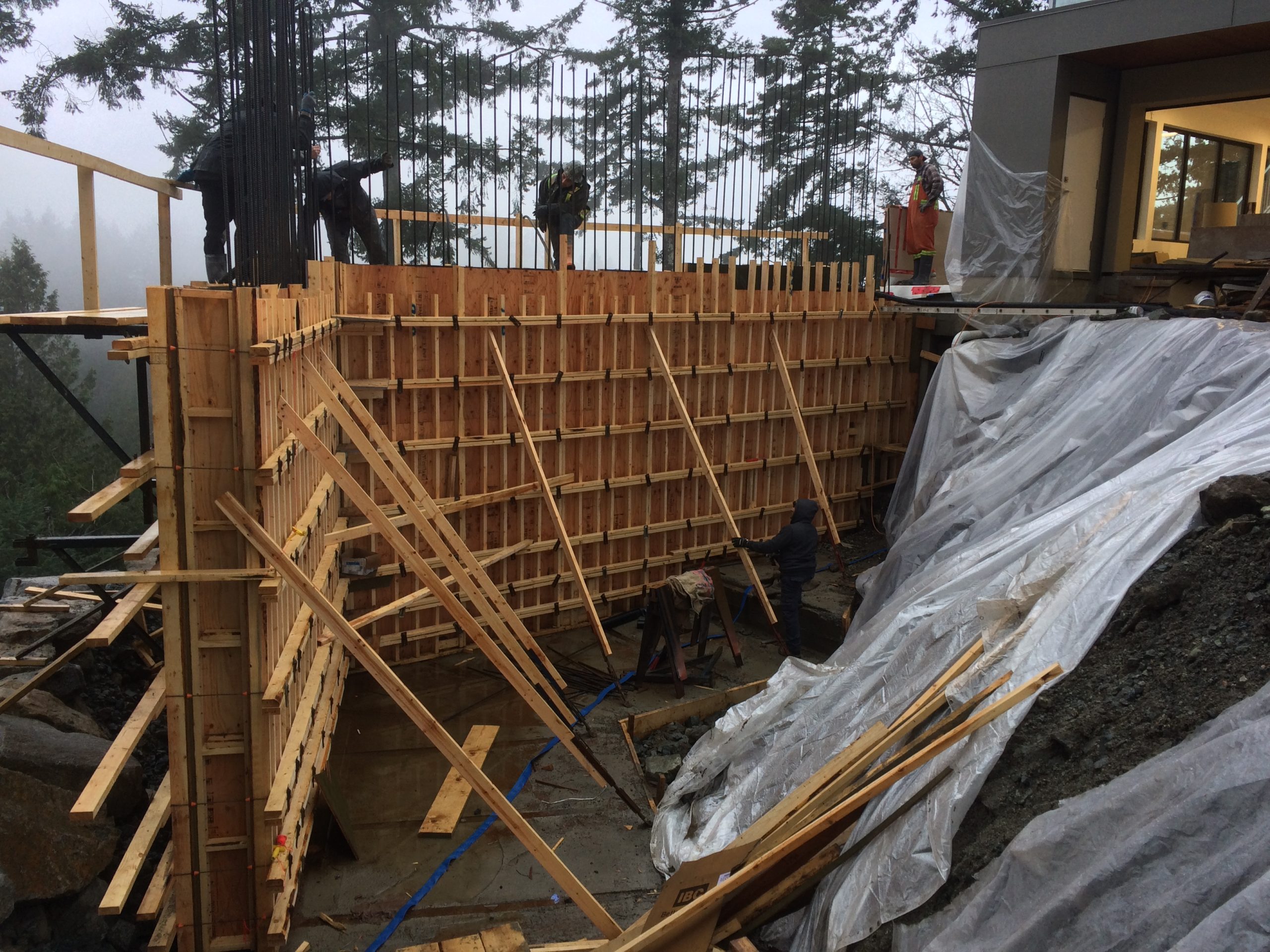 3. The Build
The home's foundation can include a standard footing, but it may also require the foundation wall to be 'pinned' directly to the exposed rock.  The structural engineer who designs the foundation will work in tandem with the guidance provided by the Geotech engineer.
 Drainage and water management is critical when building on a steep slope.  Rainfall must be properly managed and redirected in order to ensure proper groundwater drainage. This can often be challenging and difficult to predict, and even the best plans often need adjusting throughout the building process.
As well, water, sanitation lines, and services such as electricity and internet need to be carefully planned out in advance, as a rocky property doesn't allow for easy burial.
Also note that an uphill slope has the advantages of using gravity to connect to municipal sanitary and storm, while a downhill slope will often necessitate pumping back up to the street level.
Give Us Your Most Challenging Site!
If you're in need of a builder with knowledge and experience managing challenging steep slope sites, then look no further. We would be happy to answer your questions, provide insight, and supply a detailed budget to help you make the most of your vision.