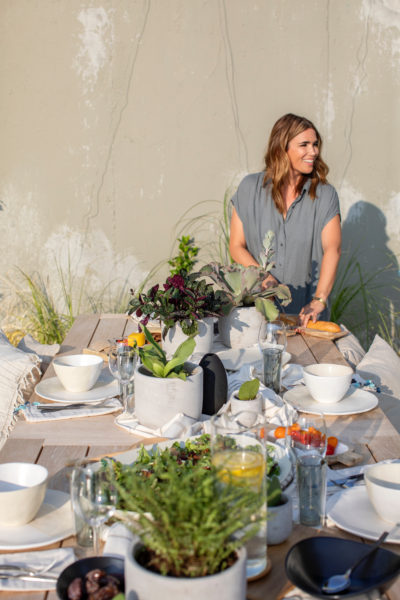 It's patio season! And since many vacation plans have been shelved and staycations are on the agenda, chances are, we'll be spending a lot more time on our porches, patios, and in our backyards this summer.
"COVID-19 is making people look at things in different ways, and we're starting to think about how we can utilize all the space in our homes, and that includes the exterior" says Ami McKay from Interior Design firm Pure Design Inc.
When it's time to maximize and update your outdoor space, McKay offers her tips on making your environment as warm, welcoming, and stylish as possible.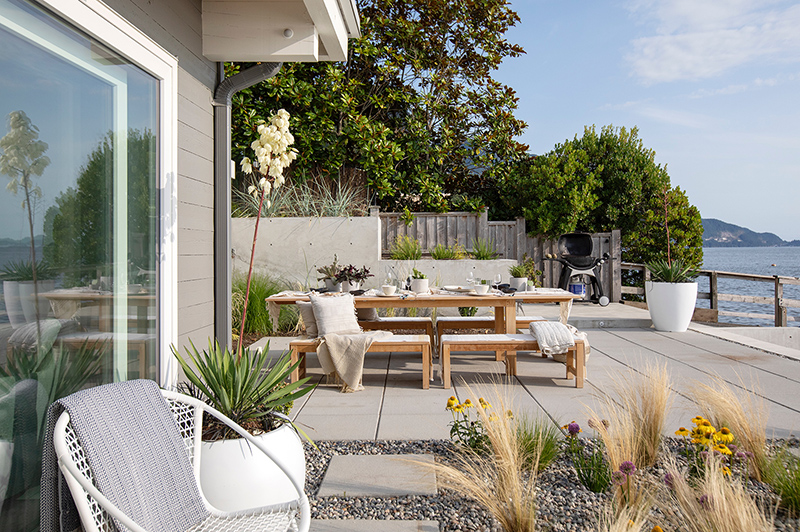 Keep the palette neutral
If you think of outdoor furniture 10 years ago, you probably think either heavy wrought iron or the brown plastic, woven to look like wicker. Today, that colour palette is changing, with more colour options and wider variety of materials.
"I recommend you keep colours light and natural," says McKay, who uses a lot of whites, beiges, and creams in her own decor, choices that are also elegant and timeless. "Think natural and bright, which can help create a warm and inviting space."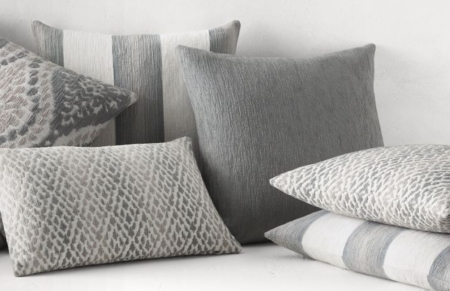 Think about materials
There are many weather and water-resistant materials on the market – Perennial, Sunbrella, Bella-Dura are a few examples of sturdy yet stylish choices.
But we're also seeing furniture and decor can be used both inside and out, providing flexibility and variety.
"Outdoor spaces are definitely looking more elevated and more like living rooms. I use the same cushions inside and outside. I also love to bring indoor rugs outside. We did a sit down dinner with lots of rugs outside recently and it was really lovely," says McKay.
Decor and furniture made with indoor fabrics and materials will, of course, need to be brought in at evening's end, and you'll also need somewhere to store them indoors. Two things to take into consideration before you buy.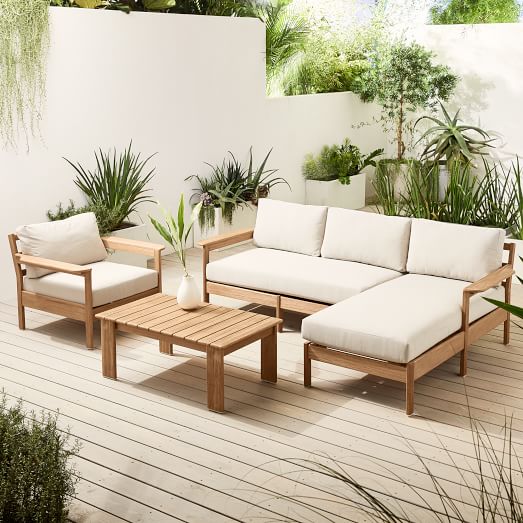 Go high/low
Even a decade ago, it was more difficult to find outdoor furniture and decor at a variety of price points. There were just two ends of the spectrum: High-end furniture stores or box stores, with not much in between.
"Now almost every retailer has outdoor furniture, so it's a great time to play with your decor. I love to mix in high and low cost pieces. There are a lot of great options at stores like West Elm and CB2, that aren't overly expensive."
Throw cushions, outdoor rugs, lighting, decor pieces are all examples of items that can be found for less.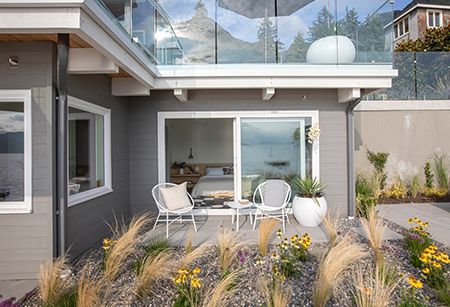 Use the Space
On the what not to do list? McKay says one of the biggest mistakes people make with their outdoor decor is not maximizing the space they have.
"Think about your indoor space. You really don't want to have parts of your house that aren't being used, but it happens outdoors all the time."
Living room style configurations with a couch, chairs, and a coffee table can be cozy and perfect for entertaining. If you have more room, consider adding a dining table and chairs in another area, closer to the kitchen if possible. Have a great patch of early sun? Create a bistro nook with a small table and two chairs to enjoy that space with your morning coffee.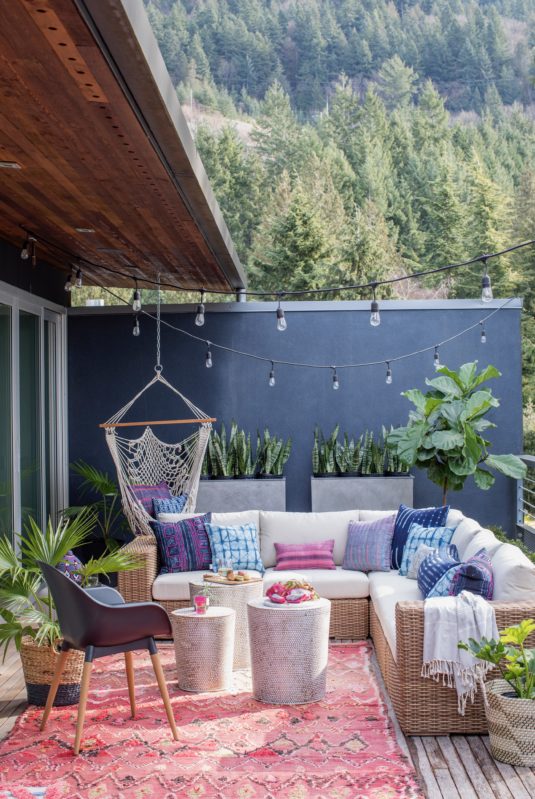 Think about layers
One designer trick (both inside and out) is to add layers and texture to a space. "I find that people don't put enough planters. You really need that additional layer. A bunch of different terracotta pots can be great. Or go for some white or grey planters. Even think about putting them in the garden itself."
McKay says that thinking about scale can also help with layering. Don't just choose a collection of small pots and plants, choose some larger pieces too, things like oversized containers with big trees and bamboo.
Not much of a green thumb? McKay recommends companies like Stoops Design, a service that creates custom seasonal planters, perfect for upping your curb appeal.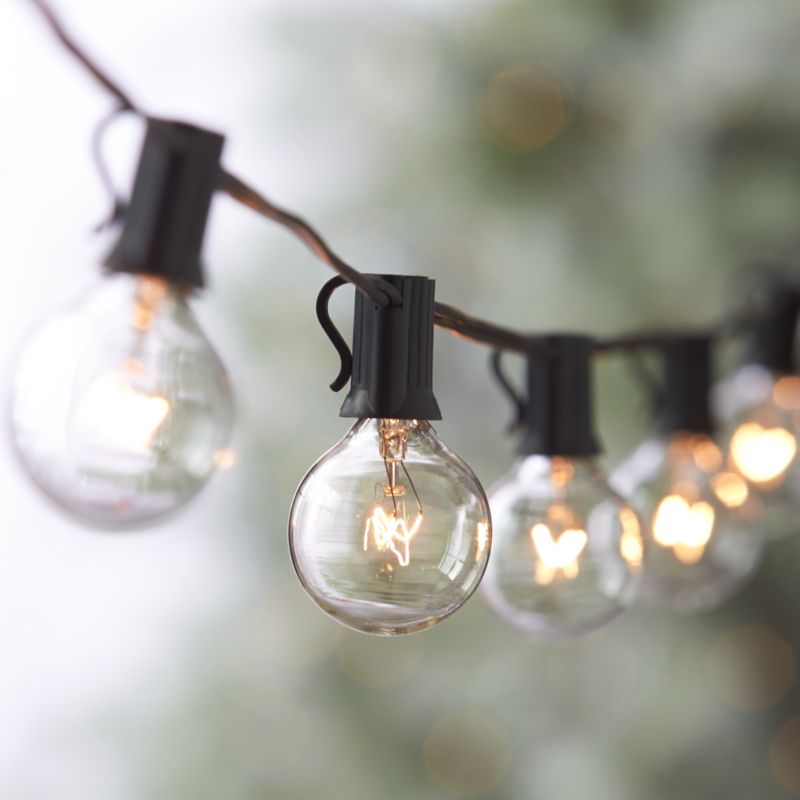 Light it up
In a small space like a condo patio, lighting goes a long way in creating a beautiful and cozy atmosphere.
"Add some smaller circular lights, table lights, string lights, a little propane fireplace or candles. If you can fit in a little sofa or a love seat and chair and a table, it can be very cozy. And don't forget about layers here too. Maybe add a wall of greenery behind it the seating for added dimension.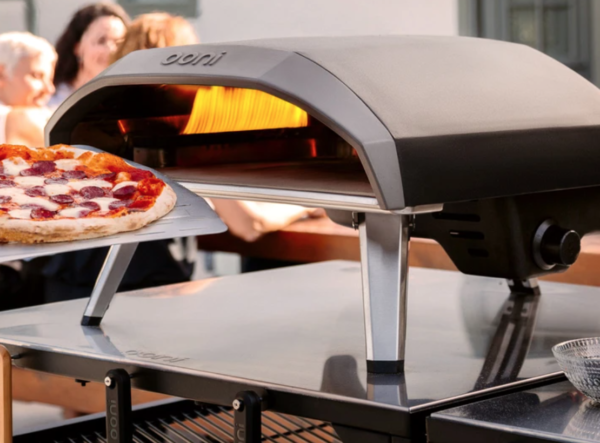 Throw in some extras
Pizza ovens and fire pits used to be reserved for those with large backyards and ample room. But advances in design and technology are making these products more affordable and appropriate for smaller spaces.
McKay recommends fire pits that run on small propane tanks which can be easily moved from the outside in – an affordable and fun way to warm up a Pacific Northwest summer evening.
"Another new thing that is very on trend is smaller pizza ovens that sit on the table. They start at about $300 and they can reach up to 900 degrees, cooking the pizza in 2 to 3 minutes," says McKay.
Sounds like the perfect recipe for cozy, inviting, and style-savvy summer. Pure Design Inc