Blue has long been a popular color in kitchens, both in Kelowna and around the world. What's great about adding a bit of extra color to your space is that it typically doesn't require major home improvements. In some cases, a few strategically placed decorative items may be all you need to bring blue into your Kelowna kitchen. If you are in the mood for more in-depth home improvements to incorporate shades of blue in your home, you'll have plenty of options available to you.
Spruce Up Your Cabinets
If you're tired of the same-old, boring cabinets, adding a pop of blue can really make a difference. If you have a lot of cabinetry in your kitchen, you may wish to choose a blue that isn't too bright so that it doesn't become visually overwhelming. For shaker-style cabinets, you could also try painting the center panel blue and leaving the edges white or another shade of blue.
Install a New Counter
Developments in the technology of creating natural stone lookalikes for kitchen counters have allowed designers to create counters in more colors than ever before, including blue. This is a great way to add blue to your kitchen for minimal investment. What's more, kitchen home improvements deliver some of the biggest return on investment, so you'll likely recoup some or all of the expense when you are ready to sell.
Try a Fun Backsplash
Many homeowners don't pay much attention to your kitchen's backsplash. However, this is a great place to add some blue to your kitchen, and it won't cost you much to do it. This simple change can really have a big impact, especially if you choose a backsplash in a unique pattern. Backsplashes are relatively easy to install, so you can change up the look frequently to find the one you like best.
Don't Forget about Decor
For those who want to try out this trend but aren't yet sure about making the commitment necessary for major home improvements, adding some blue decor to your kitchen can give you a chance to try out the look to see how you like it. Try a blue vase on your counter, blue mats on your floors or blue tea towels hanging from your oven door. If you plan to use multiple items, keep them in similar shades of blue to keep the look cohesive.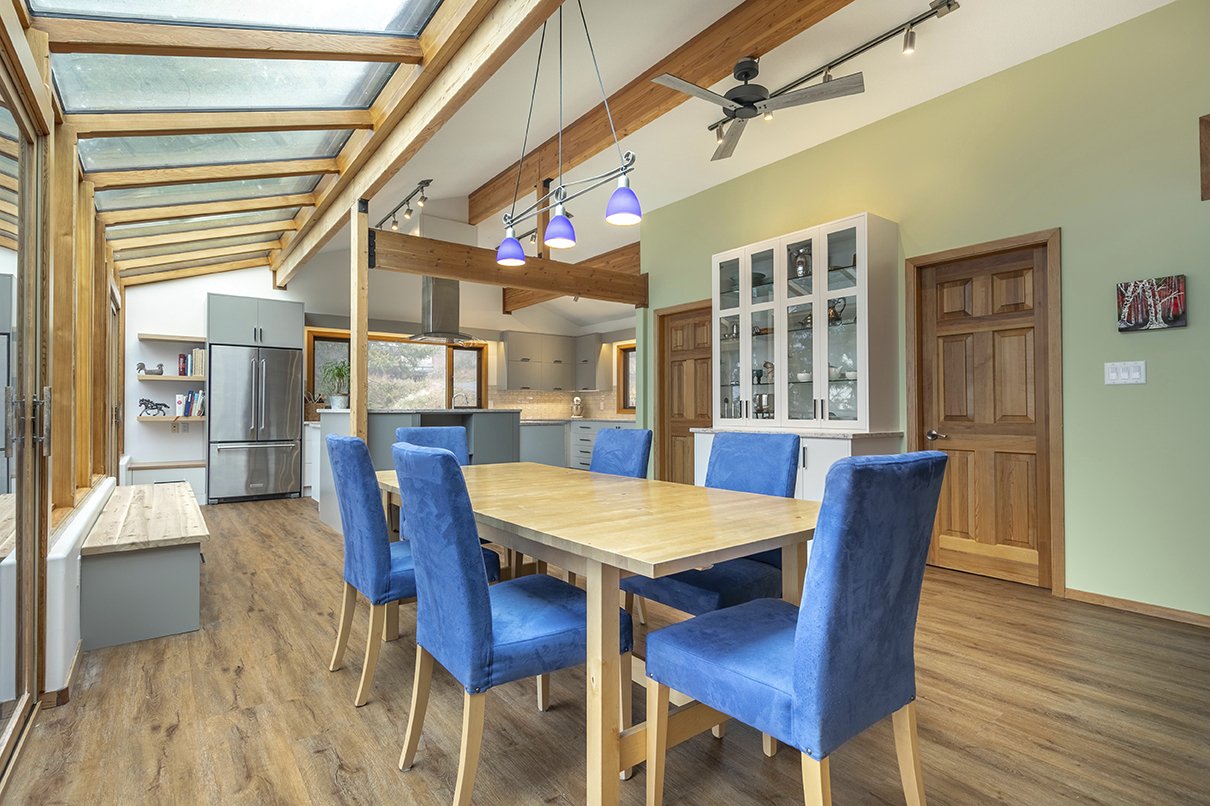 Customize Your Home
When you purchase a new home through Alair Homes, you'll have plenty of opportunities to customize your property as you like, including adding splashes of blue in the kitchen or any other room. Get in touch with us today to learn more about our homes in Kelowna.