If you've been keeping up with the latest interior design trends, you've probably been bitten by the blue kitchen bug. Last year's neutral palettes have made room for a brighter aesthetic, and you don't need to undergo major home improvements to make it your own.
Using Your Neutrals
Blue is one of those colors that goes with most neutrals. Navy is difficult to match, but can add elegance to the kitchen area. Lighter tones are generally easy to work with and open up a room. Identify your existing neutrals before you settle on a shade of blue. This way, you might be able to leverage many of your old kitchen features to set off your new palette. The darker your neutral, the lighter your blue should be. When identifying your neutrals, don't forget to include the shade of your wood. That said, wood is easily sanded down and re-stained.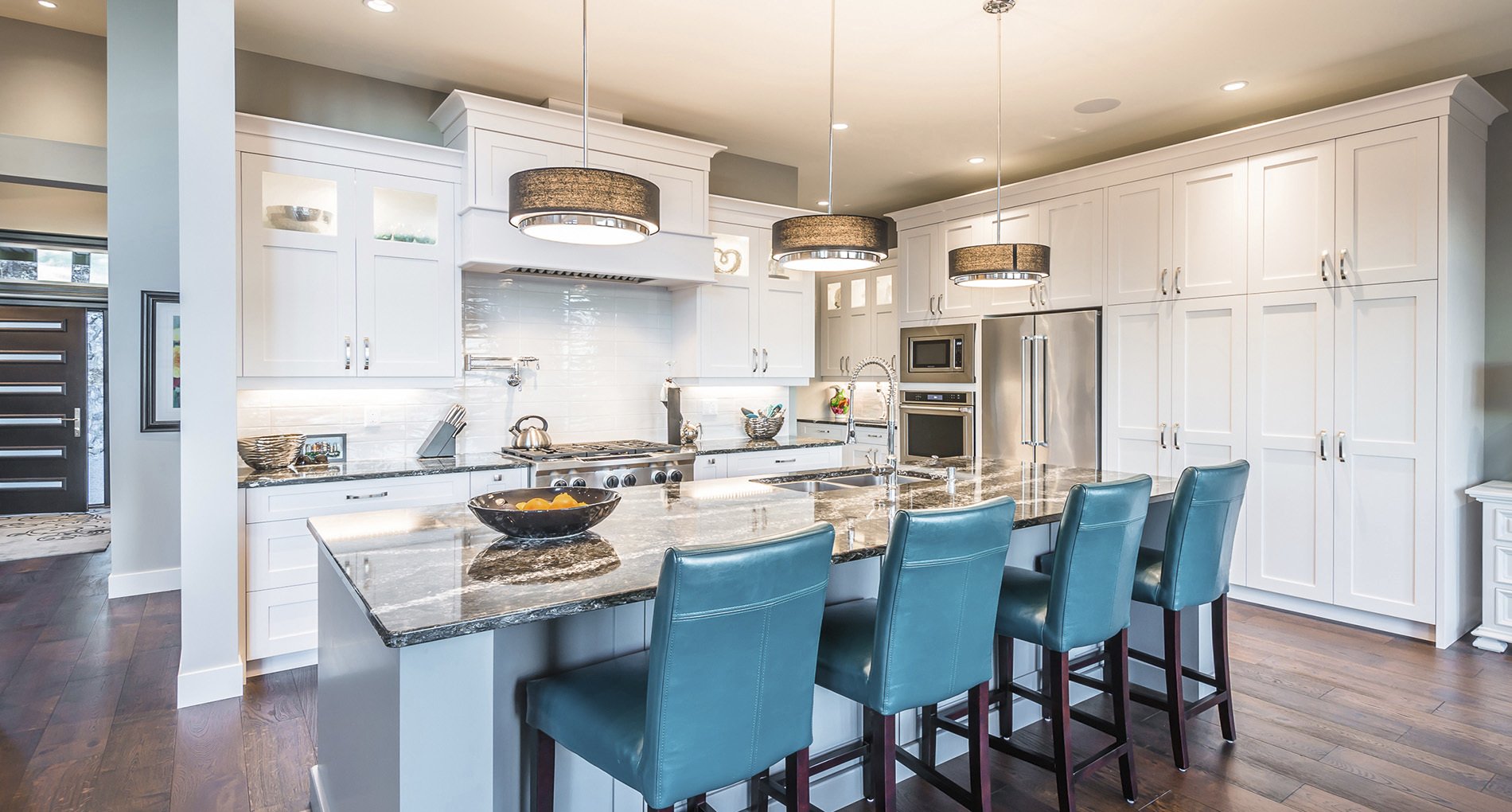 Color Families
A neutral shade and one blue tone won't make your palette sing. A third color is usually necessary as an accent. Ochre, chocolate, burned sienna, and even burgundy are wonderful accents for blue. You might get away with more than one tone per shade provided you think in color families. It's also perfectly acceptable to push your accent into the foreground by including a large, bold feature.
Instant Color
Changing your kitchenware and window treatments is a cheaper alternative to renovating and can be a fun way to give your kitchen a fresh look. Find new artwork, add a fresh layer of paint, and choose blue towels to add as points of focus. Your new palette will refresh your room instantly with just a few final touches.
Appliance Basics
Stainless steel paint can give your appliances a trendy new look. Stoves are a little more complicated because they generate plenty of heat. If you have a cast iron stove and toaster, however, a specialist paint will do the trick. If your appliances are rusty or scratched, this is the perfect solution for updating your kitchen. Vintage appliances lend themselves well to a glossy look, but contemporary designs fare better with a crushed-satin finish. If you don't want to commit to painted appliances, many can be covered with cabinet doors.
A Dramatic Change
Kitchen home improvements offer one of the highest returns on investment in the home, so undergoing a more drastic remodel will be worth the inconvenience. A full renovation entailing new floor treatments and cabinetry will improve your home's value, but if you're looking for something a little easier on the pocket, a facelift might suit you best. This entails new window and wall treatments along with fresh cabinet fronts. Your shelving is generally left behind and simply refaced. With new surfaces, your kitchen will look completely new.
Home improvements can make your house look brand new again, even if your changes are relatively minor. They will also improve your resale value, so they're smart investments.