The passive house is an internationally recognized standard for reducing a building's energy use while simultaneously increasing its habitability, sustainability, and cost-effectiveness. It was developed in 1996 in Darmstadt, Germany, by the Passivhaus Institute and is now widely recognized as the gold standard for energy-efficient home construction. It is important to understand that all passive houses are energy-efficient, but not all energy-efficient houses are passive houses. Read on to learn more about passive house standards and benefits.
What is a Passive House?
A passive house is a construction standard that decreases the ecological impact of a structure. It produces ultra-low energy structures that demand much less energy for space heating and cooling as compared to standard houses. The total energy needed for all residential applications in a passive house does not exceed 60 kWh/m2 of living area each year.
The mechanical heating and cooling systems are extremely efficient and complement the "passive" factors, such as sunlight and shade. Aninsulationenvelopeand an airtight layer characterize passively designed structures. Your custom home must meet certain criteria to reach the passive house standard:
Air Tightness: Air leakage is avoided by sealing all gaps in the insulation of your walls, floors, and ceilings. Because of this, less energy is required to maintain a pleasant temperature. Heating requirements are generally capped at 10W/m2 at peak demand. In comparison, a standard home requires 100W/m2. The air exchange rates should be no more than 0.6 per hour at 50 pascals.

Insulation: Superior insulation plays a critical role in ensuring the longevity of a building's architecture. The insulation assists in decreasing the heat exchange with the outside environment.

Windows: Superior energy-efficient windows are required to ensure that the entire building envelope is adequately insulated. It is vital to choose excellent windows that have low thermal conductivity.

Ventilation: All the work to insulate the building is supplemented by high-quality ventilation that recycles the warm air from the exhausted systems into the incoming supply. As a result, energy loss is reduced, and indoor air quality is improved.
Understanding the Benefits of a Passive House: is it the right choice for you?
While the upfront cost of constructing a passive house is about 10% to 13% higher than standard construction, a passive house offers several long-term benefits. Energy efficiency results in the reduction of operating costs, saving you thousands of dollars over the years. With extremely high insulation and airtightness, a passive house can reduce its energy consumption by as much as 90% compared to a conventional house. This makes it an environment-conscious choice. 
Better air quality and more consistent temperatures are some other benefits of a passive house. They also help to lessen the noise emanating from within and without. Moreover, while the construction necessitates a high level of performance, it allows for leeway in design to accommodate the owner's tastes. This is where custom homes come in, allowing you to build your dream house and make it energy efficient.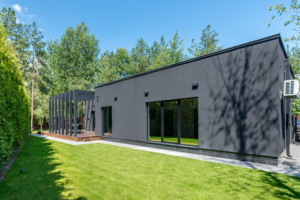 To avoid making design decisions that have a detrimental influence on energy performance, it is recommended to work with trusted custom homes and renovation experts. Alair Homes Burnaby is a team of architects and designers specializing in passive house designing and construction complemented by high-quality custom-built homes and cutting-edge renovations.
The company serves the areas in and around Burnaby. Every home construction or remodel, from mansions costing several million dollars to starter homes for the working class, receives the same meticulous attention to detail, superior craftsmanship, and attentive, courteous service. If you're an Alair client, you'll benefit from the company's exceptional dedication to ethics, openness, and value. Schedule a consultation today to learn more and explore your energy-efficient options.