If you're looking for a new home or are planning on having construction work to upgrade your property you may be considering going green. A net-zero home is environmentally sustainable, known to increase energy efficiency of a home. This helps to minimize the strain of running your home on the environment. This is also a sure-fire way to reduce your energy bills in the long run. So, what exactly is the long-term impact of a net-zero home, and is it the right investment for you and your family? Let's take a look.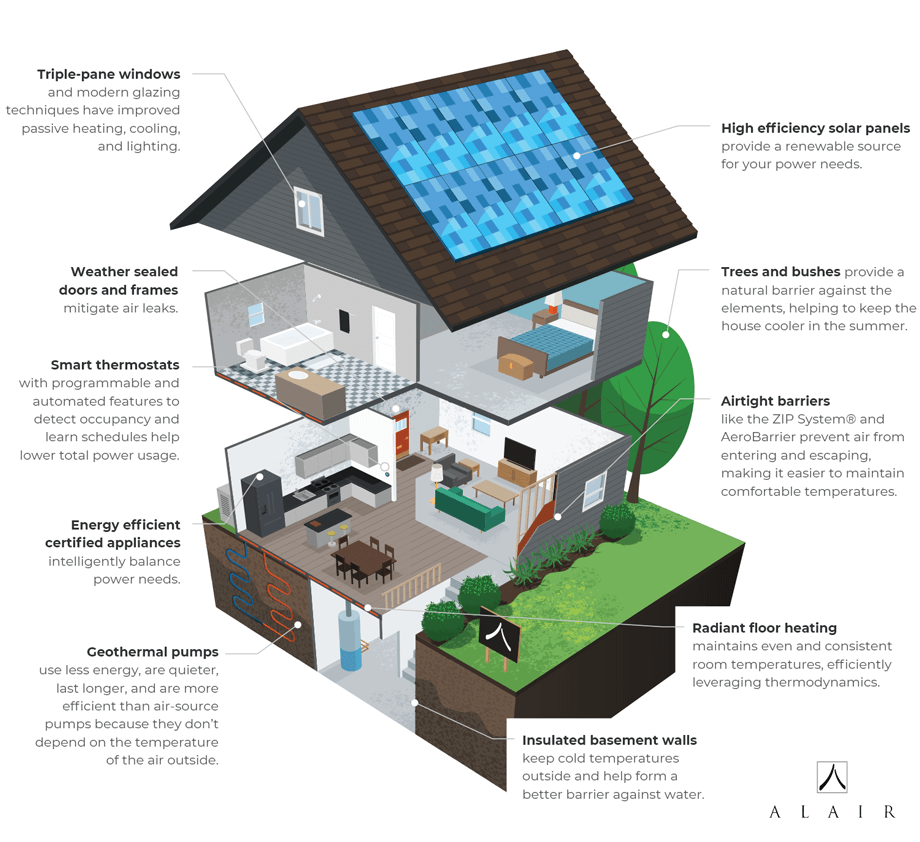 What does Net-Zero Energy mean?
A net-zero home, or net-zero energy home, is a property where the total monthly or annual energy use is the same as the energy produced by the building, meaning they're energy efficient as well as a renewable energy resource.
How can you incorporate renewable energy resources into your home, and stay energy efficient, I hear you ask!
Well, it's actually pretty simple.
Energy efficiency in your home can include:
High efficiency solar panels to generate power
Weather sealed doors and frames to prevent air leaks
Triple pane windows to keep heat in
Smart thermostats to detect occupancy to lower power usage
Energy efficient appliances
Insulated basement walls to prevent heat from escaping
Floor heating to maintain consistent room temperatures
Trees and bushes to keep your home naturally cooler in hot weather
What are The Benefits?
With an energy efficient home, you're able to lower the day to day cost of running a home. Additionally, you'll also be able to offset your energy usage by using renewable energy resources.  Owners and tenants often prefer high-performance buildings as they require less energy, reducing utility bills. Occupants also prefer them because they better manage:
Temperature, improving comfort.

Fresh air throughout the building, improving health.

Soundproofing, reducing exterior noise.
One of the most effective ways to create an energy efficient home is to make an airtight barrier. For this, we use a sealed exterior sheathing approach which is both water resistive and an air barrier.
What is The Initial Cost?
A home using these energy resources can add 7-10% onto the price. While many people assume running a net-zero home is costly, you'll actually recoup this money quickly with yearly cost savings. A study on the economics of net-zero energy homes by the Rocky Mountain Institute found the payoff threshold to be around 12 years. That means if you're planning on your forever home, owning a net-zero energy property can be extremely beneficial for your wallet in the long run.
What is Custom Home Building?
Custom home building enables you to create a home tailored to your personal needs. Rather than spending money renovating specific areas of your home, you have your dream home created for you from scratch.
As a building and renovation specialist, Alair Homes can help you with any custom home building project. Home building is an investment and Alair Homes will help you maximize your investment. You're in control of every decision – we're here to make this process easy. We understand your needs so that you can create a cost-effective home that fulfils your desires, and budget.
Are you thinking about building a net-zero energy home? Schedule a consultation with Alair Homes Burnaby to start making plans towards creating your dream home.