Vinyl flooring has become the most preferred type of flooring among custom built home owners. This comes as no surprise to those familiar with the vast benefits associated with this flooring option. For starters, vinyl flooring never disappoints when it comes to durability as it is made of different layers. Vinyl flooring is designed to protect floors especially in areas that have high traffic. They are a great option when changing the design of a room because they are semi-permanent. Still not convinced? Here are reasons why vinyl flooring is such a big deal.
Cost Effective
The cost of vinyl flooring is affordable compared to other options out there. This is a better flooring alternative than materials such as hardwood. In fact, this is the best way to enjoy the comforts of costlier flooring options without draining your finances. It also costs less to maintain vinyl flooring over its lifetime. If you were to compare the price per meter of vinyl flooring with its counterparts, you will realize that there is no better way to save your hard earned cash. Tile and sheet vinyl are usually the most affordable flooring options.
User Friendly
Vinyl flooring comes with different installation options, and this will depend on the kind of flooring material you choose. You can opt to do the installation yourself should you be the handy type. Alternatively, you can hire a local flooring contractor to come and handle the installation. The installation process is easy provided the surface is smooth and free of bumps. If you prefer a clean look, play it safe by hiring a professional contractor who will also advice you on how to handle other concerns such as phthalates.
Versatile
Vinyl flooring is available in form of engineered stone, tile and wood. It is waterproof which makes it easy to clean, and it is great for areas that have high foot traffic. What's more, vinyl flooring is stain and crack resistant which only adds to its durability.
Maintenance
Vinyl flooring requires little maintenance. You just need to wipe and mop the surface no matter the kind of mess. Vinyl flooring has coatings that protect against fading, moisture, spills and scratches. As previously mentioned, it is also a stress free flooring as it is stain resistant. You don't have to worry about your kids playing around in the house as vinyl flooring can last for 25-30 years even with heavy traffic. In short, this is a great alternative for anyone who wants long lasting flooring in all areas of their custom built home.
Variety of design options
Vinyl flooring comes in different colors, texture, designs and patterns. You can create patterns that are exciting using vinyl tiles as well as use vinyl sheets to create a stone, wood, or even leather design. The different design options make vinyl flooring aesthetically appealing. In fact, it's hard to tell the difference between vinyl flooring and other options of flooring.
Ability to hold up in wet areas
Vinyl flooring stands out from the crowd by way of being completely waterproof. This makes it a great alternative for covered patios, bathrooms and kitchen. Provided that it is installed correctly, it is resilient and will last for many years. Good quality vinyl will comfortable last you 20 years.
Soft Underfoot
Vinyl flooring has a soft underfoot compared to laminate flooring, timber and tiles as it comes with a felt-backing or a layer of foam – you can actually stand on vinyl flooring for extended periods without getting fatigued. It is also quieter compared to other types of hard floor surfaces.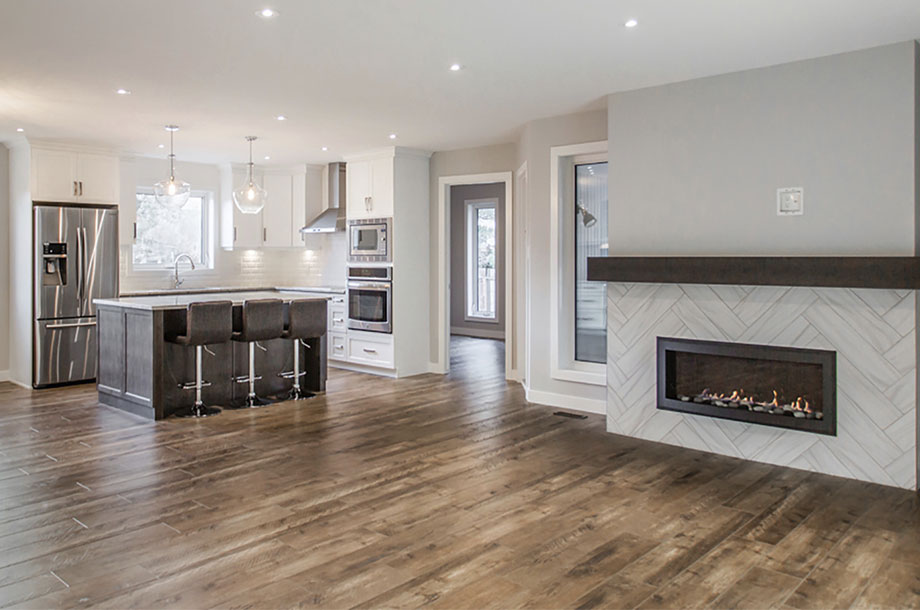 Vinyl flooring has undergone technological advancements over the years to provide remarkable designs. It is budget friendly and the ability to mirror other flooring options makes it aesthetically appealing for a custom built home. You just need to choose the type that fits your preference.
Share: