Spring is finally here, and with it comes home renovation season. One of the biggest renovations a homeowner can undertake is a brand new kitchen. There are a million options to choose from when it comes to the structure of your space and even more options to comb through when you're choosing finishes and details.
Our kitchens are often the hub of our home. They are high traffic areas that need fixing and upgrading regularly. Not only that, a kitchen reno can bring up the value of your home drastically and provide the appeal you need to sell if you're in the market.
We get that browsing Houzz or Pinterest can feel overwhelming. We also know that you want to upgrade your kitchen in a way that's timeless but also trendy, so we've compiled a list of our favourite current trends that will still have longevity and serve you and your kitchen well for years to come.
Full Tile Walls
A backsplash can be more than practical. It can take center stage in your kitchen as an accent wall with fun, eccentric or geometric tile. Unique backsplashes have been trending for a few years now, so it's no surprise that a full wall up to the ceiling backsplash is the next trend in original tiled spaces.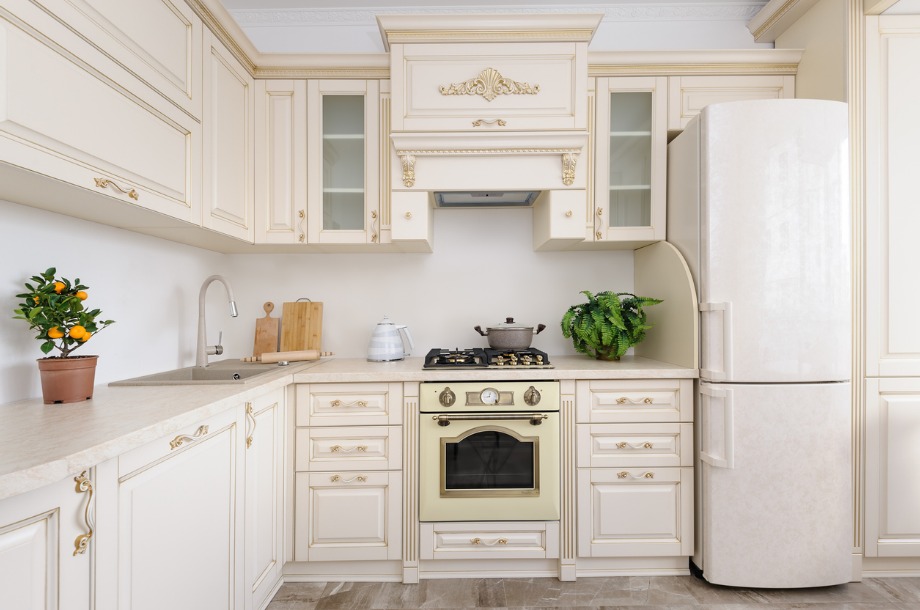 Cream Cabinets
 Forget stark white, and adopt a softer, more vintage vibe in your kitchen with cream coloured cabinets and brass or even black hardware for contrast. Cream cabinets are definitely having a moment and they're the perfect pairing if you lean towards a more classic, vintage feel in your home. We love cream cabinets paired with a farmhouse style sink.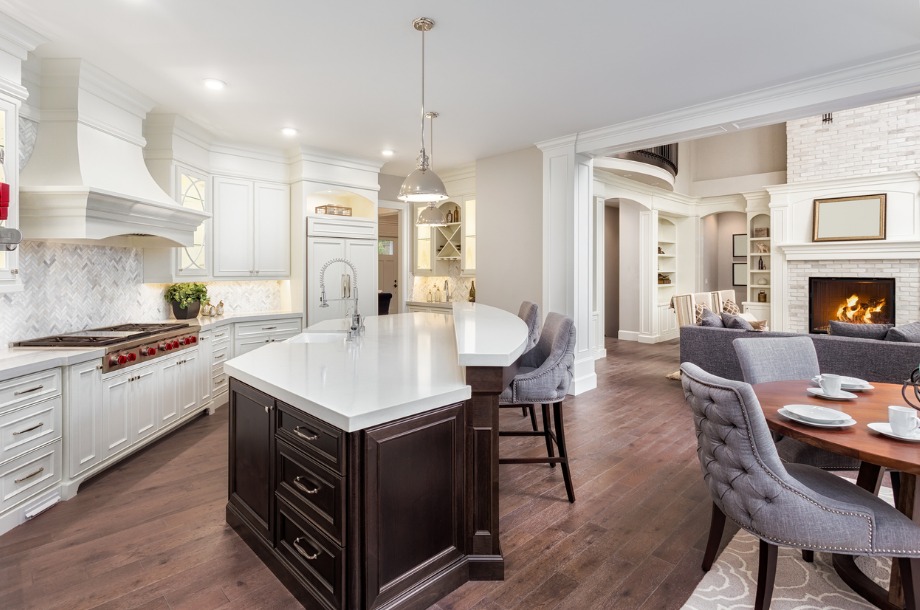 Abstract Island Shapes
 There's nothing wrong with a simple square or rectangular island to create a welcoming hub in your kitchen, but we're loving interesting and uniquely shaped islands to bring a distinct look to your space. No two kitchens are alike, and choosing an alternative shape for your island could mean the difference between having one or not!
Industrial Countertops
We've got a thing for mixing materials and a concrete or dark marble countertop has the ability to bring contrast and texture into your space. It also cuts down the worries of damaging your countertops from wear and tear since most industrial materials – like concrete – can withstand the strain of high traffic areas and lots of use. Take a look through Pinterest to find ideas for how people have paired an industrial material with other more modern kitchen finishes.
Integrated Appliances
Another trend in kitchen design is concealing appliances with front cover panels and insetting your fridge, dishwasher and other appliances flush with cupboards. The result is a sleek, minimal design that hides wires and unsightly materials in exchange for a cohesive, less traditional looking kitchen. The key with integrated appliances is to combine form and function and keep your kitchen space looking tidy and fluid with the rest of your home.
We hope these trends inspire you to dream beyond the boring, old kitchen designs of past years and upgrade your space to something that's new and fresh. Don't forget to search for more ideas on your favourite social media platforms and to check out some of the work that we've shared on Instagram! Happy reno season!
Share: