We are excited to share that we are working with Honomobo on two projects in British Columbia. Honomobo is a prefab, modular home builder that recycles shipping containers to create beautiful modern homes that are quicker to build than your average stand-alone house. They also have more predictable costing as the floor plans are fixed and they're built in a controlled environment.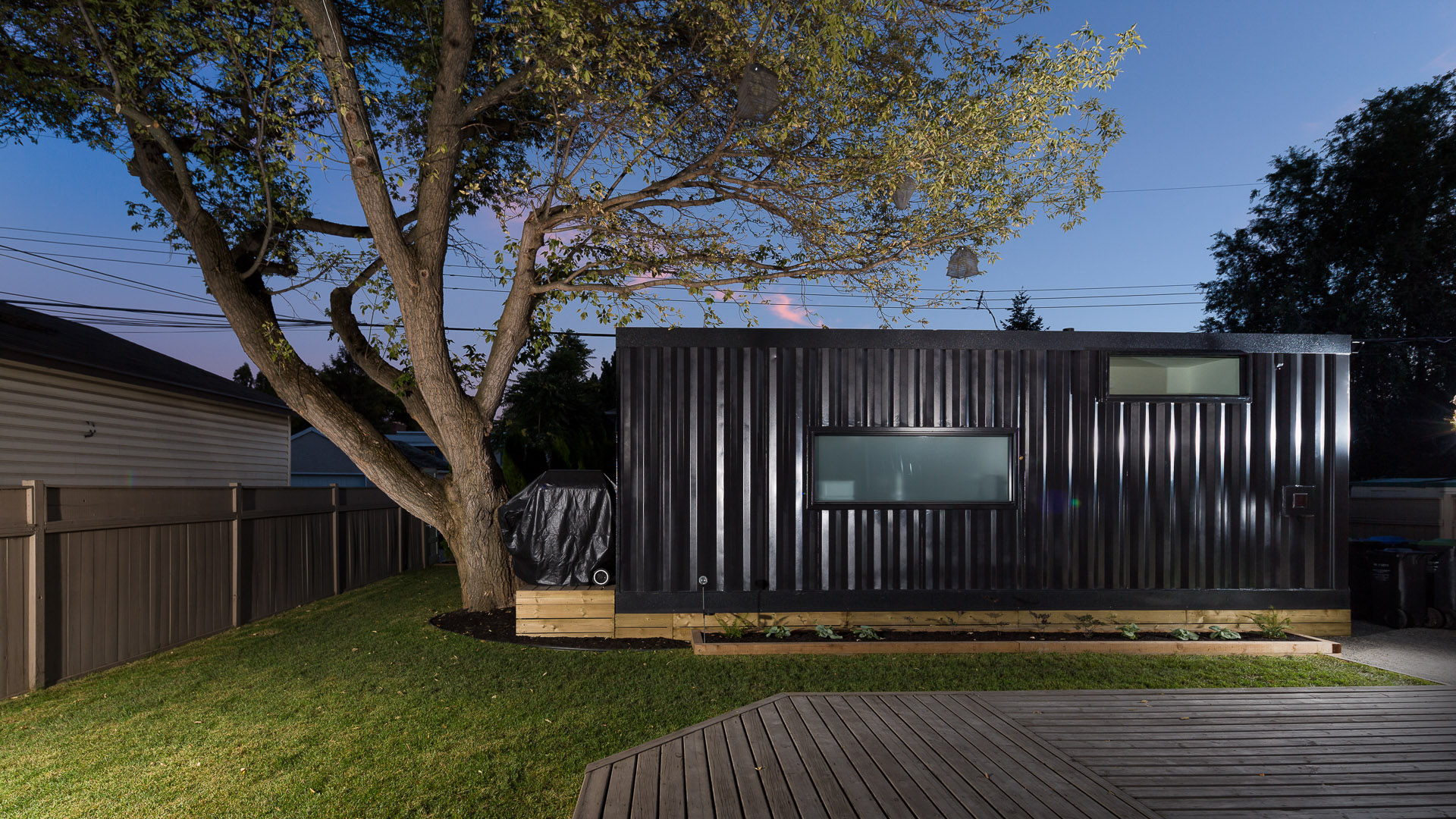 "There's such a surplus of shipping containers in Canada that we can source out and find the best ones, says Honomobo Director of Sales, Mark Kohlen. "The choice is an environmental one as well, reusing something that would otherwise be abandoned or under-utilized."
The Edmonton-based company repurposes the containers with engineered steel frames to build their H series of homes. The company also has an M series, homes that are made from modular steel frames.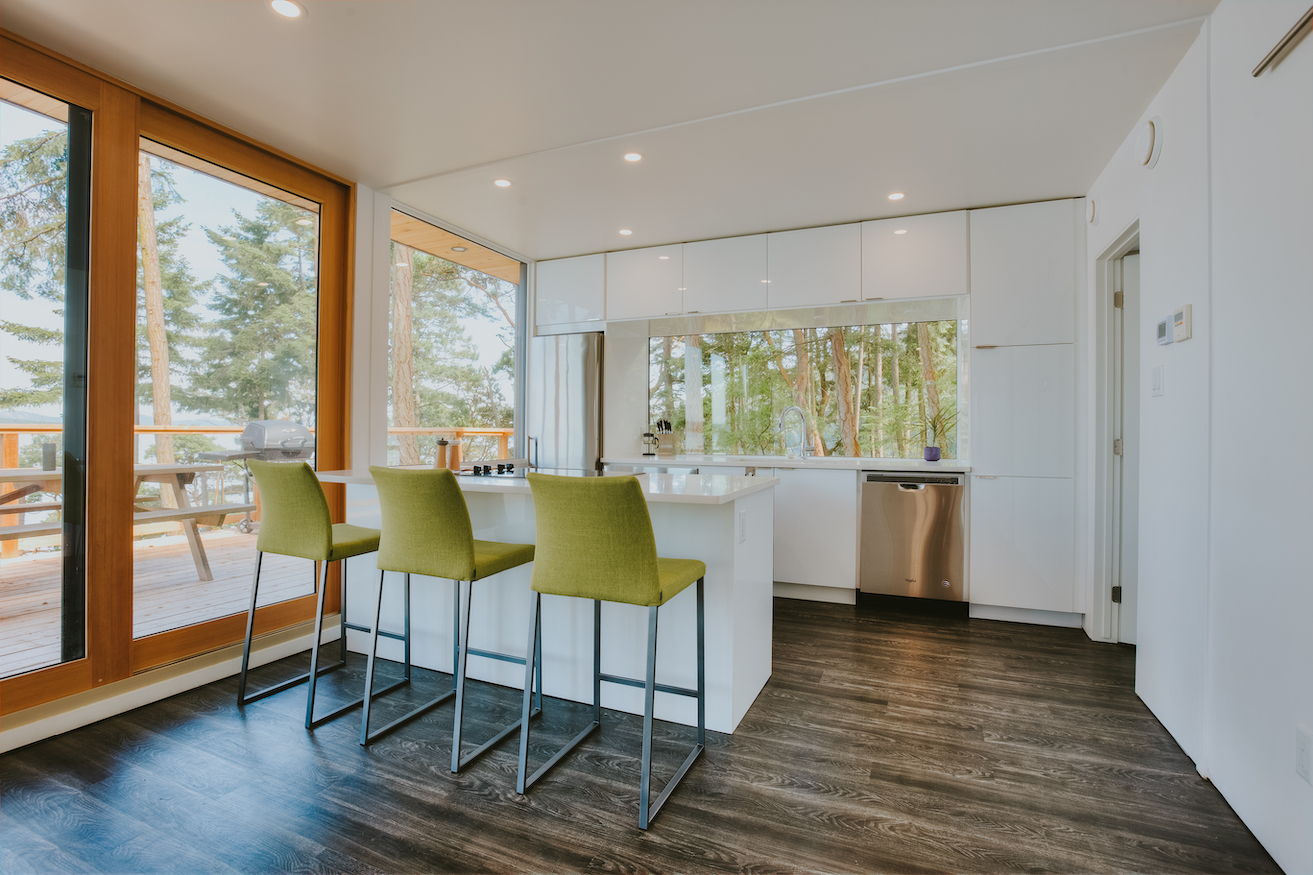 All of the homes are built to completion in a climate-controlled factory in Edmonton. Then they're packaged for transport and shipped to your property where they complete the final installation on the foundation.
Honomobo works with a construction partner like Alair Homes, which is responsible for everything outside of the Honomobo unit, including site preparation, utilities, and foundation work.
We're working on two projects with Honomobo, one in Squamish, a carriage house, and the other on Bowen Island. We partner with them on the logistics and on managing the site-specific project tasks – from permitting and coordinating with local trades and consultants, to ensuring that all of the necessary services are ready for connection to the Honomobo unit. Essentially, we make sure the site and the client are ready for when the Honomobo unit is ready to be delivered.
Working in tandem not only helps share the task load – having a building partner also helps speed up the process: While Alair is focusing on the site work, Honomobo is building the unit, resulting in about a 30% time savings on a traditional build.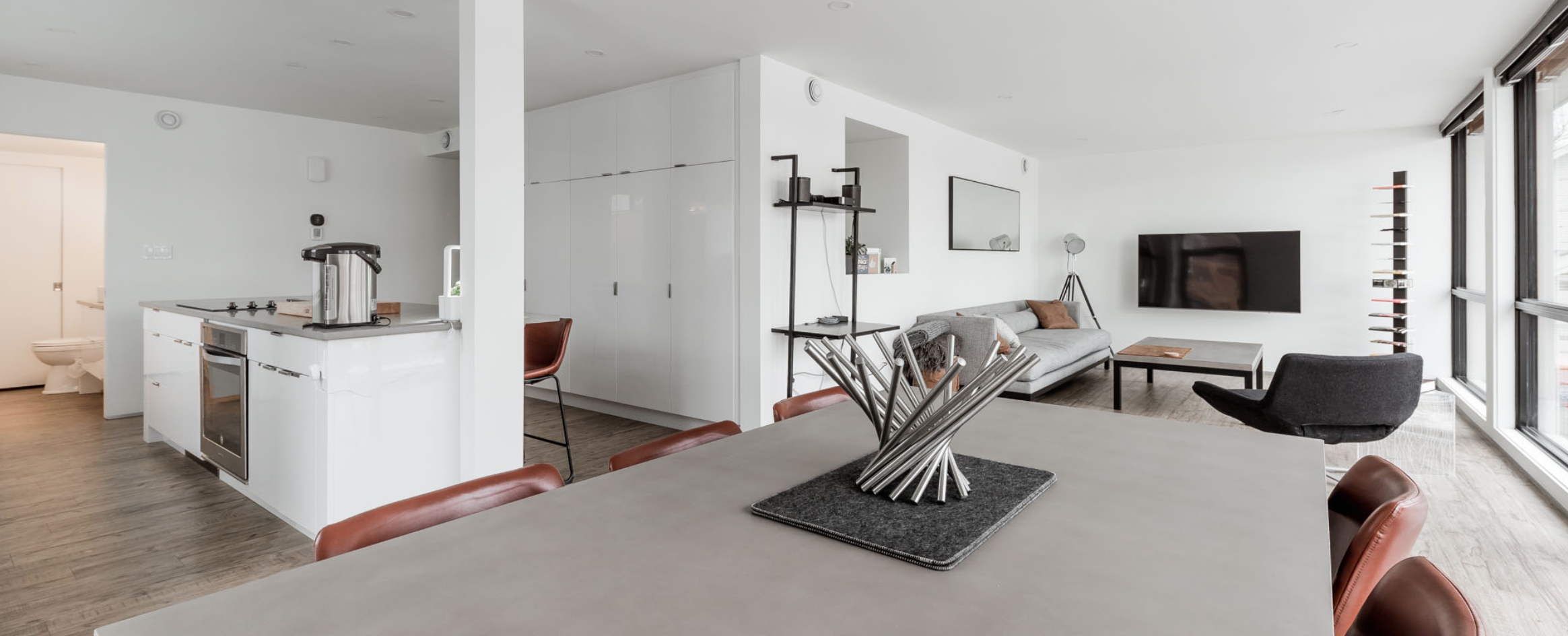 "We try to simplify the entire process by offering only the floor plans you see online," says Kohlen.  "We can mirror the floorplans, but we don't change them outside of that.  Keeping things consistent also helps in speeding things up. Plus, we know what the cost will be each and every time that we build."
Unit prices range from approximately $75,000 for the HO1 Studio to $499,000 for the 1900 square foot deluxe H06.  When it comes to overall project costs, Kohlen says much of that depends on the market, the distance from the facility in Edmonton, the project site, logistics, foundation types, and site specifics.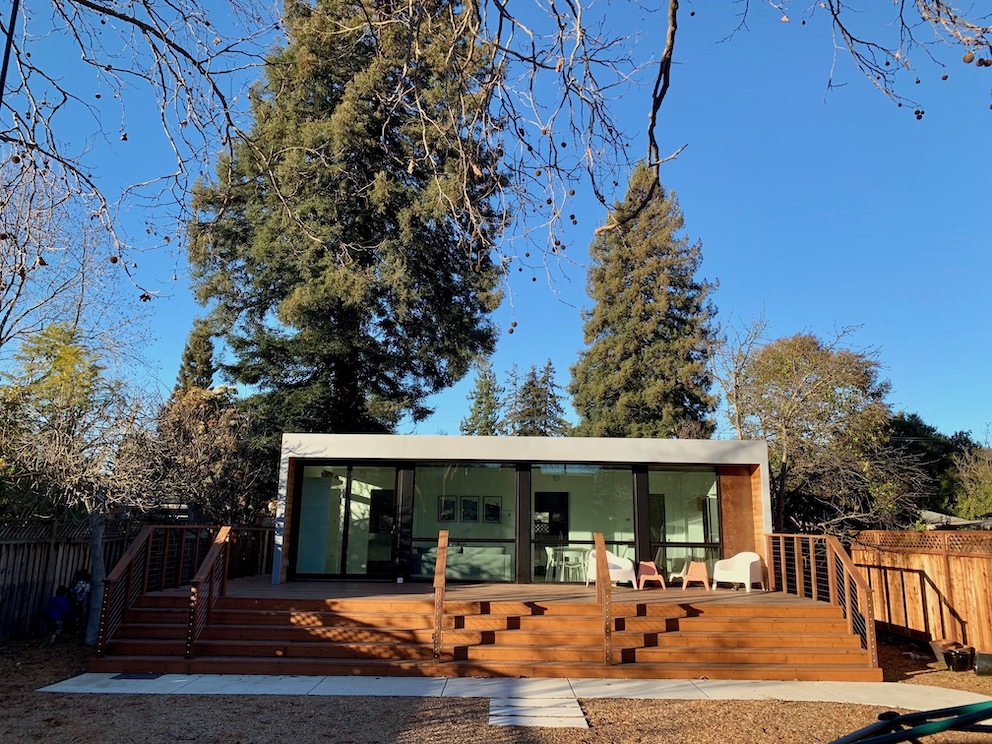 Honomobo's builds are surging in popularity in California, especially in urban centres like San Francisco, Los Angeles, and San Diego.  A lot of those properties are being used as ADUs (accessory dwelling units) and are secondary structures on the property.
Honomobo hasn't done much work in the city of Vancouver, largely because here, landowners want to maximize square footage allowable. But they have been commissioned to build in the interior and on the Islands.
"In British Columbia, our client profile can vary a lot. But it's often their second or third home, often a vacation home. They have a property in a remote setting, where traditionally built homes can take years to complete, so they'll go with the modular route."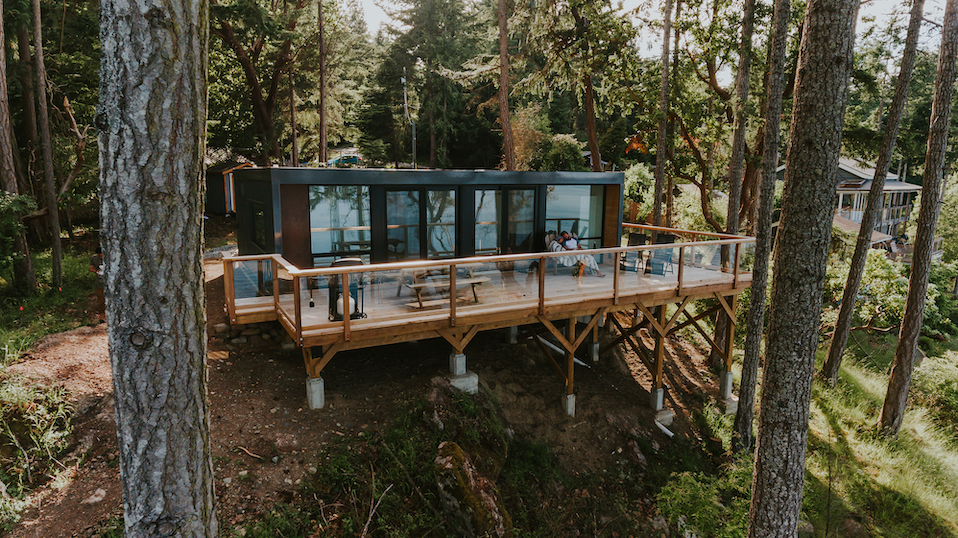 Modular also means uber-modern, with floor-to-ceiling windows that make the most of coast properties and clifftop views. Interior layouts are predominantly clean, spacious, and white. A number of styling options are available, which include white gloss, black matte, or ash millwork, white or carbon quartz countertops, and two colours of Stonecast vinyl plank flooring.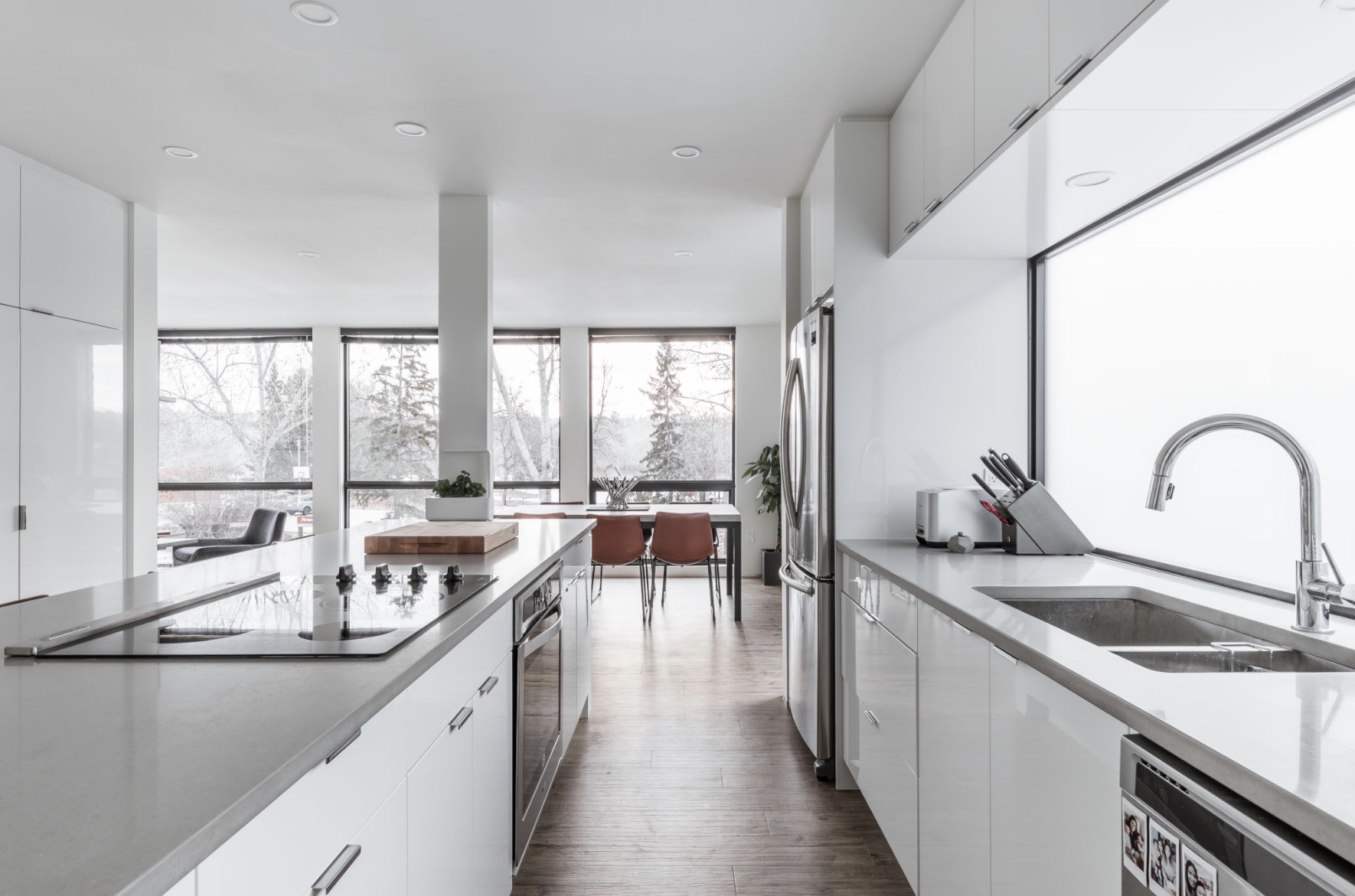 Two of the most popular Honomobo styles are the HO4+ (1224 sq ft) and HO5+ (1500 sq ft), largely because of the size of the floorplan.  "With two bed and two bath for the HO4+, they make for a great cabin and those who want some extra space," says Kohlen.
An added bonus, every Honomobo is equipped with electrical systems that allow for renewable energy sources that offset some or all of the home's energy usage.
Demand for these homes is increasing, with production full up for the next few months. In general, the company completes about two to three builds at a time, taking 10 to 12 weeks to complete.
manufacturing, they are able to service more remote locations and speed up the efficiency and timeline for a construction build. The result is modern, beautiful, modular. For more information check out Honomobo