Feature Photo:Destination BC/Leanna Rathkelly
You have arrived in Whistler for the first time and snowflakes are falling, the size of golf balls! Tomorrow there will be an estimated 30cm (12 inches) of fresh powder. Wanting to make the most of your stay, you are ready for an action-packed day. But where should you start?! Let this agenda be your guide and you'll have an experience that you will never forget.
6 am: Time to get up! Get up earlier if you can. Powder is a finite resource so there is no time to hit the snooze button.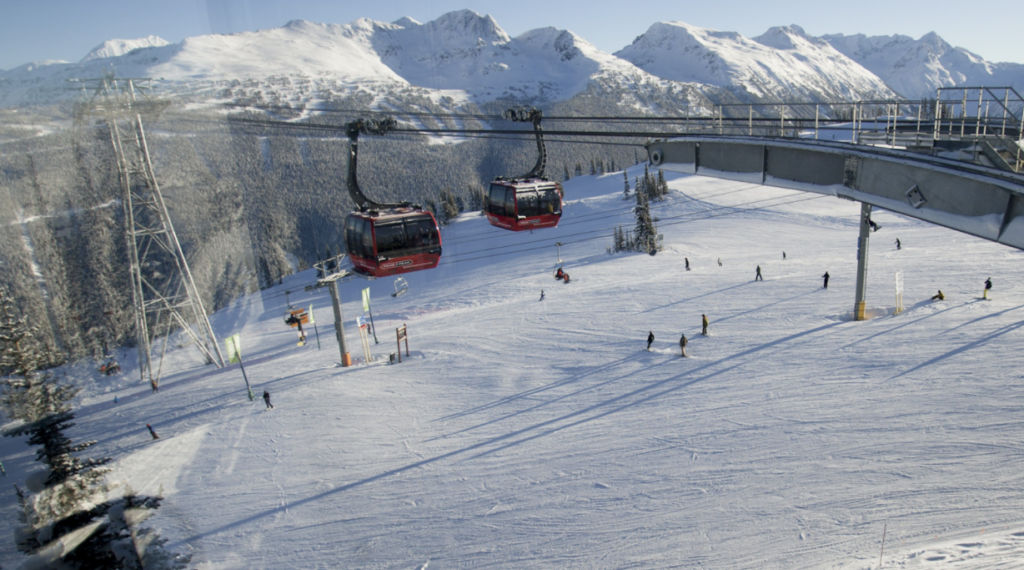 Photo: Jeff Boyce
7 am: Get in line. As a first-timer head over to the Whistler Gondola. While the argument as to which mountain is better, Whistler or Blackcomb, is on-going, Whistler tends to be easier to navigate for the first timers.  If you have time, grab a coffee and a pastry at PureBread while you wait for the lifts to open. 
Not hitting the slopes? Head to the legendary Southside Diner and enjoy their famous B.E.L.T.C.H. (Bacon, egg, lettuce, tomato, cheddar, and ham) sandwich. 
LOCAL'S TIP #1 Keeping your goggles on your face or in your jacket can help keep them from fogging up. 
8 – 8:30 am: Lifts open. Hooray! Since you were such an early bird, you get first dibs on the runs. Warm up your legs with a cruise down Whiskey Jack, perfect run for beginners to intermediates.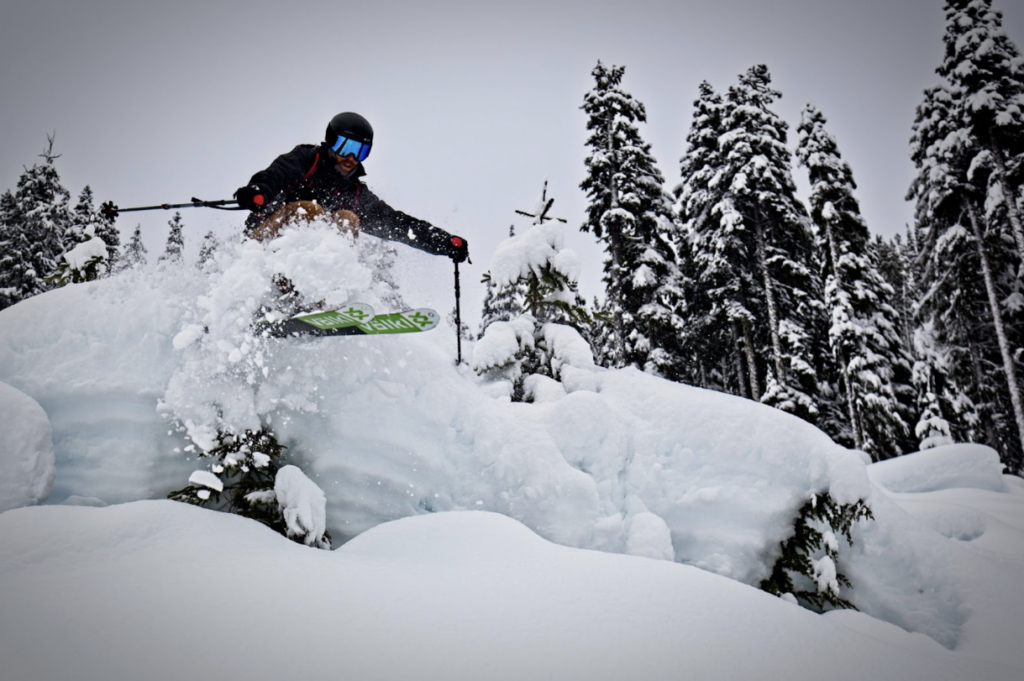 Photo: Jesse Paris
LOCALS TIP #2 Heading in for lunch can be a day-wrecker as a full stomach can make you feel sluggish. Locals bring snacks to enjoy while on the lift or in the line instead. Stick a banana bread in your pocket from one of the Whistler/Blackcomb cafes. 
11:30 am: Whistler Mountain is huge and some lifts take longer to open than others. Here's your chance for more amazing fresh tracks. Head to Peak Chair or Harmony Chair and listen to the bombs detonating as ski patrol clears your next run of avalanches. 
3 pm: What a day of skiing! It is time for everyone's favourite, Après! Head to Duhb Lihn Gate for some live music, nachos, and  libations of your choosing. You've earned it. Or see if you can catch The Hairfarmers, Whistler's most successful bar band.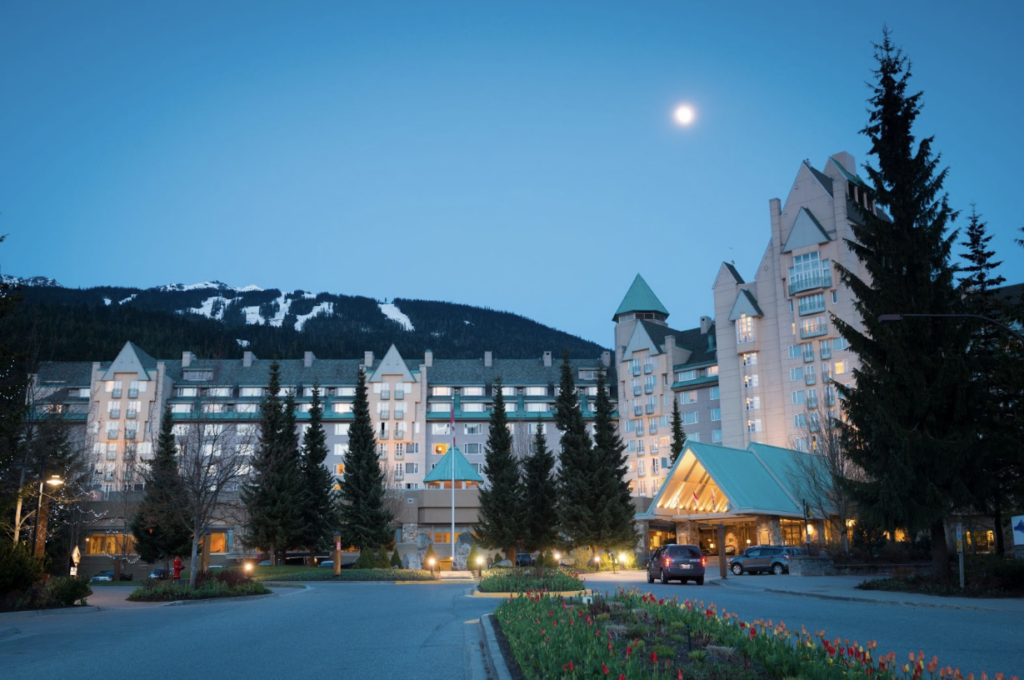 Photo: Tourism Whistler/Mike Crane
4 pm: Soak your sore muscles in the hotel hot tub. When it comes to hotel recommendations The Fairmont Chateau Whistler is still considered the grand dame of the village. For a unique, more economical experience, try the Pangea Pod Hotel, Canada's first pod hotel. 
7 pm: Whistler has many amazing world-class restaurants. Celebrate the day by having dinner and sabering some champagne at the Bearfoot Bistro. As an aperitif, you can visit their ice room and enjoy sub-zero temperatures and shots of vodka. 
Bearfoot Bistro. Photo: Tourism Whistler/Mike Crane
Locals out for date night or intimate dinners flock to 21 Steps. Great food and atmosphere. For larger gatherings and parties, book one of the private tatami rooms at Sushi Village, a long-time favourite.
LOCALS TIP #3: Whistler restaurants can be extremely busy with long wait times. Book reservations where possible BEFORE you get to Whistler.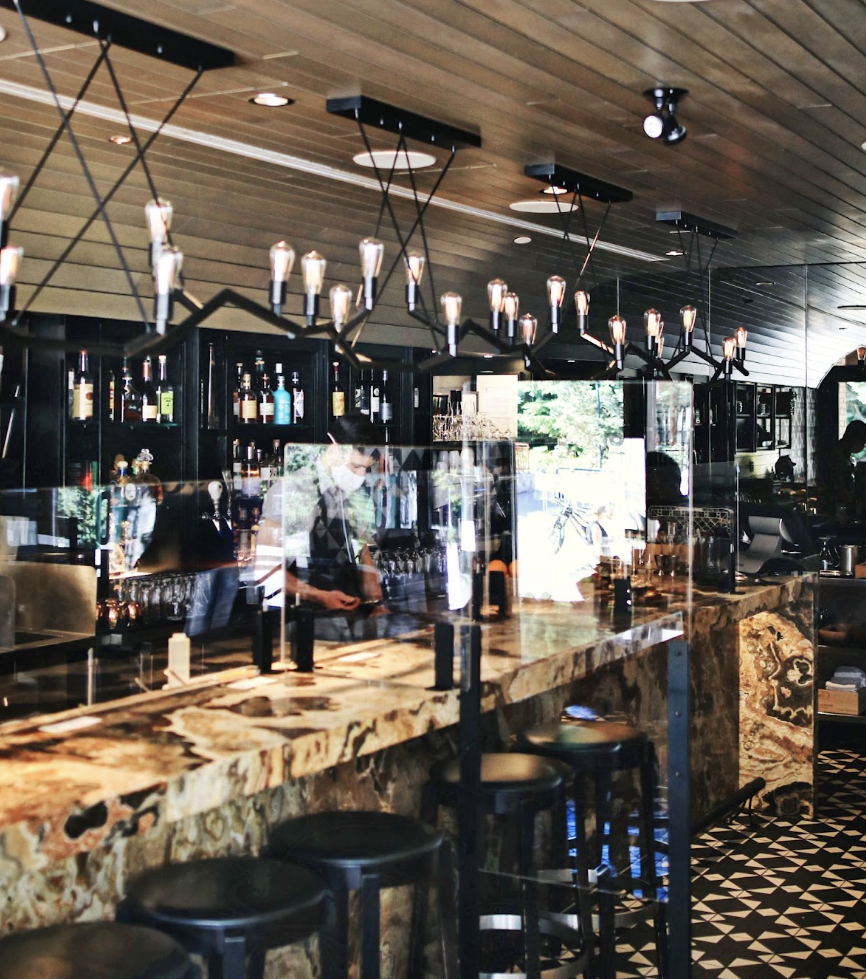 Bar Orso. Photo Tourism Whistler/Mike Crane
9:30 pm: Whistler has a very happening night life, with a ton of drinking and dancing options.  Bar Oso is a great spot for a drink (or dinner.) Garfinkels is a local institution. 
11 pm: Time to hit the sack and get ready to start it all over again!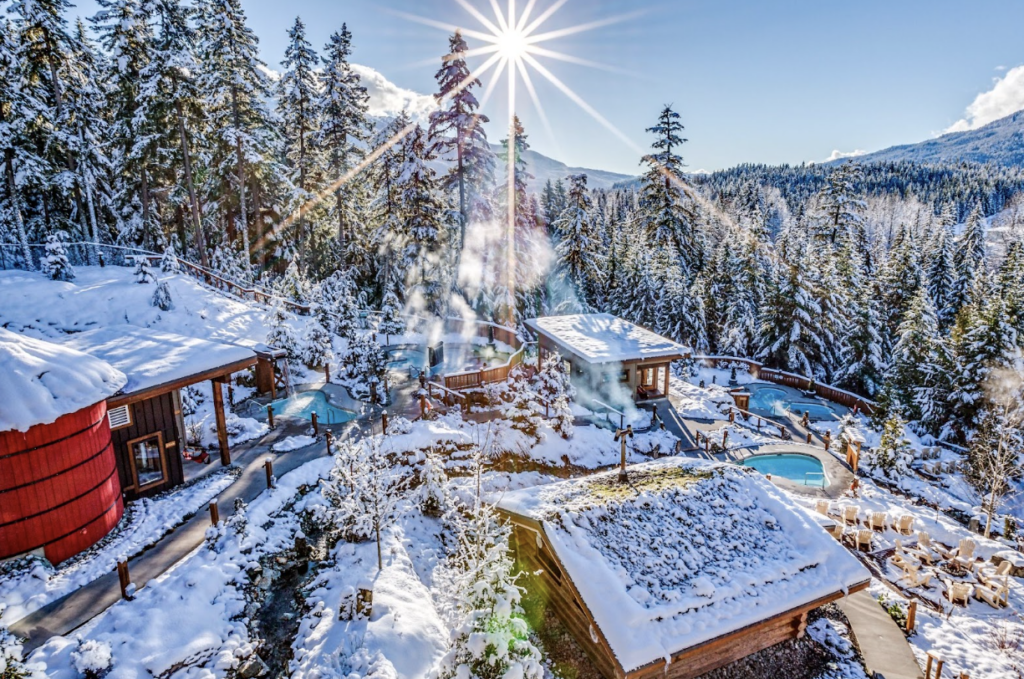 Scandinave Spa. Photo: Joern Rohde
Top Five Things To Do Beside Skiing
1. Scandinave Spa – Relax in the peace and quiet (seriously, you're not allowed to talk) as you are surrounded by nature. Dip in both the hot and cold pools to rejuvenate your body and soothe your sore muscles. Additional spa treatments are available.
2. Snowmobile tour – Get a true backcountry experience by signing up for a sled tour. Or, take your snowmobile to the top of Blackcomb for a fondue dining experience like no other.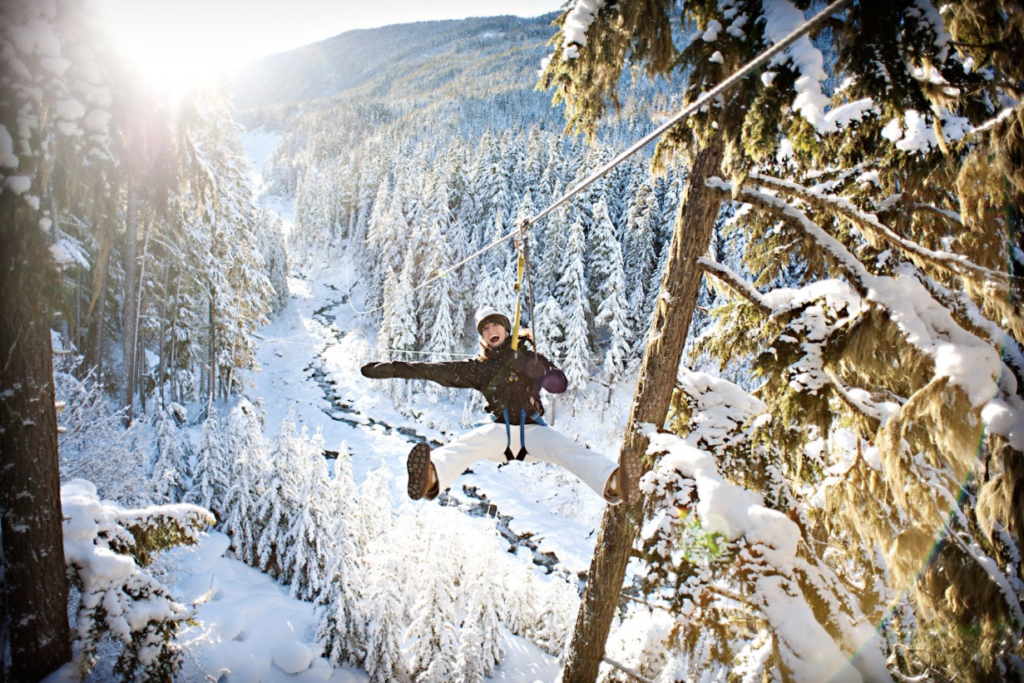 Photo: Ziptrek Ecotours
3. Ziplining – A must-do for any family enjoying time off of the slopes. Travel down cables under the canopy of mature spruce, fir, and cedar trees for an adrenaline-filled experience. 
4. Bobsleighing– As the host of the 2010 Winter Olympics, Whistler is now home to one of the worlds fastest tracks. See how you compare to Olympians as you twist and turn down the ramped up, frozen water slide. 
Photo Tourism Whistler/Mike Crane
5. Snowshoeing – No guide or passes needed for this activity. Pick your route or destination and get walking.
Locals Tip #4: The author's favorite meal in all of Whistler! Head to Pasta Lupino for the Chicken Parm and pasta. Ask for a splash of the alfredo sauce to make the tomato sauce more creamy.  #Alairloveslocal
Article first published in the Alair Magazine. To see more, head to www.alairmagazine.com.