Adding a custom shower during a bathroom renovation is becoming a staple for high end housing. Common customizations include full tile shower bases, linear or hidden drains and oddly shaped showers. Full height waterproofing and odd angles can create a new challenge for ensuring a fully watertight shower.
Bathroom Renovations- Most Frequently Used Waterproofing Methods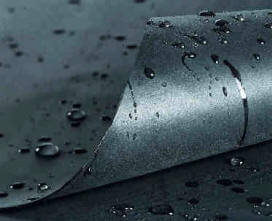 The two most common waterproofing systems for showers are rubber membranes and fabric membranes. Typically the rubber membrane is installed on the shower floor and wrapping up the walls a few inches above the water line, it doesn't wrap all the way up the walls. The sub-straight of the shower is installed over it with a paint on waterproofing. A fabric membrane like the Kerdi Line by Schluter is installed in the shower floor and on top of the sub-straight, directly behind the tile. This same fabric is used for both the floor and walls of the shower providing a completely wrapped enclosure. Since this method provides wall protection for both the floor and walls I would recommend the fabric system if you will be installing a steam shower.
Odd angles or curves should be taken into consideration when choosing a waterproofing. With the rubber membrane angles and a curved wall can be difficult. Any time there is a corner the rubber is folded up the wall. These folds can become tricky when there are multiple folds in a tight space. The fabric shower system is designed to be cut and re-joined. The fabric membrane is easier to work with when doing custom shapes because of its ability to have multiple seams.
With either choice of shower waterproofing a good flood test will leave you with peace of mind. Once the shower waterproofing is complete but before the tile is installed plug the drain and fill the shower up with water. Let it sit for 24 hours and come back to see if any water has leaked on the floor. I have attached a picture of a flood test on a fabric shower system. Doing this flood test is not only for your peace of mind but it is also required by most city inspections.