Do you own a home in the Tri-Cities area and are considering home renovation in 2019? We've identified five interior design trends that picked up steam last year and will likely be quite trendy this year too. Perhaps one of these ideas will provide you with some inspiration as you refresh and beautify your home.
1. Voice-Assisted Appliances
Technology plays a part in so many aspects of our lives. That's as true in the homes we own as it is anywhere else. Appliances that you can control with your voice simplify life and make everyday tasks more convenient. That might mean a refrigerator that uses voice response to keep track of how much milk you have left or a wi-fi connected stove. This accessibility is thanks in large part to manufacturers providing support for Google Home, Amazon Echo and similar products. This gives you a robust set of features across appliances at a very low cost.
2. Accent Walls Are Out
There are two interior design trends that are evolving side by side. The first is that people are opting for colours that are darker and moodier, and this is true even in rooms were neutral colours have traditionally been favoured. In addition, accent walls are on their way out, and homeowners are instead painting walls, trim and even ceilings all one colour. This provides a cozier atmosphere, and it also lets the furniture and other elements throughout the room be the true stars of the show.
3. Dedicated Laundry Rooms Are Out Too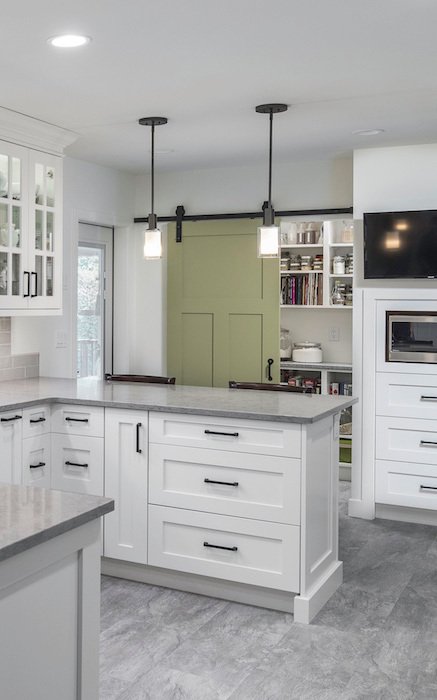 With an emphasis on the term room, dedicated laundry rooms are out. Many homeowners are taking advantage of home renovation as an opportunity to reclaim that space and do more with it. Laundries are being moved to hallway closets and similar areas, which provide plenty of space for the equipment and tasks required but are also easily out of sight and mind when not in use.
4. Indoor and Outdoor Kitchens Are Blurring
Outdoor kitchens have been an exciting trend in home renovation for some time now. It really has transformed how we look at the backyard barbecue. Now, what we're seeing is a trend toward indoor kitchens that open up to the outdoor kitchen via collapsible or sliding doors. This provides a lot of additional space and versatility and really enhances the home that was built for entertaining.
5. Destination Bathtubs Are Changing Bathrooms
Bathtubs are back in as well, but what we're seeing is an interior design trend toward destination bathtubs. These are generally areas of a bathroom or adjoining rooms that are dedicated entirely to a large freestanding tub. You can then integrate flora, stone, wood and other materials for a spa-like experience that is just perfect for you.
There are lots of design ideas making their way into homes in 2019. As you consider which ones are your favorite, consider that it's important to implement them the right way. Often, the support of a professional is necessary to make this happen. When you're ready to renovate, Alair Homes Tri-Cities is here to help. We'll offer professional advice, complete transparency and trusted project management. Contact us to learn more and discuss your goals.