A home renovation that focuses on outdoor living will add a new dimension to the livability of your home. Bringing the outside in is a classic design feature that expands the visual and livable spaces.
The Centerpiece
Unless you have solid reasons not to, a fire element will form the centerpiece of your outdoor living area. You can use wood or gas burning equipment in virtually any shape available. If you're looking for the unique, consider sticking with natural gas or propane since they have fewer design limitations than wood-burning equipment. Purists insist that there's nothing that compares to a wood fire for authenticity. Over wood, you can roast marshmallows, grill meat, fruit and vegetables. The smells, sights and sounds of a wood fire are mesmerizing, although gas fireplace designers now offer some of the same effects using ceramic logs.
An Enclosed Patio
In our region, flying and crawling insects cut into the fun, especially when using lights at night. Why not consider enclosing a patio or creating a screened-in gazebo as a viable alternative when considering an outdoor living space? The only limits you'll have with a screened-in enclosure will be with the fire element. You'll be limited to gas or propane since wood fires and charcoal grills create a lot of smoke and soot. If you have to pay retail for firewood, gas and propane will be the more affordable fuels. An enclosed outdoor space doesn't eliminate the possibility of a fire pit.
The Supporting Elements
It's possible to add a water feature to the home renovation when designing an outdoor space, whether it's attached to your home as a patio or sits independently as a gazebo or separate building. Fountains, sculptures and sometimes ponds make outstanding additions to an outdoor living space. They provide the sight and sound of moving water and lend themselves to many styles.
Lighting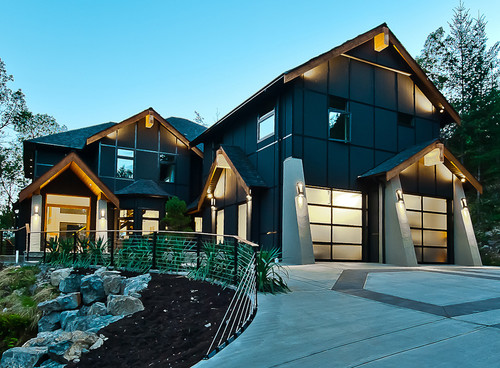 Lighting is another aspect to consider for your home renovation. Given how short the days are during the fall and winter months, you may need it to illuminate the pathways and other essential areas of your outdoor space. You can use:
Uplights and spotlights to highlight interesting landscaping like trees and shrubs, water features, or even bird feeders and baths.
Task lighting to illuminate a cooking or serving area, specific sitting areas for reading or places where you plan to work on hobbies or homework.
You want to work with your contractor to decide how to power the lights, especially if the outdoor living area is separate from your house. If it's attached to the house, running wires outdoors will be straightforward. Otherwise, you may want to consider solar or battery-powered lighting. If you plan to add a refrigerator or water heater, you will need to hardwire the space for both power and water.
Bottom Line
A home renovation that focuses on outdoor living will add a new dimension to your home. Thoughtfully done, it will add value to your home over the years and immeasurable enjoyment. Alair Homes is here to help. Contact us to discuss your home renovation project.
Share: