Are you a Springwater local who dreams of having a multi-functional and customized entertaining space to dazzle guests? If you decide to purchase a custom built home, you'll have the ability to capture the spirit of Springwater through beautiful finishes and features to keep company with the ones you care about most. How can you make your home inviting to your guests? Think wide-open spaces!
Entertaining Made Easy
When you live in a place as beautiful as Springwater, it doesn't take much to impress visiting family and friends. Homes with floor-to-ceiling windows, large floor plans, or outdoor areas that draw the eye to the surroundings invigorate the senses. The area is ripe with inspiration. Lushly forested hillsides and snow-capped hills surround the area bringing tourists and locals year-round entertainment, so why shouldn't you be able to do the same?
The Kitchen Island Answer
Many hungry guests love to hang out in the kitchen. They can chat with you while you whip together some fun appetizers. In the cold winter months, nothing warms the heart like keeping close to a well-used heat source like the oven. And while you are busy dishing out the delights, friends and family need a place to sit and munch. A large kitchen island gives you extra prep space and room for socializing to commence comfortably. It brings a little separation between you and the guests but not enough to disrupt the flow of conversation.
Everyday Living
Like Springwater's wide open spaces and fauna that continues to delight onlookers and makes them feel invincible, similarly, your living room can make every guest feel they have their own space to stretch out and relax. If you've decided on a smaller home but want that spacious feel, your custom built home will be ideal with an open floor plan.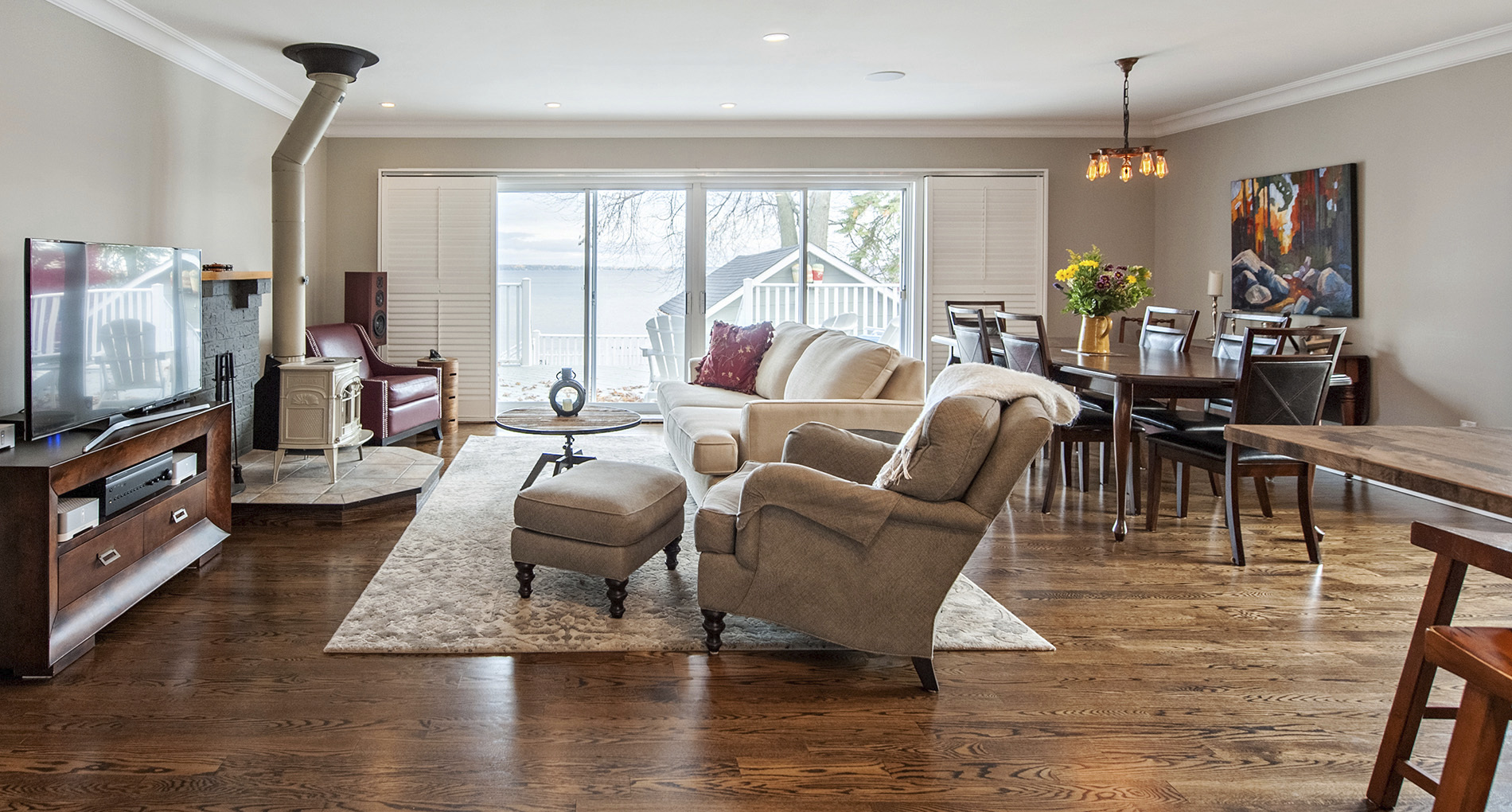 Small living spaces with multiple seating options that fold out, drop down or tuck away can create workable options for smaller square footage homes. For a larger custom built home, try using sectionals with pieces that can be adjusted to expand or removed depending on the number of guests visiting.
A Perfect Patio
You can enrich your guests experience by creating patio areas that extend entertaining spaces to the outdoors. Give your custom built home extra appeal by adding a pergola to take advantage of the warmer seasons. Or install a covered deck for all-season, all-around fun! For frigid nights, an outdoor functional heater or fire pit is a great solution to combat the chill, while enjoying the night sky and shadowy green surroundings. Make sure your seating options are weatherproof. Cushioned seats and woven throws can bring a cozy feel to an outdoor meet-and-greet and ensure all your guests feel right at home.
Do you want your custom built home to bring about year-round entertaining pleasure? You can turn your home into a perpetual hub of enjoyable activity with some personal customization!
Share: