If you own a home that requires a renovation, consider hiring a professional general contractor. A general contractor is responsible for overseeing a renovation project, from start to finish. It is their job to organize and enlist all the various workers required for a specific job. They also provide the materials, acquire the necessary permits, and make sure all work is done to code and passes inspection.
I know what you're thinking…
That sounds expensive.
And, I can do this myself.
But, wait – a home renovation is a BIG project, and it's worth considering making the investment for hiring a general contractor to save yourself money, time, and heartbreak in the long run. Do not underestimate the value that a great general contractor can bring to the table. Here are just a few reasons why it's in your best interests to hire a professional and experienced general contractor when renovating your home…
Industry Connections
I've been a general contractor for about 40 years now, and I can tell you with great confidence that in the renovation business, your net worth is your network. People who work in construction and renovation will come in all forms. With an inexperienced eye, it can be very challenging to spot a quality skilled tradesperson from a fly-by-night operator. When your livelihood and reputation are dependent on the people you work with, you make sure you only work with the best.
A general contractor who is experienced and knowledgeable will have a roster of qualified tradespeople who they can hand pick for your particular renovation. Matching up the right tradespeople and workers with the right renovation project is integral to a successful renovation.
Furthermore, a general contractor has the ability to meet with and communicate with these skilled tradespeople in a meaningful way, so that they understand fully what is required from them, and how they can contribute the bigger picture.
Prevent Mishaps
Having a general contractor on your side is like initiating a pre-emptive strike for anything that could possibly go wrong on a renovation. And, unless you're experienced and know exactly what it is you're doing, a LOT could go wrong. A general contractor will have the ability to assess your plans and foresee any complications that might ensue. It's not exactly like having a crystal ball and being able to see into the future, but it's the next best thing.
For this reason, a general contractor can help you avoid many problems and pitfalls altogether, just by being able to anticipate and respond to any issues that an unqualified renovator won't be able to predict.
Team Management
Managing a team on a renovation project is a big task. You need to be able to see where each tradesperson is coming from, where their priorities and requirements lie, and how this all fits together for the greater good of the home renovation. A general contractor will be able to outline the scope of work required for each worker involved so that there is no overlap or omissions in the project. When a general contractor successfully manages people's roles in this way, no one can say, "Well, that's someone else's job."By managing everyone's job descriptions in this manner, the general contractor can make sure that each tradesperson prices their work accordingly. This is to ensure that the client gets what they want, and what they pay for. The general contractor then has the responsibility of holding each and every tradesperson accountable for their work, so that the work is completed properly.
Project Management
In addition to team management, the general contractor also provides project management for your renovation. Project management includes paying the required deposits, as well as taking care of ongoing payments that are necessary in order to keep the job progressing smoothly. Project management will also entail addressing any ongoing concerns from tradespeople or suppliers, regarding what needs to be done or how to supply a product. And finally, the general contractor manages the timeline for all the tasks, so the project doesn't extend longer than necessary.
General Contractors Are Your Liaison
A general contractor acts as the liaison between the construction team and the homeowner. For instance, they will act as a middle-man or negotiator if tradespeople or suppliers try to upsell or include extras that are not in the best interests of the client. They can also help the homeowner understand where and why certain materials are required.
They will also make sure things run on schedule
Often times, the client has an idea of what they want, but they don't really know how to convey their ideas to the tradespeople. The general contractor will know how to do this and step in on behalf of the homeowner. Or, in the case where the client doesn't know exactly what they want, the general contractor can work with the tradespeople and bring ideas to the table.
If the homeowner and their family remain living in the home while the renovations take place, it is extremely helpful to have a liaison in place to make sure everyone is kept safe, and the project progresses without major disruption.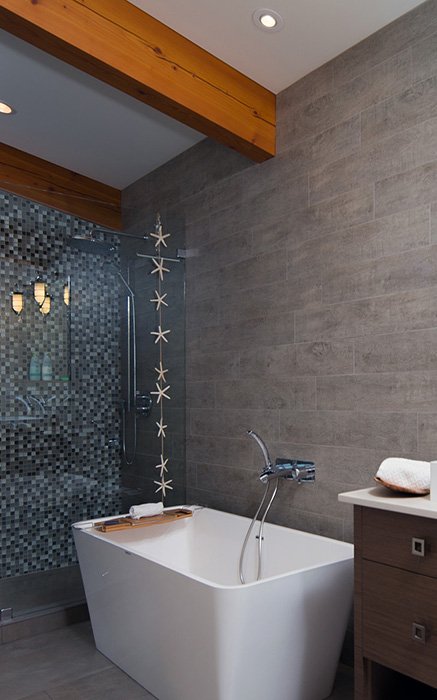 Professional Code of Conduct and Standards
With a reliable general contractor overseeing your renovation, you can rest assured that it is being completed as per building code. It is the responsibility of the general contractor to make sure that your tradespeople aren't taking shortcuts that could cause issues down the line. Making sure professional standards are being held requires ongoing site visits and supervision.
Hiring an experienced and reliable general contractor isn't an expense — it's an investment. A professional general contractor comes with indispensable industry contacts, will help prevent mishaps down the road, manage your team, manage your project, act as your liaison, and make sure every stage of your renovation adheres to a professional code of conduct and standard.
We are experts in general contracting and renovations at Alair Homes, so don't hesitate to contact us with questions – because "Living Better Starts Here™".
Share: