When you moved into your Scarborough home years ago, you may have loved the look of the home, and the layout may have been perfectly functional for your needs. Over time, however, a home can become outdated, and the family's needs may change. The thought of moving into a new Scarborough home may have crossed your mind, but you may not want to leave your home or your neighborhood. Another idea is to renovate your space. A renovation lets you change the style and the functionality, and this may be a more convenient and affordable way to update your living situation. Alair Homes Scarborough can help you to learn more about the home renovating process and give you the information you need to decide which option is best for you.
Funding Your Project
One of the top concerns that many people have when preparing to renovate part or all of their home involves the cost and timing of the project. After all, if the project is too expensive and time-consuming, moving may actually be a preferred option. The great news is that the cost of your project is completely under your control. The cost is dependent on the scope of your project and the materials that you use. With this in mind, you must determine how much available cash you have for the project and how much money is available to you through financing. You can speak with a home lender about a cash-out refinance, a HELOC or a home equity loan to determine the amount of equity available to you.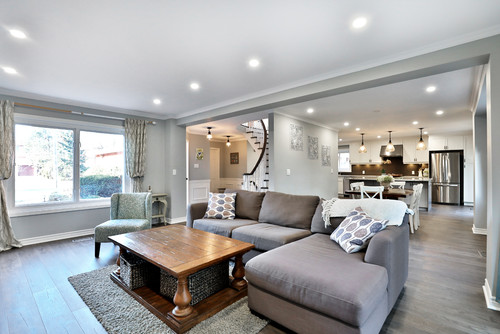 Defining Your Plans
After you finalize your budget for the project, you can begin exploring materials and finalizing the vision that you have for your home. This is also the time to speak with a contractor about the timing and cost for your project. If the quotes that you receive are too expensive for your budget, remember that the contractor can work with you to find more affordable materials or to find a more cost-effective way to achieve your goals. The experience of the contractor is critical if you want to maximize your budget.
Understanding Typical Costs
Some Scarborough residents receive a quote or two back and are not certain if the quotes they are receiving are fair and competitive. Remember that multiple factors influence cost, so you need to understand what factors may be strongly affecting your quotes. To give you a reasonable idea of costs, a bathroom renovation may take up to three weeks to complete and may run between $10,000 and $26,000. A kitchen may cost up to or even more than $58,000, and it could take a month or longer to complete.
Now that you know more about what to expect from a typical home renovation, you may be ready to firm up the plans for your own project. After you speak with a mortgage lender about your financing options and review your cash on hand, you can begin planning out your project, finding the materials that you want to use and more. You can also reach out to our team of home contractors at Alair Homes Scarborough to get customized information specifically related to your project. With this information, you can finalize your plans to renovate your space.