Regina is a growing city, well-known for its small town charm. This charm is clearly infectious as community reports show more and more Canadians settling here. In a report by Regina & Region Home Builders' Association, it was projected that almost 23,000 additional people are expected to call Regina home between 2018 and 2023. Are you amongst those who are building a life in Regina?
One of the most important decisions you make when deciding to buy a home is what style of new home building is right for you: Custom, Production or Spec Housing. For such a large investment, there are many considerations to make. To decide, you must first understand their differences and the benefits each carry.
Custom Home
As the name might suggest, choosing a custom home is a completely one-of-a-kind build experience. A custom home is a home built to match the desires of its owner. If you choose to work with a custom home builder, your thoughts and opinions will be taken into account in developing this home. One of the greatest allures of a custom home is that it can be built where and how you want. Of course, finding and preparing a lot for your custom home can be an ordeal itself, but clients agree this process is wholly worthwhile when you get to choose the area in which you call home.
The value in a custom home is in its nature to meet your unique needs. This is reflected when you take a look at the breakdown of the average custom home.
Average Breakdown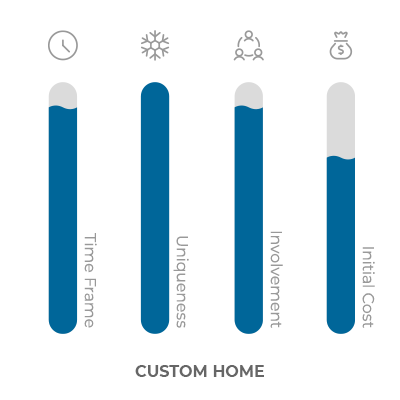 An exceptional custom home offers no limits to the custom features it offers. This makes this build uniquely optimal which is represented by the graph. Due to the high level of planning involved in a custom built home, this option has a longer timeline and requires more involvement. This is not even to mention any additional intricacies you may have to your custom build. That is the benefit of a custom home afterall. In this case, you will work alongside the builder to curate your home to fit your lifestyle.
The greatest benefit of a custom home can also be its greatest detriment. The price and timeline can vary greatly depending on the custom features you choose. In my experience, a custom home build can take anywhere between 6-18 months to build. Speaking generally, the average custom built home costs $200-300 per square foot. More luxury homes are closer to $400+ per square foot. You could, therefore, expect that an average 2,300 sq ft home would run you anywhere from $460,000 to $690,000.
Keep in mind, these are simply average prices. You are the biggest cost determiner here. Set a budget and stick to it! You are involved in the selection of all materials and finishings of a custom home. If you choose to work with Alair, my team and I work with complete transparency so you know exactly how your money is being expended. Our clients benefit from our strong network of local market partners that help secure your budget goals.
Production Home
Production Homes are also commonly referred to as Tract Homes because they are built from a tract of land subdivided into smaller lots. Due to this divide and conquer style of building, tract homes are known to be very similar. While you can "customize" these homes with your preferred finishings, these homes are typically built using only two or three preselected design plans which lead many to refer to these as "cookie-cutter" homes.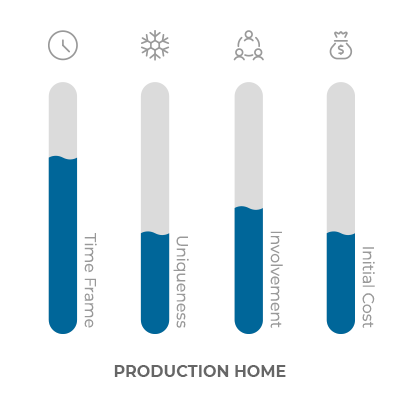 Average Breakdown
A production home builder often buys and builds in bulk, so what these homes lack in diversity they make up for by offering more financial savings. Due to the limited diversity in design and the land being bought in bulk, these homes are typically the most affordable option for home building. That being said, there is often opportunity for custom upgrades. However, any customization to ease its "cookie-cutter" status will result in additional costs.
It should also be worth noting that these homes require far less involvement on the part of the homeowner. The great thing about this is that with fewer decisions to make, you often receive a faster timeline. Tract homes typically only take about 6 months to build once plans are finalized.
Spec Home
Spec or Speculative homes are built based on the builder's speculation of the communities wants and needs. This means many features normally priced as additives are included in the price of the home. Only when buyers find spec homes still under construction are they sometimes allowed to customize them further. Normally, though, these homes are sold to be move-in ready.

Average Breakdown
The greatest benefit of choosing a spec home is the time it takes to build. These homes are generally either close to completion or, more likely, already ready to move into. This is helpful for prospective homebuyers who are on a time crunch to meet a move in date.
A Spec Home is built to appeal to a wide range of people, so these homes are usually the least unique. That being said, these homes often include features most wanted by the masses. It is sometimes more cost-effective to choose such a home with these features included in the price. On the other hand, this can also mean you may be paying for a feature you wouldn't have otherwise chosen for your home.
Conclusion

As you can see, there are many benefits to each style of home building but it really comes down to your individual wants and needs. Custom Home building gives you more freedom to build where you want. There are many lots for you to choose from in developing neighbourhoods like The Creeks, for instance. However, if you are in need of a new place to call home sooner rather than later, a Spec Home may be the best option.
Buying a home is a big decision, I know, so take time to reflect on what matters most to you and the rest will fall into place. According to the Canadian Association of Accredited Mortgage Professional, the average Canadian will own 4.5 to 5.5 homes in their lifetime. I would advise taking time to consider how long you will be living in this home. Only custom homes can be greatly modified later to meet your changing needs. If you're interested in discussing the other ways your life can be enriched through custom building, give my team a call!
Share: