Even if you don't define yourself as a neat-freak, you might want to consider closet upgrades as an important part of a home renovation. Putting some attention into the closets might have a big payoff in terms of time and money while you live in the home and when you want to sell it.
Spacious and organized closets rate high with home buyers. They make the difference between a cluttered environment, wrinkled clothing and items that seem lost for good. It's also amazing how much time a person can spend looking for something. If you've ever searched high and low for the car keys or a piece of paper that's suddenly become important, you probably know how vexing it is to lose track of stuff.
A KonMari closet system helps you change all that. It's a system of managing your clothing and accessories where you save only the things you value and let everything else go. Marie Kondo developed this method to help her clients organize their lives.
Since then, the practice has spread thanks to viral online videos and even a Netflix series on how to declutter and organize. Many homeowners are taking this opportunity during home renovations to learn the KonMari method and design a closet to match.
Benefits of This Approach
Besides getting rid of stuff you don't wear or want, the KonMari method helps you:
Learn to organize your things better
Become a more discriminating consumer
Save time by storing clothing more efficiently
Instead of buying clothes just to have them, the KonMari method emphasizes having things of value to you beyond just acquiring them.
First Things First
The first thing people do when following this method is dump the contents of their closets and drawers onto a surface big enough to accommodate the pile. Then they hold each item close to see if it makes them feel good. If it brings joy, then it's worth keeping. If it evokes no feelings or something negative, it's time to let it go.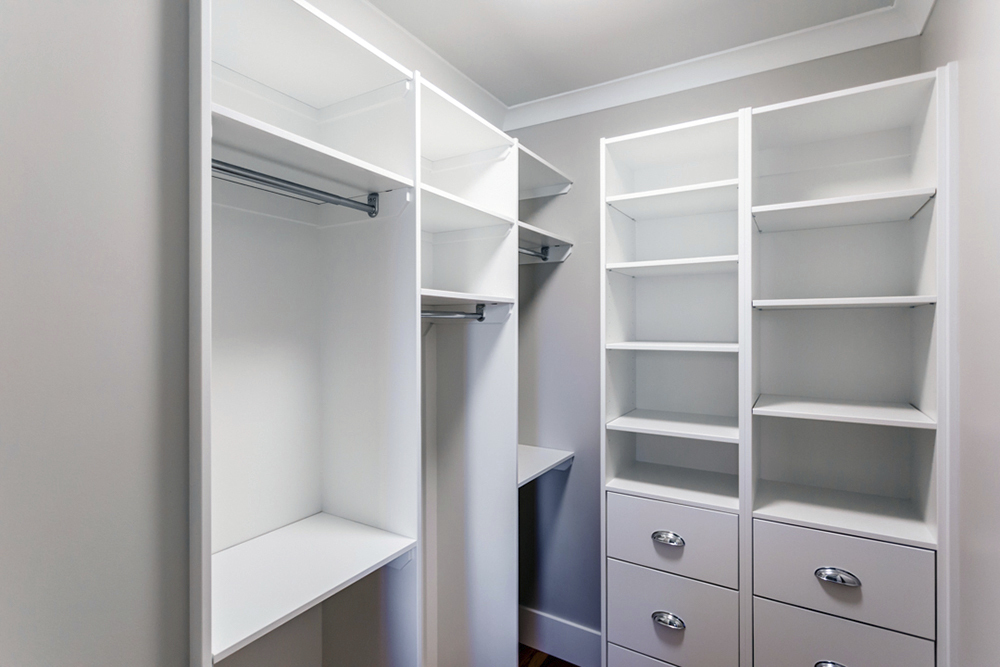 Once people have gone through their stuff, they move onto putting it away. The KonMari method has specific ways of folding and hanging clothing that makes storing and retrieving them extremely efficient.
Implementing the KonMari Method
When you're planning to use this organizational method, start with the dump and take care to go through each article of clothing until the end. Then put them away in what you currently use for clothing and accessory storage. When you meet with your design team, bring along photos or videos to show them your vision.
How They Do It
Achieving a well-designed, efficient closet in your home renovation involves using:
Dividers inside the drawers for small things like rolled up ties and neck scarves.
A central island ringed on four sides with a section of sliding drawers for lingerie and small items.
Purse hooks for hanging handbags from a rod or a shallow shelf.
Boot trees that provide vertical support so they stand straight up.
Storage boxes for out-of-season items.
How much you have of any one thing is highly personal and it might be tempting to base the dimensions of the closet on your needs only. Take into account what your contractor's design team recommends since they have significant exposure to what others want from closets during a home renovation.
Bottom Line
Including a KonMari closet in your home renovation will simplify your life and increase the amount of free time you have. It may also add value to your home down the road. When you work with Alair Homes' design team, we'll help you achieve the closet you need based on your unique needs as well as features that enhance its overall function.
Share: