It's finally time for your home renovation! How will you update your utility room? While some believe the laundry space only needs to be functional, equipped, and organized, the potential exists to make it so much more. Do you want a utility room design that will help make the space a pleasure to work in? Let's figure out this home renovation project together!
Shelving
Utility rooms are usually one of the smallest rooms in a home, but open shelves will allow a petite room to remain functional. Items can be easily re-organized and easy to find. You can also use the shelving to show off beloved knick knacks and add color pops, too.
Think vertically! Get built-in shelves that go from the top of the floor to the bottom of the ceiling. Purchase a vertical organizer on wheels that fits that awkward space between your washer and dryer.
Storage for Tall or Bulky Items
Houzz.com suggests that you, "Allow space for taller, bulkier items, such as the vacuum cleaner, ironing board and mop, and include a cabinet shelf large enough to hold your ironing basket, so items to be ironed are nearby when the job needs to be tackled." You'll also need adequate space for a mop bucket, broom, and perhaps a handheld vacuum and carpet cleaner. Even hooks hung up on a wall can free up space and keep your tools handy.
Drying Racks
Whether the weather isn't conducive to line-drying your clothes or you just need a few spots for drying delicates, you can find clothes drying racks for all of your needs. Many varieties of racks are even budget-friendly. Choose from:
wall-mounted frames
accordian-fold racks
heated drying racks
ceiling-mounted racks
drying rack drawers
Ironing Boards
If your utility room will be large enough, consider adding a laundry island on wheels. The top is an ironing board, the shelves below offer handy storage, and you can pull it into a corner out of the way when you're finished.
Ironing boards that fold down from the wall also free up space. You can even have an under-the-counter version installed. However, you may consider ditching the ironing board all together if you don't need to do a lot of ironing. Instead, purchase a magnetic ironing pad that attaches to the top of your washer or dryer. It can fold up, too, when not in use.
Appliances
A stacked washer and dryer will free up floor space. If you have a tiny utility room, this may be the best appliance option for you. Added bonus: With one appliance stacked on top of the other, you'll need to kneel less on laundry day. Alternately, a side by side washer and dry with a counter on top provides room for folding clothes or ironing. This can increase the functionality of a small space and make these tasks easier and faster to complete.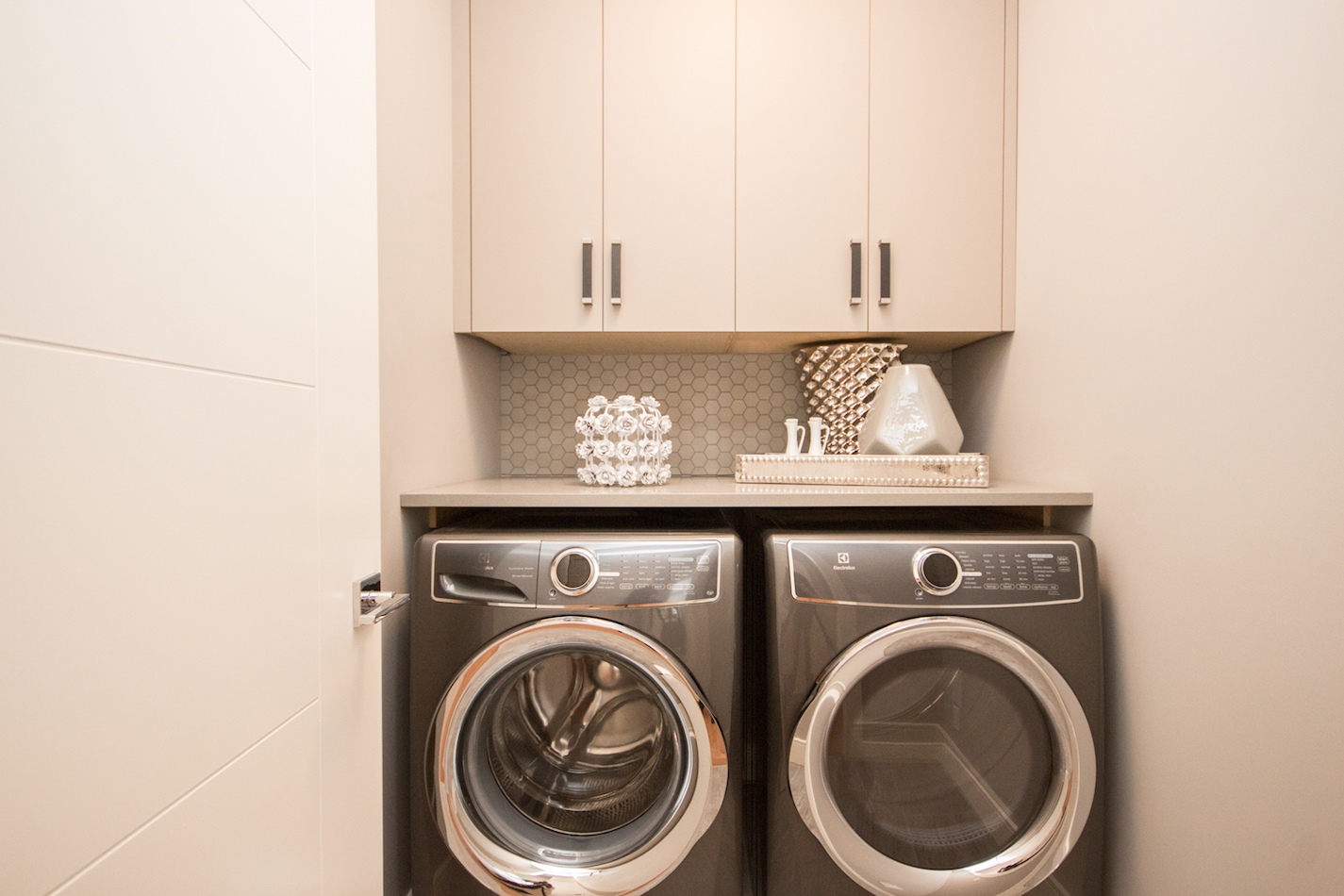 Refresh Your Color Scheme
White or neutral colors usually help make small rooms look larger. They pair well with colorful accessories, and they don't become outdated as fast as bold wall colors. This is the chance to break the rules! Make it your own. Only you and members of your household will use your utility room. That means you can make it look the way you want — even if it doesn't exactly match the rest of your home's decor.
Laundry may be a dirty business, but planning for a more well organized, functional utility room space can be a piece of cake. Are you ready to take the leap and pull together the utility room of your dreams? Alair Homes is here to help. Contact us today to discuss the unique design ideas we have for your own home renovation.