Alair Homes Oakville Transforms a Suburban Home Into a Country Abode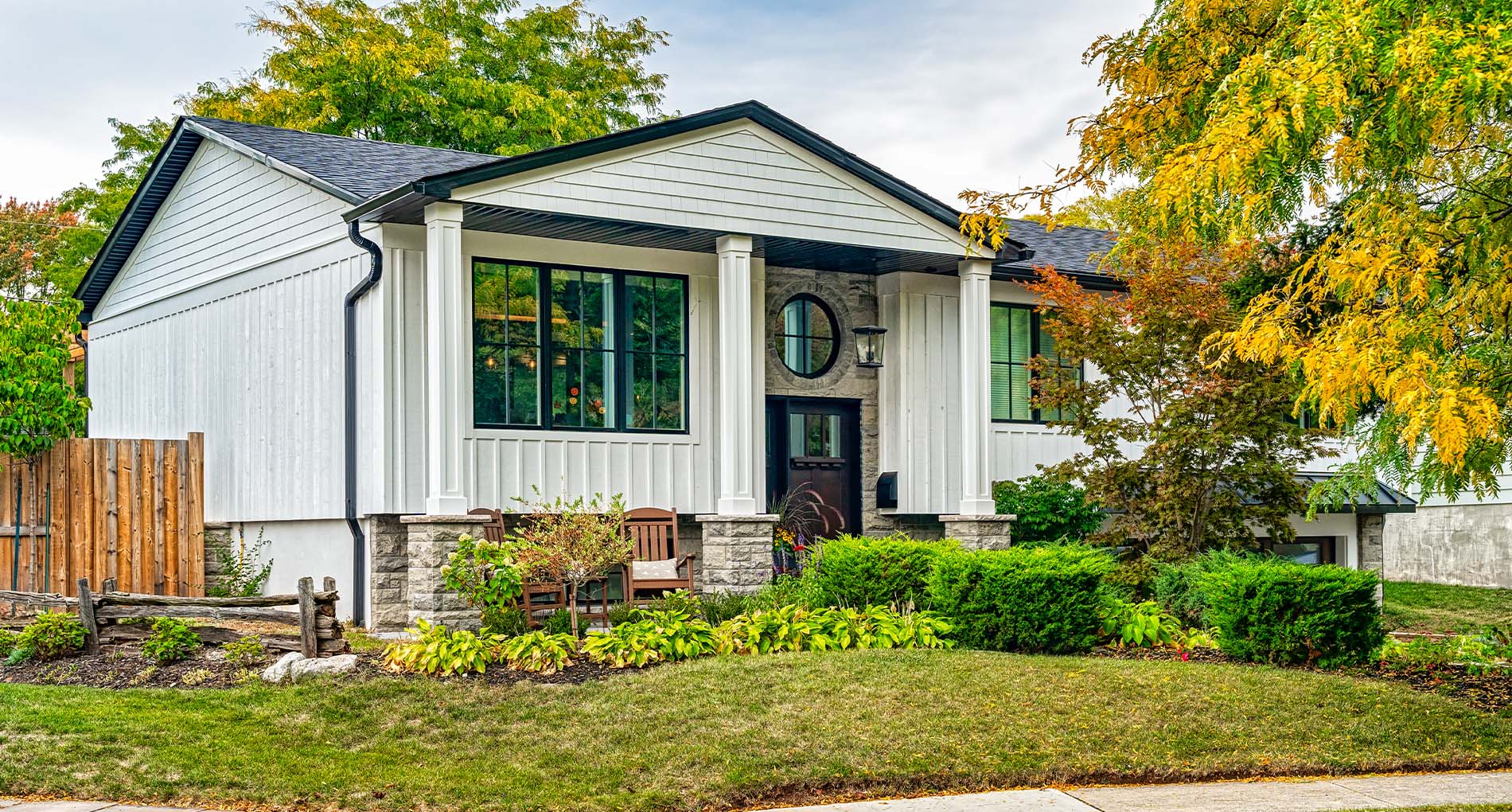 We all do it. We can't help ourselves.
Oftentimes, we find ourselves looking at other homes with envy. "That one's nice – I wonder what my home would look like with those elements incorporated". House envy is a natural reaction, and we shouldn't feel guilty about it. It's actually a very useful reaction – if we can use it for good.
While everyone seems to be selling their homes to move into one they feel may suit them better, it's worth considering simply renovating a current home into what they've always wanted. 
Bringing a Rustic Feel to a Southeast Burlington Raised Bungalow
This recent exterior renovation of a classic raised bungalow located in Southeast Burlington is a prime example. Built in 1972, its architectural "bones" allowed for a harmonious combination of design choices that came together to create something greater than the sum of its parts.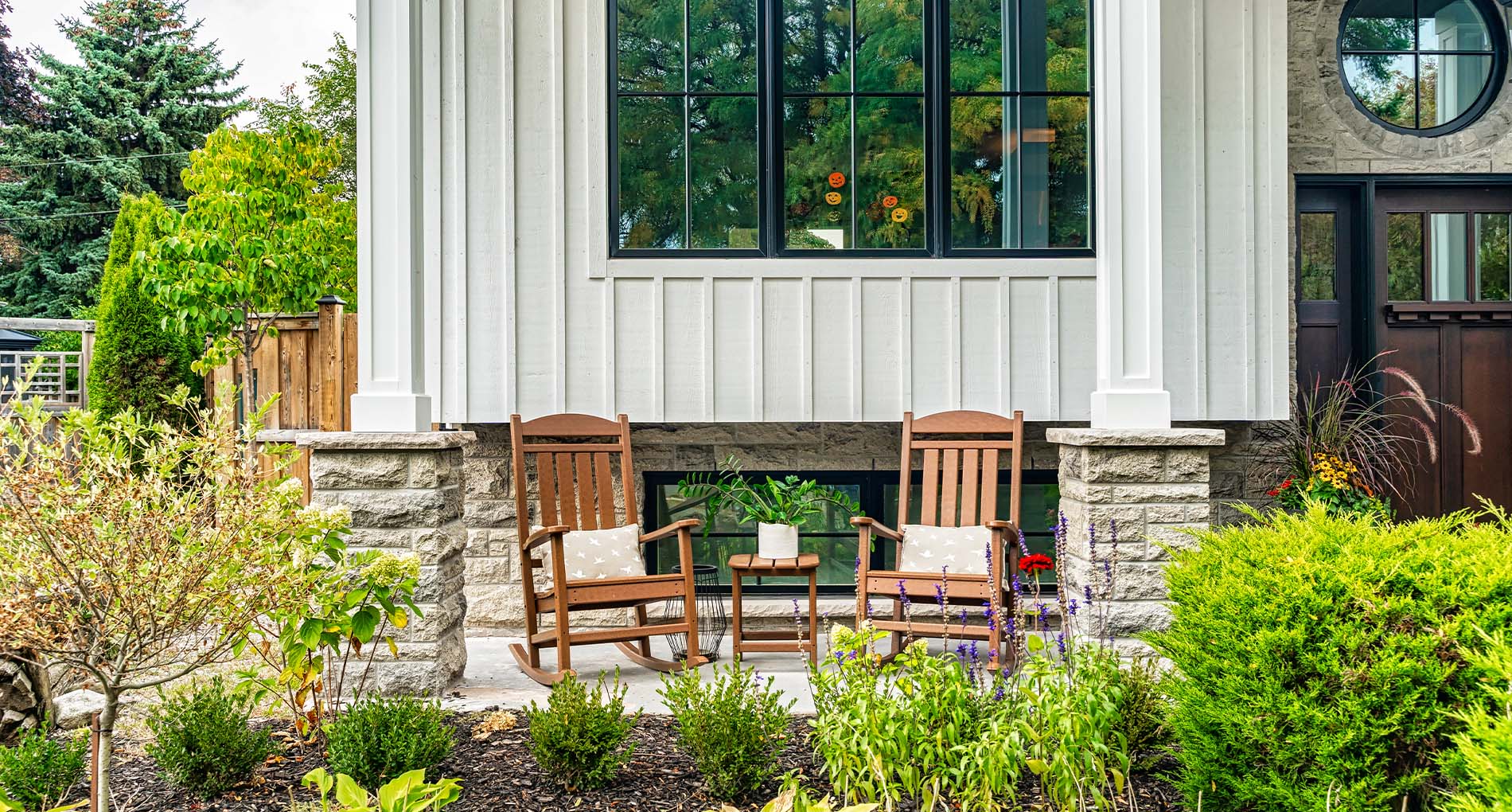 The team at Alair Homes Oakville, along with designer Kristen Prevost, were able to collaborate closely with the homeowners to design a facade that presented a wonderfully rustic feel in the heart of the suburbs.
"When you look at the house, it feels as if it has always been there," said lead designer Kristen Prevost. 
The first thing to catch your eye is undoubtedly the board and batten siding. Its dated, rustic appearance gently steers your eyes to look deeper into the additional, subtle nuances that make this home the envy of the neighbourhood. 
Take for instance the black windows by Pella. It is easy to see why they're increasing in popularity, with their dark framework and frosted glass creating a fantastic union between the board and batten siding and the windows themselves. The stark contrast of dark versus light does not force one to see the two entities separately – but rather brings them together with wonderful fluidity.
The NG stonework effortlessly ties the entire exterior of the home together. Its combination of varying sizes of stone and subtle changes in color tone accent the front entrance in a way that is hard to replicate with similar natural – and much more expensive – stonework products.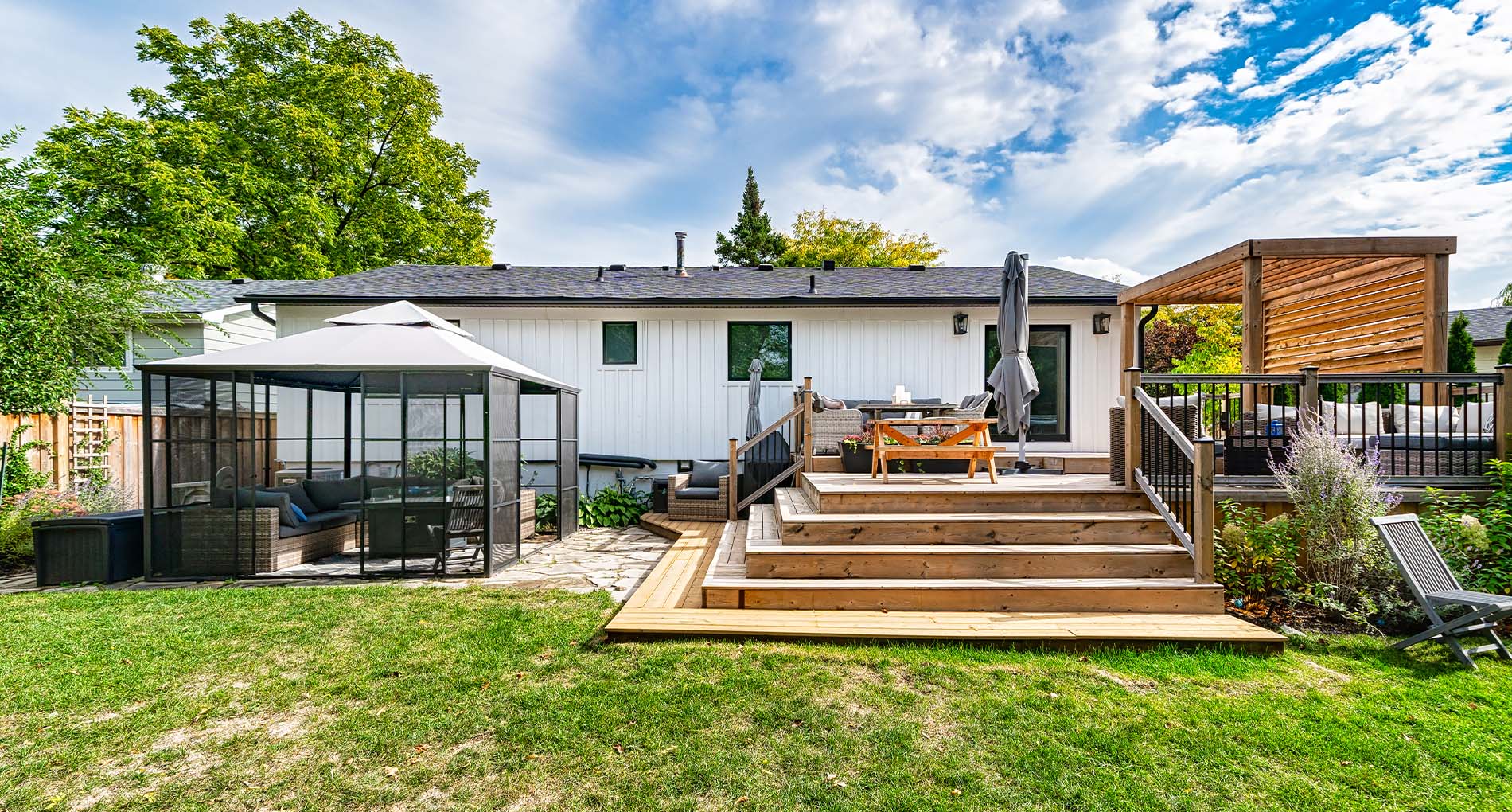 A Front Entrance to be Proud Of
In keeping with the theme of the front entrance, the beautiful front door by Pella with its rich, dark wood undertones creates a distinction between the stonework and siding from a color perspective, while still maintaining the rustic feel of the project. 
The porthole, also from Pella, is a strategically placed masterpiece that injects a nautical feel to the home while providing a wonderful source of natural light for the front foyer.  Kristen was thrilled the homeowners were open to the addition of the circular accent window. "The soft curve adds a gracefulness you don't often see with modern farmhouses. A smaller window would have felt too conservative. The size and scale work well with the modern design. It's bold, and truly the focal point", she reflected.
"We worked with Alair to transform the exterior of our house from dated 70s to modern farmhouse. Their work – from planning to execution – was exceptional. When the inevitable surprises arose, Matt handled everything professionally which took a lot of the stress out of the process (for us). We love the finished product and are so proud to call this home." – Project Broughton Homeowner.
Alair Homes Oakville Can Make It Happen
Whether you're looking for that country feel within the city or longing to escape the "cookie cutter" feel of the suburbs, Alair Homes Oakville can work directly with you to add a touch of class, and set your home apart from the rest of your neighbours.
Alair's dedication to complete client satisfaction coupled with their desire to provide a no worry, open exchange of ideas from start to completion of the project is paramount. The personal experience and relationship between contractor and client is often viewed as an "us vs them" scenario.
Alair Homes is committed to changing that stereotype and creating an "us" scenario. After all, it's not just a house – it's your home.