We talk a lot about custom homes and major renovations, so we wanted to take a moment to discuss custom decks and how to integrate a smart functional outdoor living space into your home design.
Styles of Decking:
There are many different styles of decks to choose from. The size and shape will depend on a variety of factors that are impacted by the construction of the house and the layout of the yard. Just like a room in your house, your deck should have an intention to it- a purpose to fulfill. Decks can offer an outdoor kitchen, supporting outdoor dining for those warm summer days or crisp fall evenings.
Depending on the size and available space, custom decks may also support a hot tub or spa area and a comfortable living space with outdoor furniture and a fireplace.
Built-In Accents:
Just like your kitchen, the dining area will be the focal point of your custom deck, so be sure to carefully plan your furniture and accessories. The other beauty of your deck is the ability to change the layout year to year. There are many accessories a designer can show you that will add character to your outdoor living area, enabling you to refresh your deck in a cost effective way with new styles. This is why we strongly encourage clients not to incorporate built-in accents or furniture as it should be used sparingly. Once you build your flowerpots, benches, and pergolas, they are permanent structures, hindering your versatility.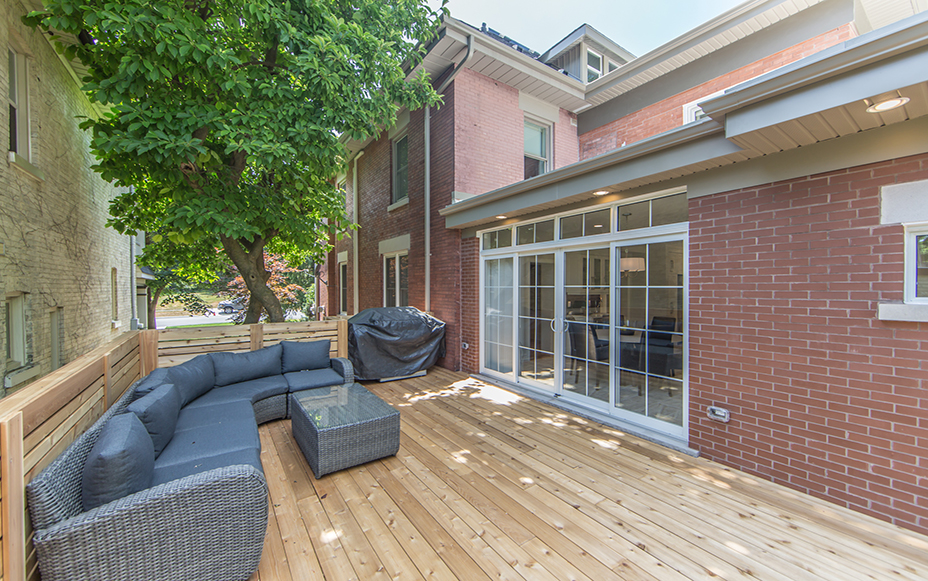 Lighting:
Lighting is a wonderful element that adds style and functionality to your deck,  Solar powered LED lights are an inexpensive accessory you can buy to create a pleasant ambiance for relaxing and socializing after the sun sets.
Railings:
Primary used as to promote safety, railings can also add style to your deck and are often the most visible element in construction. With their prominence in mind, choose a style you will enjoy for the long term. Modern and newer trends are moving towards invisible glass systems, and there are an abundance of painted aluminum options with integrated lighting.
Working with a Custom Home Builder/Renovator such as Alair Homes North York is a more efficient approach because it's a team that works together to manage your interior and exterior projects as one seamless goal.
Living Better Starts Here™