Many elements of a custom built home contribute to its value like its location, size, and all the features within. It's not uncommon to find unique and unusual elements in custom homes that up their price tag. Given a big enough budget, it's possible to be innovative with the required functions of a home to bring them to an altogether new level.
Underground Garage
Whether lot space is tight or you just don't want to look at a massive wall of garage doors, putting the garage underground solves a few problems. First, it's clear of all danger the weather may present. Second, the elevator makes it easy to bring awkward and heavy objects into your home. Third, it saves outdoor space.
Part of the driveway close to the house is concealed as a concrete lift that lowers and raises your vehicles. Once in the garage, you can park them and enter the elevator to transport you up.
Basement Wine Cellar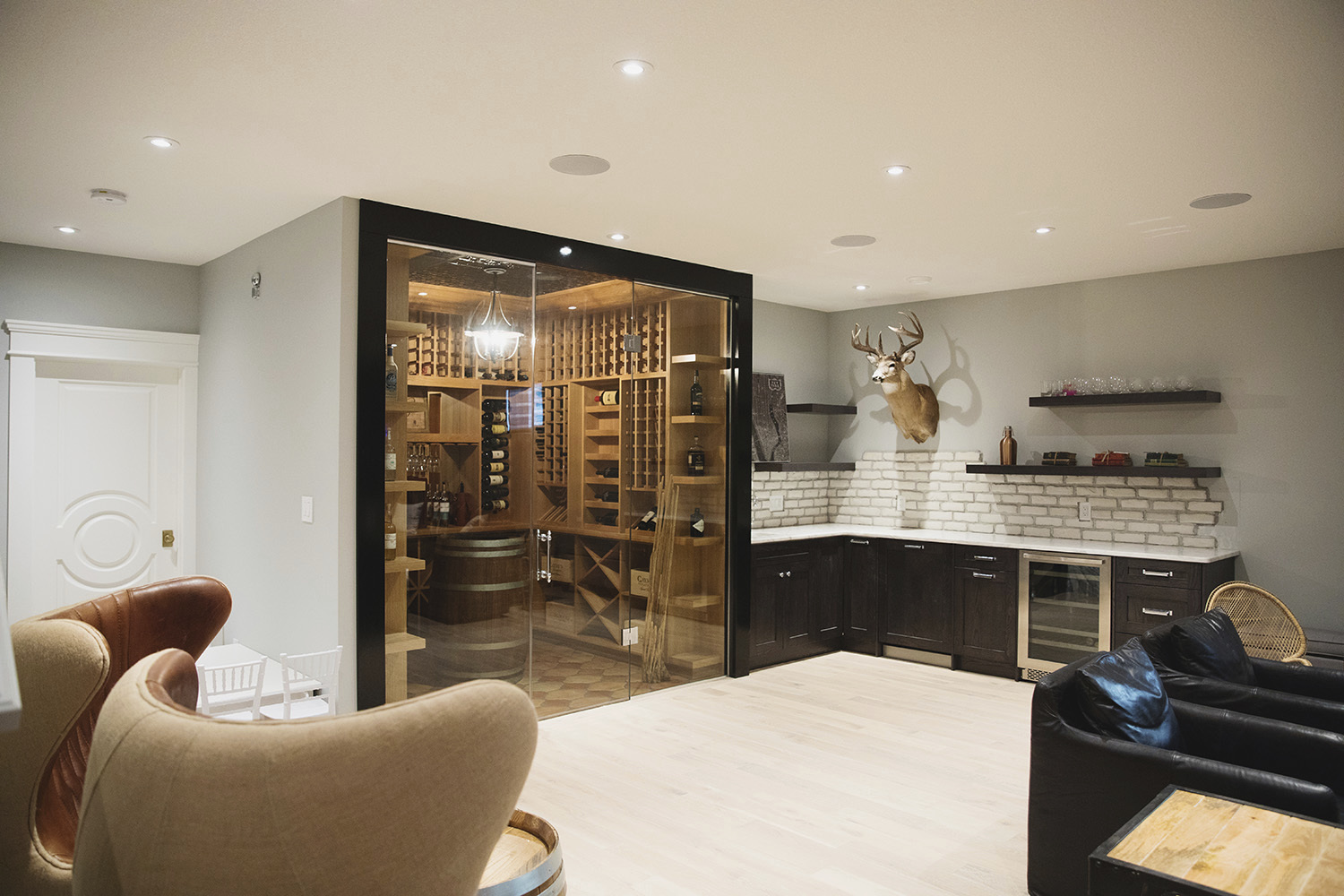 If you are wondering how to maximize the extra basement space, consider building a wine cellar. Wine cellars benefit from the cool and dark conditions in the basement. One homeowner took it to the next level by lighting it with designer LEDs and installing a UV-resistant glass ceiling. Above, guests in the living area enjoy both the wine and the unique view below.
Home Theater
Instead of using a family room for movie night, some people set aside space in their custom built home for a home theater equipped with the latest sound and video technology. The complete soundproofing means that others in your home won't be subject to sharing the entertainment with you. Finish it with comfortable seating, a kitchenette and a bar and you'll have an indoor haven for any big screen event.
Unique Bathrooms
Architects and designers have found lots of ways to make elegant bathrooms, but some believe Mother Nature has a lot to contribute too. Bringing the outdoors into the bathroom is as easy as using glass panels to reveal the lush landscape just outside. Glass ceilings make it possible to experience the tree canopy above without letting in the weather. Sunken tubs, gas fireplaces, a media center and steam showers are a few of the upgrades you can put into a bathroom to be enjoyed year round.
Luxury Closets
Luxurious closets are amongst the top most desirable million dollar home features. Ample storage, sliding drawers, floor to ceiling mirrors, lush rugs and décor fitting your style all make up a luxury closet. Keep your wardrobe organized while enjoying the little time to yourself as you get ready.
Backyard Features
Million dollar custom built homes also have backyard features just as compelling as the interior. This region supports colorful and vibrant landscapes complete with water features. Instead of a swimming pool, consider putting in a lazy river in the backyard that combines beautiful landscaping with natural seating.
If pools are more your taste and your lot has a slope, a heated infinity pool will give you year-round enjoyment. These pools use drains that cover the edges of the pool to capture the water and recirculate it. This design can appears as if the water is flowing over a waterfall.
Bottom Line
These features in a custom built home can increase its value, among countless others. As you choose how you want your home to look and feel, rely on Alair's design team to help. Their expertise and selections will increase both the home's value and your comfort.
Share: