Your home should be nothing less than a peaceful, comfortable and happy refuge. If your mind tells you otherwise, then you need to do some renovations. Small changes can make a huge difference and here are home improvements ideas that you will find worthwhile.
Open Space
Traditionally, living rooms were kept compact and tight, but today, more space is needed. If you find any room to be too small, expand it by removing a non-load bearing interior wall and take over another room. This might seem a tall order, but not when you have seasoned experts like Alair Homes working with you.
Front Door
If you are looking for a home improvements project that has double benefits, working on your front door would be a good idea. Freshening or installing a new front door will improve your home's exterior appeal while boosting the mood of anyone pulling into your drive. It is agreed that a warm welcome is all you could want at the end of a long day.
Light
Natural light streaming through the windows stimulates the feeling of calmness, comfort, and happiness. Your windows might be sore, tired and drafty – replace the old windows with big-sized ones that allow enough light to flow in. If you're on a shoestring budget, giving your windows a new look is recommended.
Color
Compared to other rooms, color is most vital in the living room where reading, TV watching, or general socializing happens. The color scheme of your living room must, therefore, be perfect. Don't stress because the definition of the "perfect" color choice here is entirely up to you. Pick colors that are pleasing to the eyes and evoke good vibes. Should you have any second thought, play it safe with neutrals such as white. Deep blue colors create a sense of rich tradition, and light blue color will boost carefree, breezy feelings. Choose a color depending on your likes and personality. Cover your ceiling with a white shade to enlarge the room and avoid claustrophobic feelings.
Kitchen
The kitchen is amongst the most important rooms in the home. A refreshed kitchen goes a long way in bringing joy to the home. If you have a large kitchen, investing in a kitchen island is a good idea. This will come in handy for dish storage, dining, preparing food and comfy seating.
Among the best home improvements in the kitchen is replacing old cabinetry hardware. Consider adding a tile backsplash; it is a functional, long-lasting and visually appealing design option. Get creative with patterning subway tiles. Use neutral colors like white to paint your cabinet hardware to brighten your large or small kitchen.
Utilize Every Corner
Look for opportunity in an underused corner! Small spaces in the home can be transformed into a multipurpose space for work or, more importantly, your enjoyment. Create a comfy corner you can retreat to when you want to relax. For maximum comfort, add plenty of soft pillows to your nook. If there's room to spare include seating options to accommodate guests.
The Bathroom
Adding a window in your bathroom will take ventilation a notch higher while bringing in the natural surroundings. Brushing your teeth by the natural morning light will ease you into the day.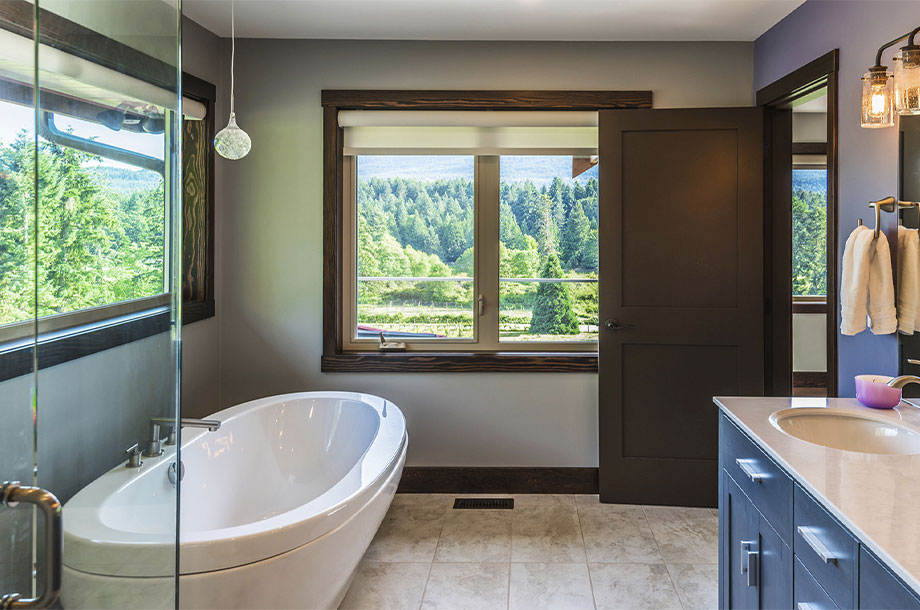 Consider installing a radiant heat system to your bathroom floor, especially if your floor is made of stone or ceramic tiles. Should this be unaffordable, a cheaper plan would be adding area rugs to warm your feet whenever you step out of the shower. Options are endless when it comes to adding a spa-like serenity to your custom master bathroom.
Bottom Line
A home remodel will make your home more functional, efficient and stylish. When deciding on what needs to be improved, ensure that you consider these vital home improvements ideas. Bringing new life to your custom home is sure to bring more comfort to you.
Share: