Truth be told, there are many moving parts when it comes to designing a plan for your custom built home. So many elements must come together in tandem to culminate in the production of your dream home. With all these things to consider, it's easy to overlook an all too important element: entertainment. Custom built homes today have spaces that incline towards the lighter side of life. Be it a rec room, gaming room, home theater, or a kids' play room, the list is endless. Let us now take a look at what it will take to make your house entertaining.
Open Floor Plan
Whether you love spending lots of time with your dear ones or you are the neighborhood's finest Friday night chef, an open floor plan helps make the space in a custom built home welcoming. Combining the living room, dining room, and the kitchen into a single shared space is a common decision nowadays. An open floor plan has few, if any, dividing walls between spaces. The end result is a flowing layout that favors communal living areas instead of individual, traditional rooms. An open-facing breakfast nook paired together with a formal, separate dining room is also worth considering.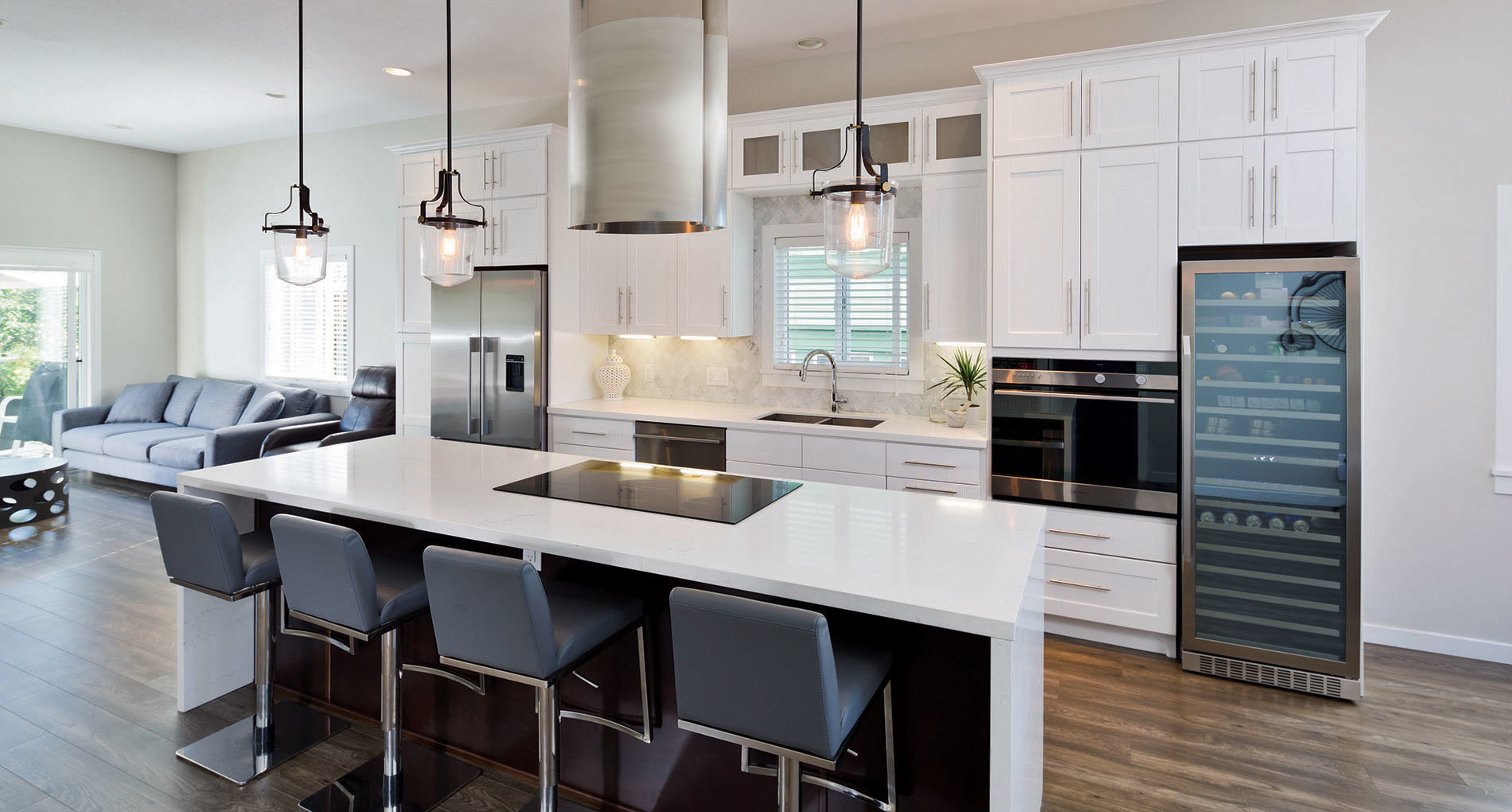 Has it ever crossed your mind that people tend to drift towards the kitchen? No one can blame them as this is where all the action happens. The popularity of spacious kitchens with wide doorways keeps growing in leaps and bounds. It comes as no surprise as the kitchen is a hotspot for snacks, meals, and casual chats. A kitchen island with barstools on one side offers a cozy sitting area as you go about cooking. This doubles up as an ample storage space for those serving trays and once-in-a-while kitchen appliances that you don't use every day. No more cake stands tucked away in your closet.
Split Bedroom
You will agree that keeping the master suite private is the desire of every custom built home owner. If this sounds like you, a split bedroom house design will go a long way in achieving exactly that. The secret to pulling this off lies in having the master suite in a different location from the other bedrooms. This is a great concept because both you and the guests enjoy a high level of privacy. Even hosting teenagers becomes a breeze now that everybody has their own space.
Guesthouse
More often than not, guesthouses are the preserve of high-end luxurious houses that boast of enormous square foot size. The truth is there are many variations of this luxury add-on that can be created within your budget. There is simply no better way to gift your guests with abundant privacy far from all the goings-on in the main house. In case you are in the market for a custom built home, it would be prudent to explore the options of a complimenting guesthouse. Friends and family will thank you for it!
Outdoor entertaining area
Entertainment goes a notch higher when the party is taken outside, especially during summer. You will be glad to know that some elements have what it takes to make your guests find your garden irresistible. Shade is an essential ingredient when it comes to having a vibrant outdoor space. Choose from louvred roof systems, retractable shades, sculptural screen canopies, or even large and thoughtfully placed umbrellas. A vine or a deciduous tree supported by a pergola is also worth considering.
Outdoor space needs to be inviting enough to draw guests out of the house. A good balance between shady and sunny areas is essential. Coupled with green planting and plentiful seating, this will help you achieve the perfect outdoor oasis.
Take home
Here we are! That wasn't hard, right? Keeping all these in mind will help make your custom built home perfect for entertaining.